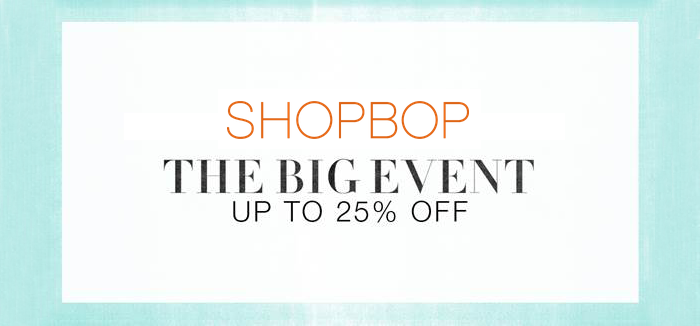 Alright, ladies, it's time to get your trigger finger ready for Shopbop's biggest sale of the season! And these aren't last-season's castoffs. Starting at 6:30 a.m., you'll save on the newest items from your favorite brands!
DURATION
Tuesday, March 3 at 6:30 a.m. EST through Sunday, March 8, 2015 4:00 a.m. EST
DISCOUNT
Save 15% with a purchase over $250
Save 20% with a purchase over $500
Save 25% with a purchase over $1,000
CODE
BEST BETS
Classic items you'll wear season after season.
New spring items that you'll wear all season long.
Brands that rarely go on sale.
Ferragamos. (They so rarely go on sale!)
SHOPPING STRATEGIES
Check in with your loved ones to see if they have any items on their wishlists from Shopbop or East Dane. You can combine orders to get up to that $1,000 threshold for 25% off.
Log in with your Amazon Prime account for fast two-day shipping.
If something doesn't work out, no sweat. Shopbop has a great return policy.

TOP TEN
I spent a lot of time the other night scouring the Shopbop website to find the ten best items worthy of a pre-season sale splurge:
---
This post is in collaboration with Shopbop.