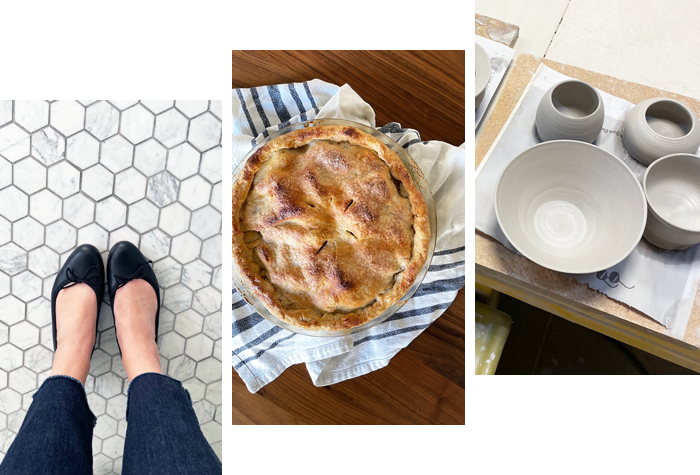 Recent Moments: the most perfect ballet flats (they're cushioned!); Thanksgiving prep; and finally getting back to the pottery studio after a bit of a hiatus.
I'm team #RealTree for Christmas. Here's the best time to buy one.
East Fork's holiday sale is live with 20% off and free shipping. It's the best sale they do all year, so stock up on mugs for gifts or treat yourself to some new dishes. I bought a pair of red mugs and eight cake plates in the eggshell glaze. (After hosting Thanksgiving, I realized a needed more small appetizer plates.)
Now that the air is dry, I've been waking up with red eyes. These eye drops brighten within minutes.
I'm planning to make this cranberry rum punch this holiday season.
Shall we all make breaking up with fast fashion our collective resolution for the new year?
Did you see this brilliant way to hang a doorway garland? We have arched doorways on our first floor, so it won't work for us, but those with standard door frames should try it!
I make this cookie recipe every year and it's a hit! (Along with my family's sugar cookie recipe, of course.)
Looking for an easy appetizer? I made this spinach artichoke dip that goes right into a slow cooker.
I just ordered this sweater to try. The deep v-neck looks like it'll be feminine and flattering.
If you're also starting to plan your travel schedule for 2024, here's a list of places to keep on your radar.
There are a lot of Loloi rugs on sale right now. Read my honest review of them here.
Enjoy the week!
–
Let's keep in touch!
Instagram / Facebook / Pinterest / Bloglovin'
Thanks for visiting! As a reminder, I may earn an affiliate commission if you buy an item through my links. This is at no cost to you. I appreciate your continued support!