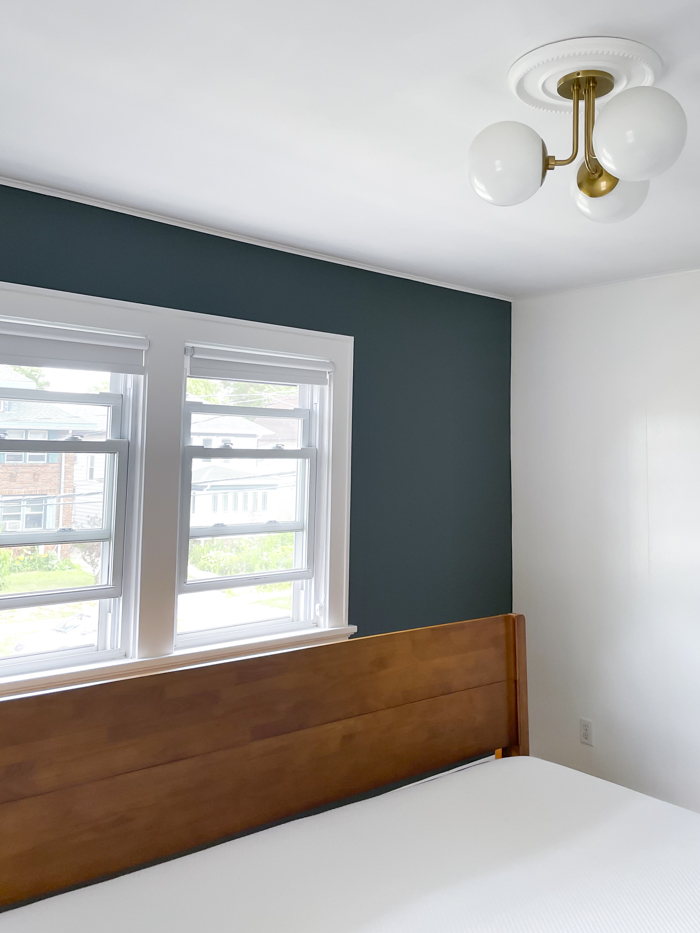 It's been over a year since we decided the old wall color had to go, and I'm happy to report that we finally made the change last week!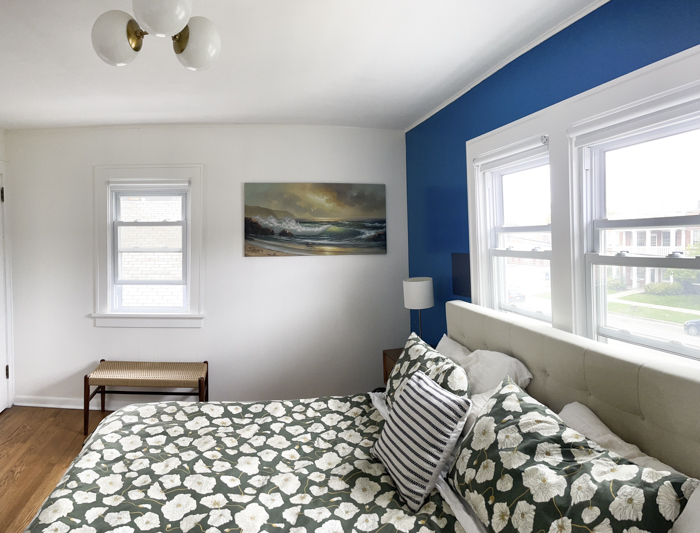 As a reminder, this is where we started. When we closed on our house, we tried to paint as much as we could in two weeks before our floors were scheduled to be refinished. Unfortunately, the expedited process didn't allow for much time to mull over colors and I chose this way-too-bright blue from just the paint chip. I thought it would be more saturated than it was, plus I realized soon after that I like to wear bright colors not have them in my decor.
We kept this color far longer than we wanted — mostly due to paint fatigue after we painted nearly every wall and ceiling in the house! It was a year ago that I started getting serious about finding a new color. I tried a sample of Benjamin Moore's "Raccoon Fur" and while I love how it looks in Instagram photos, I didn't love it in this room. There's a reddish undertone that read brown or purple depending on the light. Eventually I settled on Sherwin William's "Homburg Gray," a neutral gray with green and blue undertones.
Here's how it looks with the other paint colors in our home: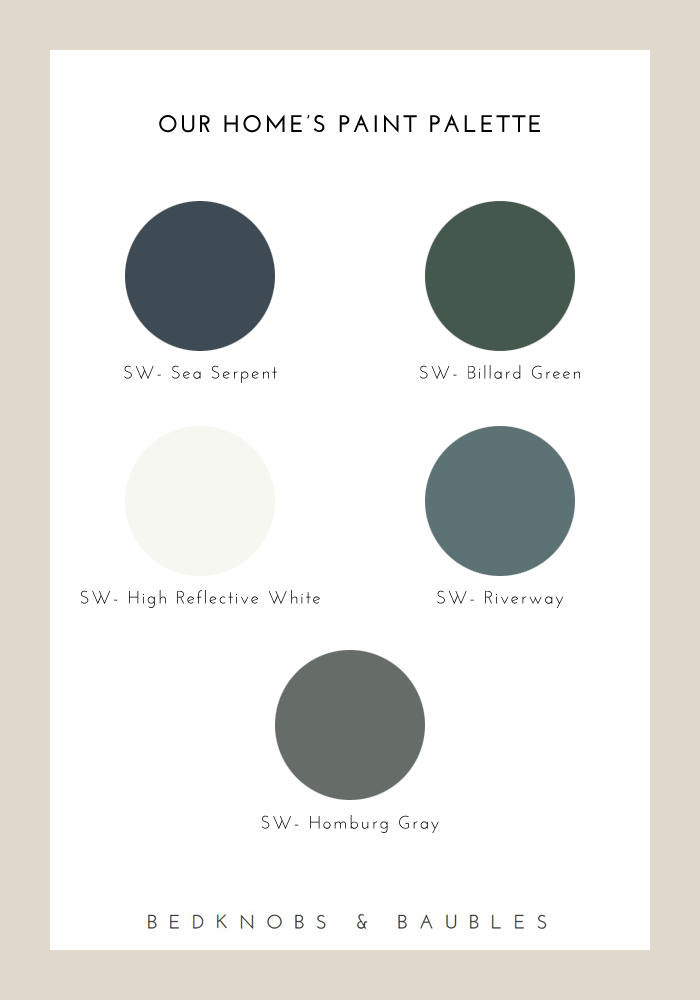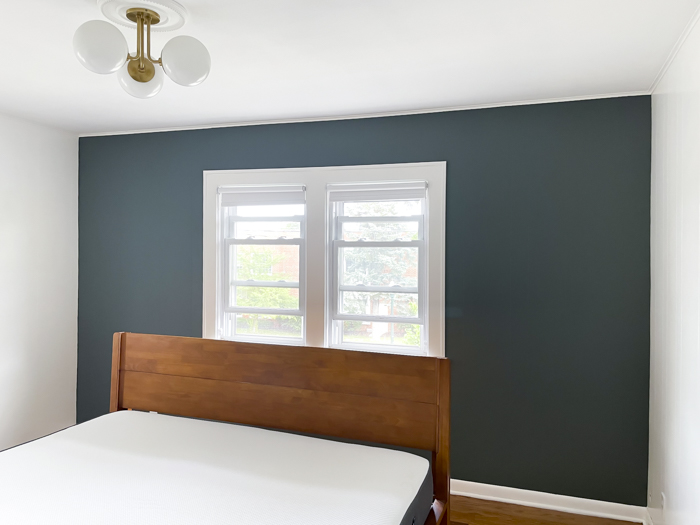 I know that accent walls are controversial, but I really like it in this room to anchor the headboard. (That said, I'm incredibly tempted to paint the whole room this color because I love it that much.) I'll be adding curtain rods and drapes yet this summer to visually extend the width of the window beyond that of the bed and really make it a focal point.
Then, it'll be new lamps and — eventually — a new dresser. Updates to come!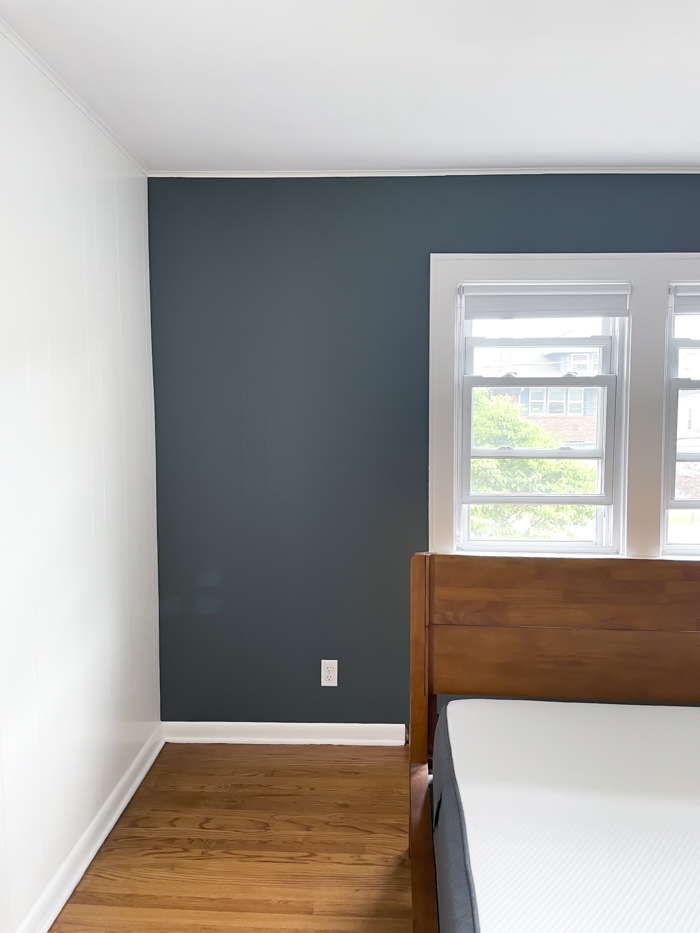 Source List:
–
Let's keep in touch!
Instagram / Facebook / Pinterest / Bloglovin'
Thanks for visiting! As a reminder, I may earn an affiliate commission if you buy an item through my links. This is at no cost to you. I appreciate your continued support!