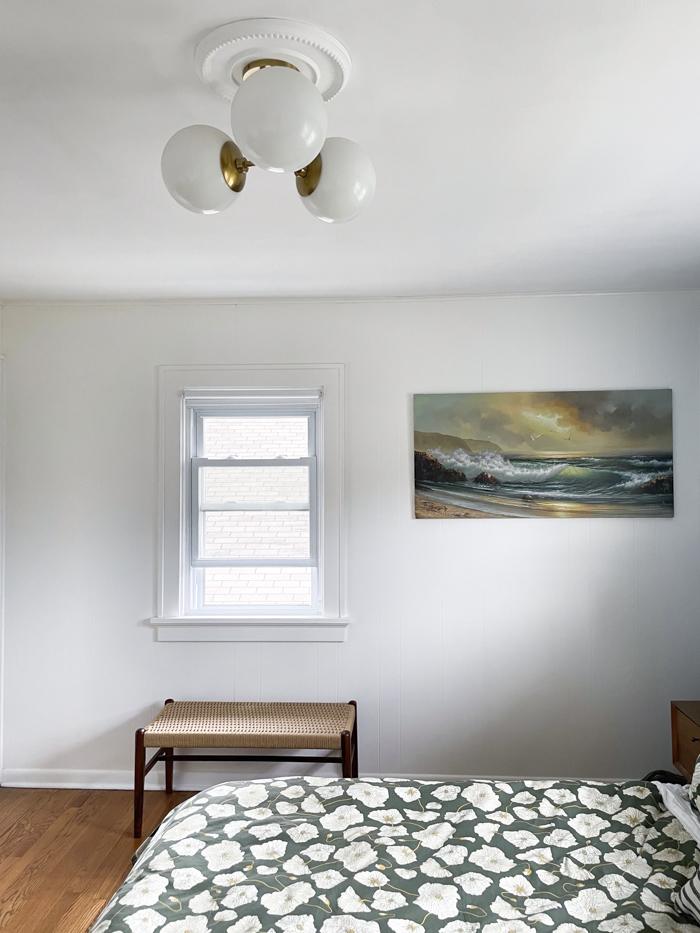 The next home project I'd like to tackle is our bedroom. It's not a train wreck by any stretch of the imagination, but we haven't done much with it over the past couple of years as we focused on other rooms. There are aspects of the space that I love and won't be changing (and I'm still as smitten with that duvet cover as I was when I first bought it), but there are other aspects that I'm no longer fond of and items that were intended to be placeholders until we had money to invest in this space. Plus, I'm no longer thrilled with the jewel-tone accent wall I picked out when we closed five years go.
So, I thought I'd share photos of where the room has been over the years, along with what it looks like as of this morning with a few un-styled snapshots. You'll also find my design punch list below!
First up, here's what it looked like the day we did our inspection: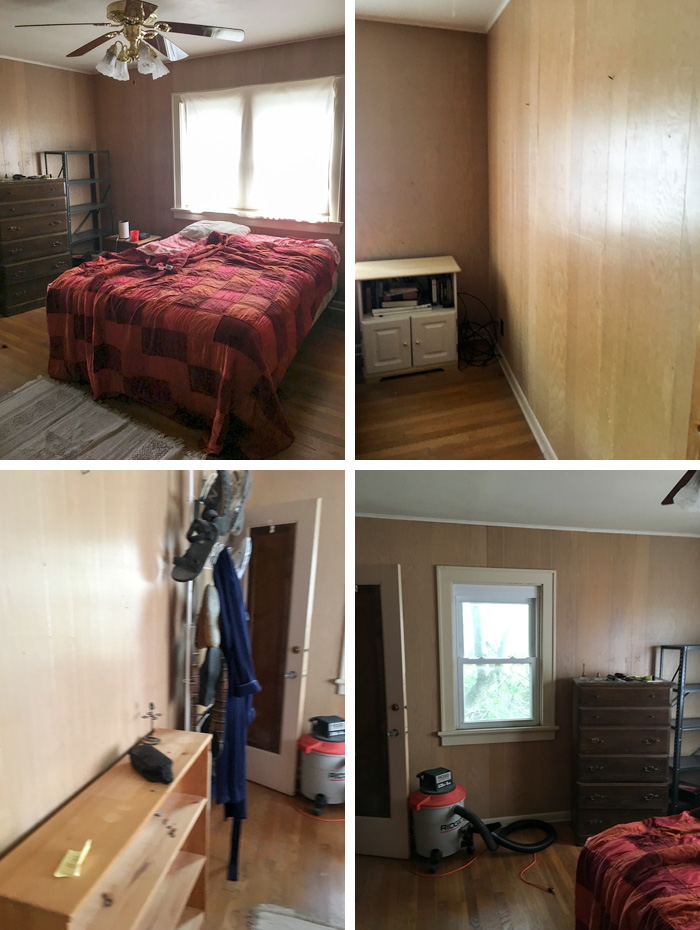 What a lovely, tranquil escape, right? Who wouldn't want the focal point in their bedroom to be a hanging shoe rack?! 😉 Whenever I feel like we haven't made enough progress in our home, I look back at some of these photos and I'm taken aback. It's a testament to looking beyond someone else's stuff and seeing potential in a space. We didn't even need to do a lot to this room to make it look better right off the bat: we had the floors refinished in the house shortly after closing and we put a fresh coat of paint on everything. Painting the paneling (ahem, "vertical shiplap") white brightened up the space immediately. We also had to take the tree down that you can see through the window above because it was dying, which opened the room up to natural light.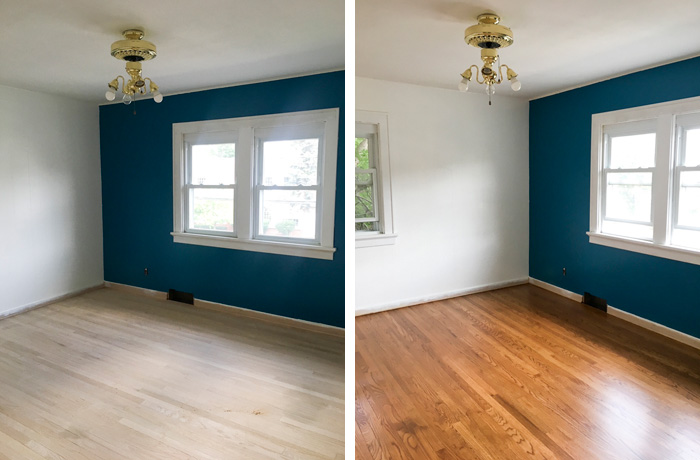 I knew I wanted some color in this space and chose a dark teal. It did turn out brighter on the wall than I had hoped for when we painted it five years ago, but it wasn't too far off from what my style was at the time. Since then, my preference in paint colors is a lot more subdued — think colors pulled from nature in the Pacific Northwest; not the tropics. I'm going to keep an accent wall, though, however controversial that may be.
The photos above are the progress and after images of our floor refinishing. The stain hue is Early American, which offers a warm, classic finish that's appropriate for the age of our home. (If you live in Madison and need your floors refinished, let me know. The person we used was fairly priced and did a beautiful job. Every tradesperson that has come over has commented on how great our floors look.)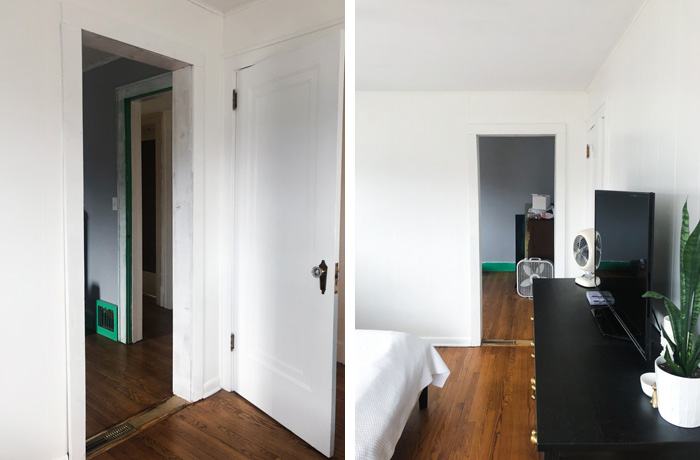 One of the challenges in the space that I talked about here was that there was a doorway cut between two of the upstairs bedrooms. We worked with a local carpenter to create a shallow built-in that you'll see below. The opposite side is drywall.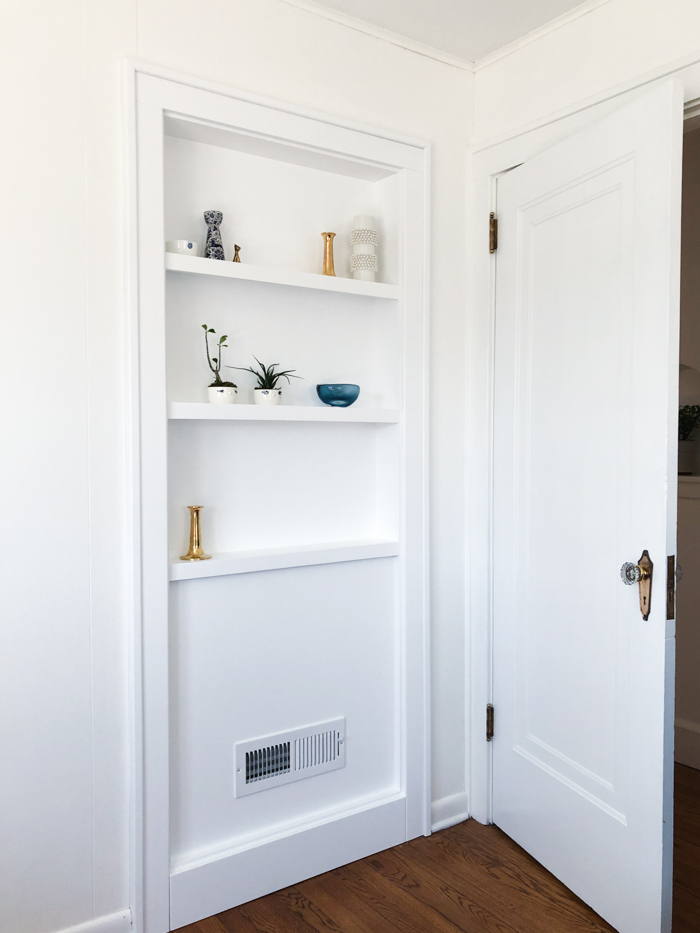 The built-in continues to give me a ridiculous amount of joy and it's the perfect space to put the little trinkets I collect on vacation. Our carpenter did such a wonderful job matching the frame of the built-in to the trim of our doors. Unfortunately the vent had to go right there because it was cut into the floor when they opened up the wall, but it doesn't bother me that much. I might swap out the grate for something decorative down the road, but it's not that much of an eyesore in person.
So, that brings us to where we are now: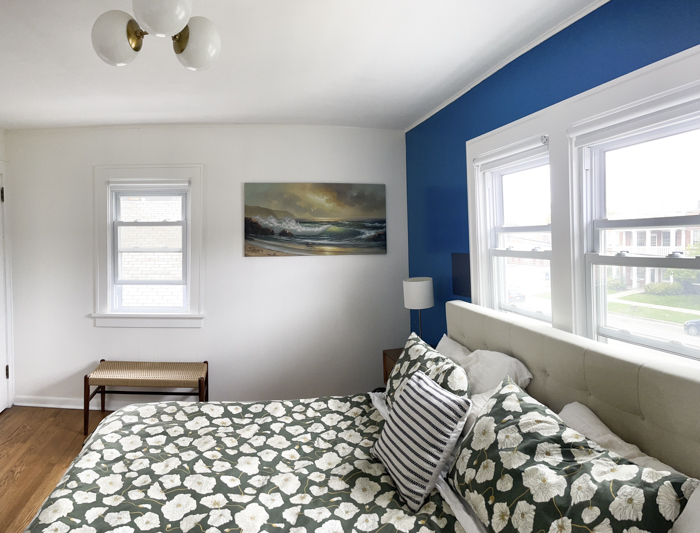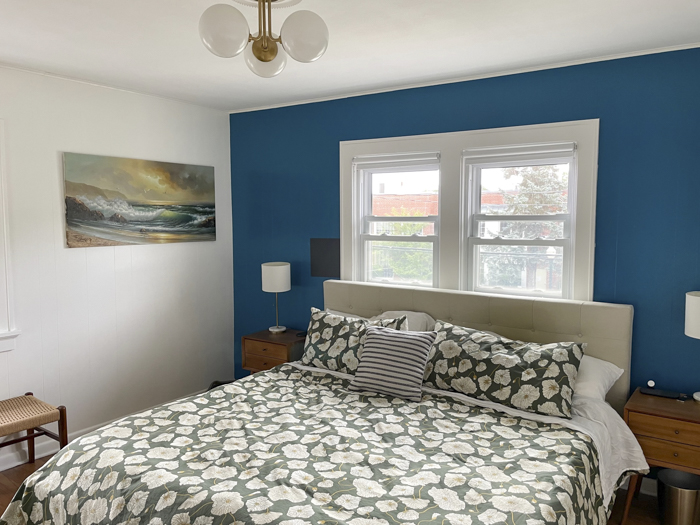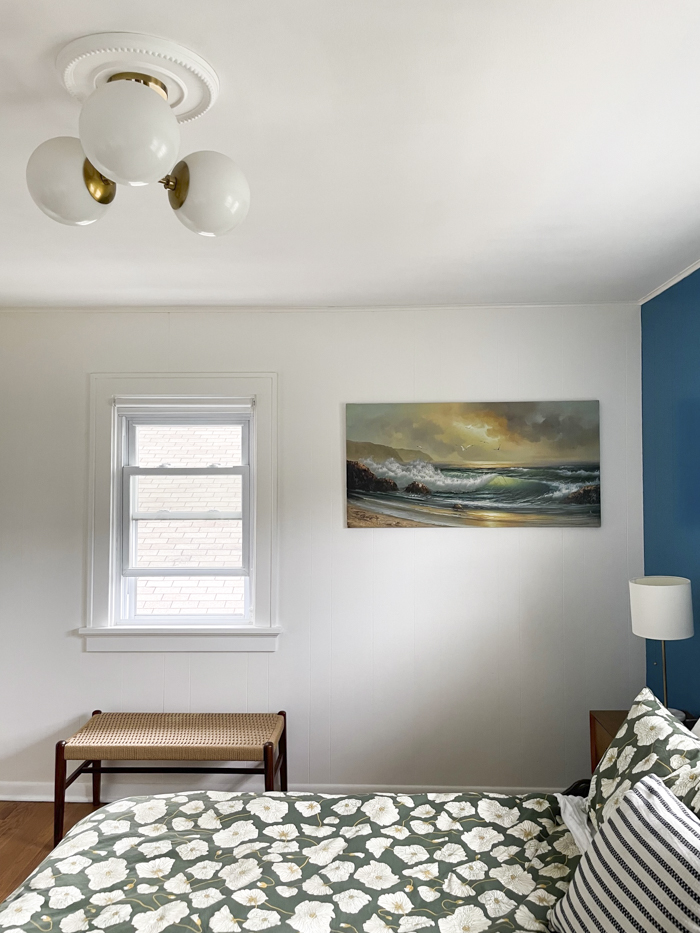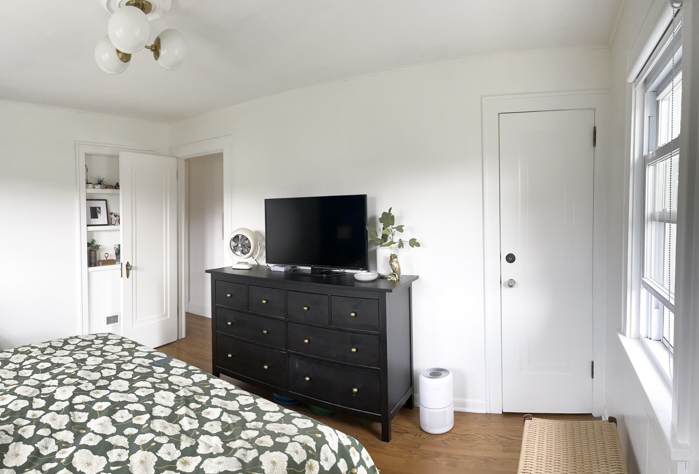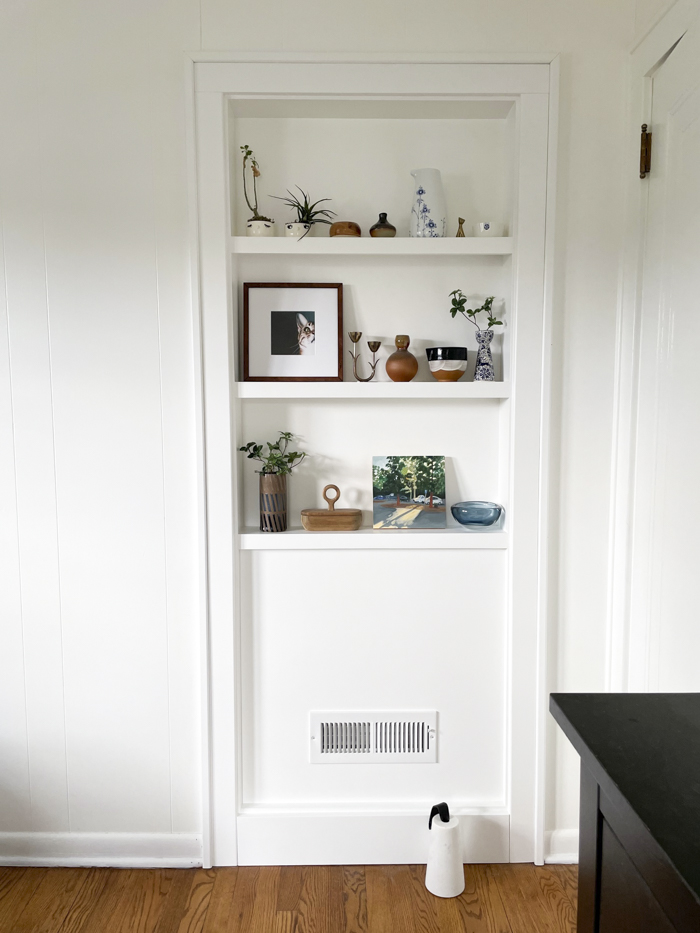 Here's what I'm planning to do:
Repaint the paint accent wall with a more subdued color that works with the existing duvet cover, but could also work with this blanket that I recently bought. I gravitate to blues and greens, so I expect any future bedding to be in those color families.
Buy a new bed with a wood headboard. Our current bed was a $200 Amazon find — a steal for a king-size bed. We bought it when we lived in the apartment because we needed something and knew that we didn't want to invest in a bed until we had a house. It's time to upgrade. The top is snagged from cat claws and it gets stained with hair products. I hate it.
Swap out the lamps. Those were around $15 at Target when we moved in and needed something. The scale is too small for a king bed.
Add curtains. We have roller shades that will stay to block the light. I'd like drapes to soften the room, but also to visually widen the window where the bed sits so the scale isn't so wonky.
Style the bed with a selection of throw pillows, but not too many since they're annoying to move every night.
I'd love to upgrade that Ikea dresser, but it's fine for the time being.
Here are some of the paint swatches I'm considering: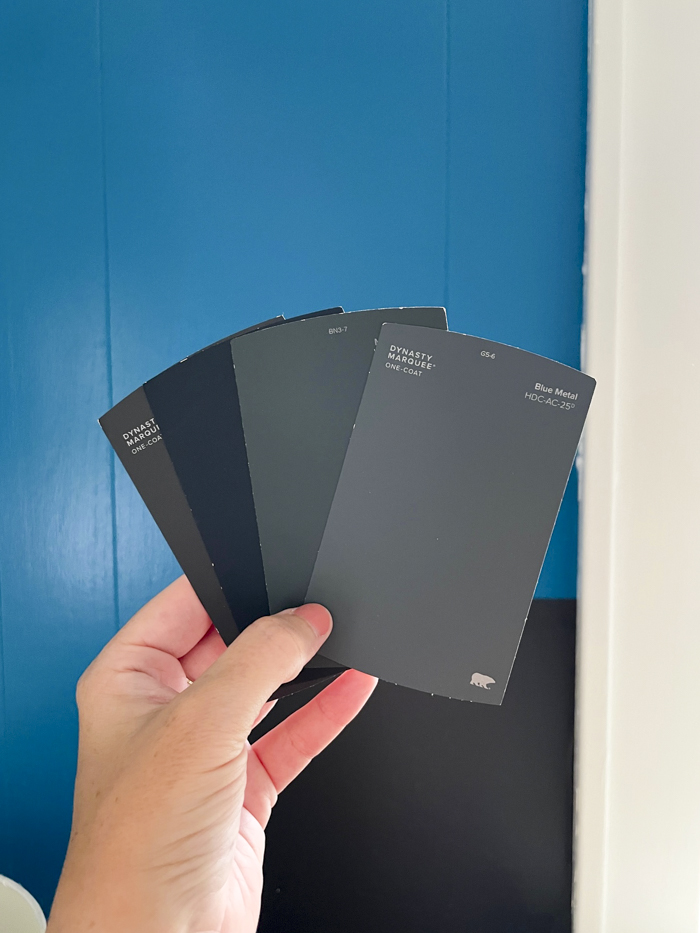 And here's one of my initial mood boards for the space: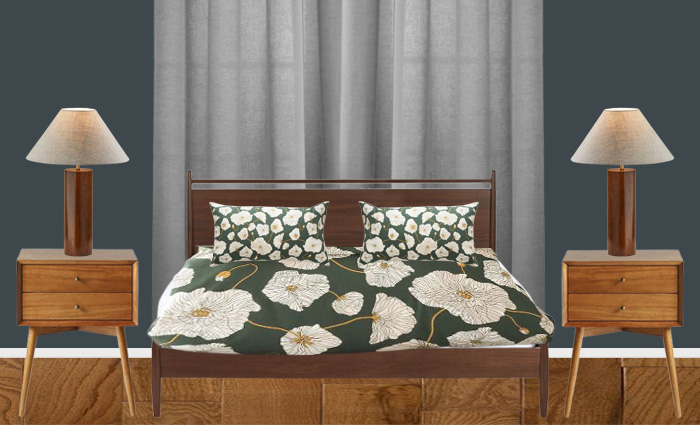 Wish me luck! If I can get the painting done and choose a bed in the next few weeks, I think we'll be in a good spot! And if I don't get that far, rest assured that this before-and-after moment gives me some peace:
We've come a long way already.
–
Let's keep in touch!
Instagram / Facebook / Pinterest / Bloglovin'
Thanks for visiting! As a reminder, I may earn an affiliate commission if you buy an item through my links. This is at no cost to you. I appreciate your continued support!