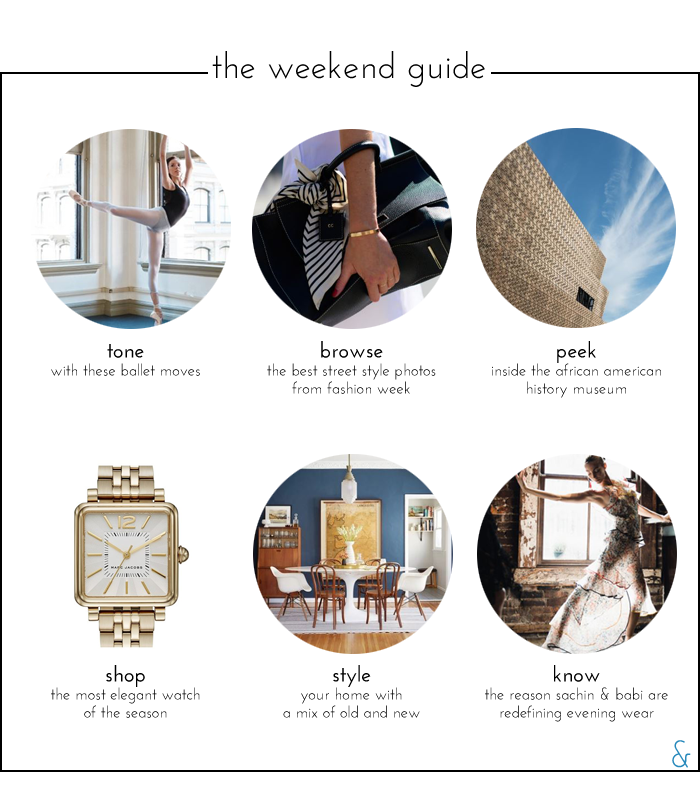 TONE
Staying in shape is a lot more fun with these ballet moves.
BROWSE
As always, Fashion Week offered tons of style inspiration on and off the runway.
PEEK
The African American History Museum broke ground in 2012 and will finally open to the public on Sept. 24, 2016. Judging by the photos and an interview with architect David Adjaye, it's going to be an incredible experience. We've seen the building in various stages of construction over the years and now I'm even more eager to book another trip to D.C.
SHOP
I came across this watch last night and I can't get it out of my head. The Art Deco design makes it a timeless piece for any collection.
STYLE
Love Emily Henderson's old-meets-new aesthtic as much as I do? Learn how to incorporate the look into your own home with tips from her creative director.
KNOW
The modern woman wants versatility in her wardrobe, even when it comes to evening wear.
EARLIER THIS WEEK
Wore a dress Rainbow Brite would be proud of.
Yearned for a preppy roundup of fall items.
Donned a black maxi dress with a flirty open back.