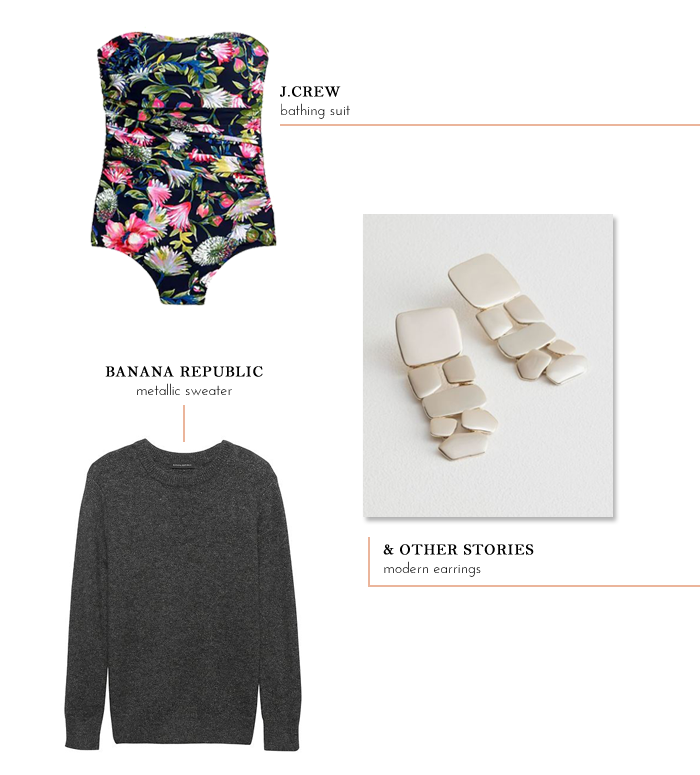 I hope everyone had a very happy holiday season! I feel like a broken record when I sheepishly acknowledge an unexpected blog break, but I needed the time to get everything checked off my to-do list during the frantic season. Now that the busiest weeks are over, I feel like a weight has been lifted and I have so much more free time again.
On the sartorial front, like last month, I didn't purchase many items, but I did welcome plenty of new things to my wardrobe with some generous gifting by my loved ones. Dave gave me a new beach tunic for our upcoming trip to Florida, a monogrammed pouch, a glittery pair of studs, and the scarf I've been crushing on; my parents gave me this oversize pendant necklace; and my grandma let me rifle through boxes of her vintage jewelry to snag whatever captured my fancy. (That treasure trove included a pair of on-trend colorful, translucent lucite earrings that I can't wait to wear.)
PURCHASED
See all of this year's sartorial additions here.
J.Crew ruched bandeau one-piece swimsuit – Dave's parents rented a Florida condo for the month of January, so we're planning to visit them for a long weekend. Few things make me more excited to hit the beach than a new swimsuit. I already have this one in red, so I knew the true-to-size swimsuit would fit me. I love the colors of the dark floral print.
& Other Stories hanging pendant earrings – I was like a kid in a candy store when we were at & Other Stories in New York. I didn't have much luck when it came to clothes, but I did fall in love with a couple of pieces of jewelry including these earrings and a ring that isn't available online at the moment. The earrings are stunning. They're sculptural and eye-catching without being too over-the-top for daytime wear.
Banana Republic chunky metallic crew neck sweater – This was a surprising hit of the holiday season. The metallic flecks make it festive, and the slouchy shape means you won't feel uncomfortable after indulging in too many cookies! I wore it to just about every casual gathering in December from getting drinks with friends to hosting my parents. I even wore it to work with an a-line black skirt and black ballet flats. It runs large, so you'll want to go down at least one size.
DIDN'T WORK OUT
Things I tried and didn't love.
–
Let's keep in touch!  Instagram / Facebook / Pinterest / Bloglovin'