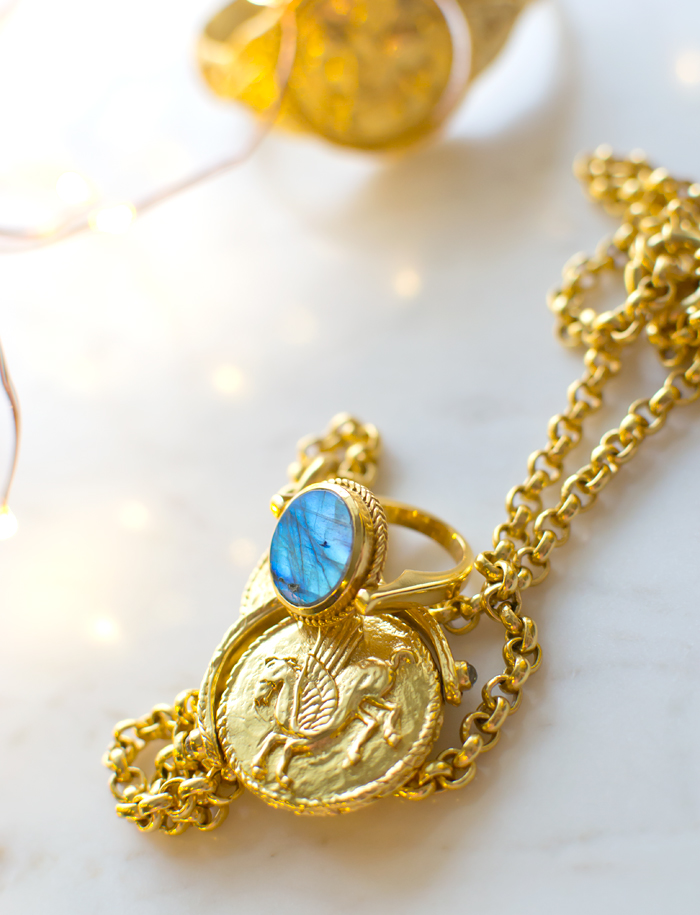 I don't know how you warm-weather gals get in the holiday spirit. It's above freezing here with spring-like weather and not a snowflake in sight — which makes it seem unbelievable that Christmas is in just a few short days. We've already attended a couple of family gatherings and I've already enjoyed too many cookies and "holiday spirits." Thank goodness for loose dresses and major statement gems to distract the eye! My go-to pieces have been from Julie Vos' Pegasus collection. As you'll read in the Q&A below, Julie created the unique pieces to be reminiscent of Greek archaeological finds — but that's not the best part. Three pieces in the Pegasus collection have spinning components to create two unique looks from one piece of jewelry.
What inspired you to create the Pegasus collection?
"I was inspired to create jewelry that could be found in a museum, as if the pieces were unearthed from an archaeological dig. I wanted the collection to reflect ancient Greek culture and myth.  The key figure is the winged horse, Pegasus, who is associated with poetry and has the star constellation named for him."
How does your inspiration translate to the pieces?
"I intentionally made the pieces look a little bit rough and hammered, as if they were made a long time ago. To keep the collection soft and feminine, I added some pretty detail and luminous cabochon stones."
What are the unique features of the collection?
"Hammered links and spinning centers. A pendant spins, so Pegasus is on one side and a reclining goddess is on the other. There's a ring and cuff which also spin — one side is a semiprecious stone and the other is the Pegasus. We call these two-in-one pieces."
Shop the Featured Items
Revolving Pendant, $195 :: Revolving Cuff, $255 :: Revolving Ring, $165
***
This post is in partnership with Julie Vos.