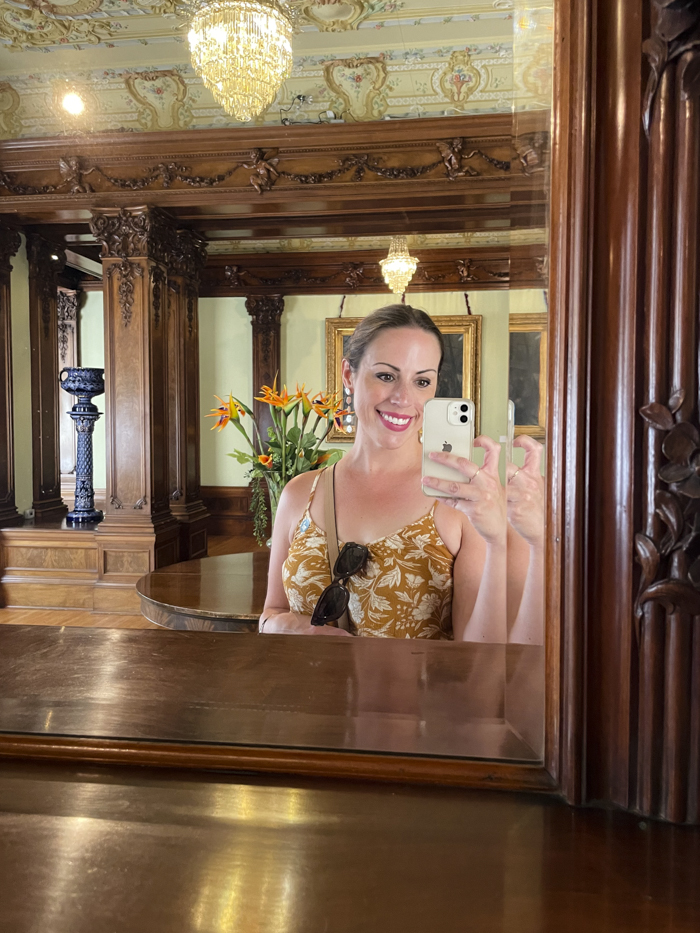 Give me a mirror in a historic mansion, estate, palace, or castle and I will take a selfie! This one was from the Turnblad Mansion in Minneapolis, which is part of the American Swedish Institute. We stopped in during last weekend's trip to the Twin Cities. (Earrings are Chan Luu, dress is Target, and lip color is this one in "Gossip Girl.")
Speaking of Gossip Girl, this critique of the reboot sums up my feelings after watching the first episode.
Holst + Lee just launched the most adorable rainbow sunglasses.
An ode to the birthday dress.
The craftsmanship that goes into making Moroccan zellige tile is astounding.
Artist Sho Shibuya uses the front page of The New York Times for his daily visual diary.
In need of dinner ideas? Here are 15 options that take less than 30 minutes to make.
This looks like the perfect lightweight sweater for cool summer evenings, especially later in the year when we're closer to fall. I love it in light walnut.
Love earth tones? This house tour is for you.
Insight into how to answer riddles asked in job interviews.
I enjoyed this piece about Klimt's muse Emilie Flöge and her influence on Vienna.
In case you missed it:
–
Let's keep in touch!
Instagram / Facebook / Pinterest / Bloglovin'
This post contains affiliate links.