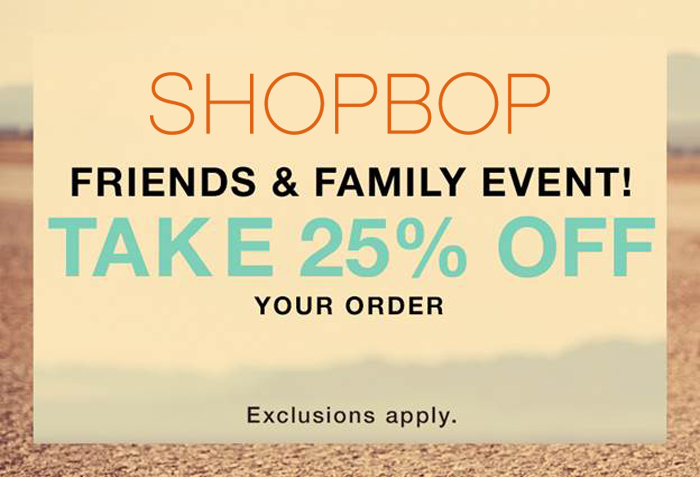 Last month's Shopbop sale was pretty epic, but their latest sale can definitely hold a candle to it. It's time to take 25% off your purchase at the Shopbop Friends & Family sale!
DURATION
Begins on April 7 at 7 a.m. EST.
Ends April 10 at 4 a.m. EST.
DISCOUNT
Save 25%
There will be some brand exclusions. The details weren't released before sale went live, just click here to learn more.
CODE
SPRING25
BEST BETS
Classic items you'll wear season after season.
New summer items that you'll wear all season long. (As you'll see below, I'm craving brights!)
SHOPPING STRATEGIES
Log in with your Amazon Prime account for fast two-day shipping.
If something doesn't work out, no sweat. Shopbop has a great return policy. (And it's free.)
Items are reserved in your cart for 30 minutes. Add everything you love–especially if there's low stock–and edit before you check out.

TOP TEN
I've been pretty sick over the last couple of days (which included a trip to Urgent Care with an asthma attack my inhaler couldn't handle). It's been rough, but it has given me a chance to scour the Shopbop website to find the prettiest pieces for summer: