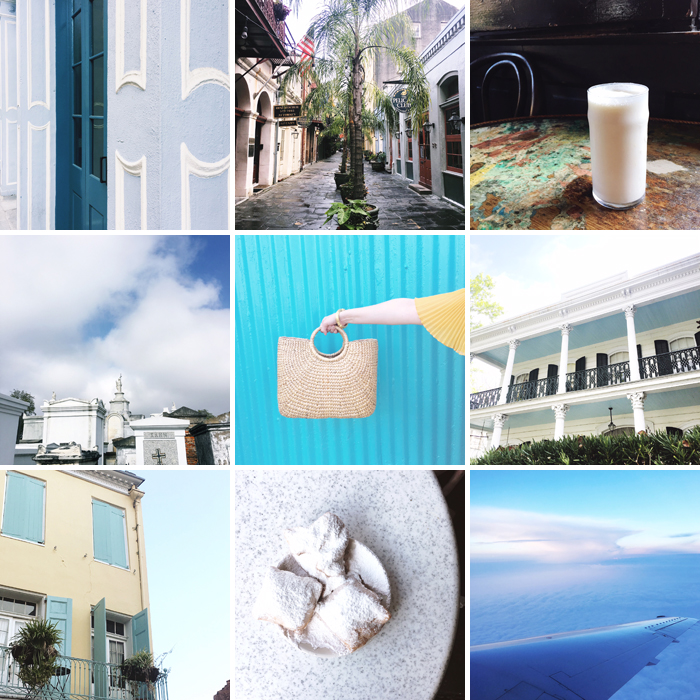 And just like that, we're back from our trip to the The Big Easy! It's such a beautiful city (especially when you veer off Bourbon Street) with Instagrammable details around every corner! I have hundreds of photos to sift through on my camera before I put together a guide of what we experienced in the city. Until then, here are a few mini moments from our stay:
It's impossible to ignore all of the pretty architectural details and colors of the buildings in New Orleans. I drove Dave crazy stopping every few feet to take another photo!
Before our flight on Tuesday morning, we took one last stroll around the city and stumbled across Exchange Place, a quaint side street that reminded us of Europe. I wish we had come across it earlier in our trip. One of the restaurants on the street, Green Goddess, sounds amazing.
We enjoyed a Ramos gin fizz at Tujague's, home to a stand-up bar shipped over from Paris in 1856. The best cocktails, however, were at Carousel Bar & Lounge in Hotel Monteleone where we enjoyed a milk punch (which kind of reminded me of eggnog) and a Pimm's Cup.
One of the highlights of the trip for me was a tour of St. Louis Cemetery No. 1, the oldest cemetery in New Orleans.
I used this bag every day on our trip. It held everything I could possibly need with plenty of room for trinkets I collected throughout the day. (You can snag the dress I'm wearing in the photo here. I'm tempted to buy the green one, too.)
We strolled around the Garden District one morning and took in the architectural details and inspiring color combinations. If we're lucky enough to buy a house with an open front porch, I'm definitely painting the ceiling a pretty shade of light blue.
I don't know if it's because I grew up in a yellow house with turquoise blue trim, but I couldn't walk past a house with that color combination and not take a photo!
Of course we indulged in beignets at Cafe du Monde. They're as delicious as they're rumored to be, but I'd actually recommend skipping the frozen latte. It's entirely too much sugar with the beignets. I left with the worst stomach ache!