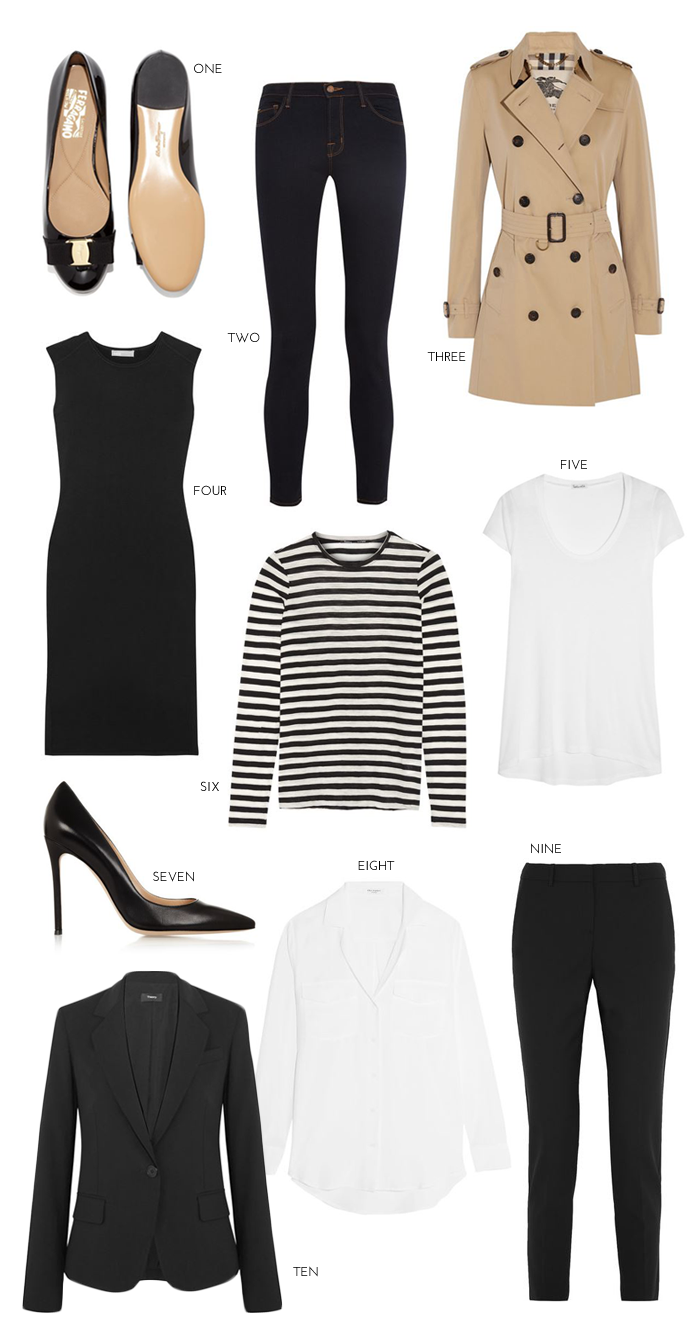 ONE | TWO | THREE | FOUR | FIVE | SIX | SEVEN | EIGHT | NINE | TEN
I'm wary of any list insisting that there's a finite number of "musts" that a wardrobe should have at its foundation. Everyone's style is different and my go-to items will be different than yours. By now, you know I'm a dresses and flats kind of girl and that's not everyone's cup of tea. That said, I do think there are a handful of items that are critical to building a wardrobe that's versatile, classic, and gives you the canvas you need to show off your statement-making duds.
I've created a list of 10 classic pieces that will make you feel effortlessly chic when worn together, and that are the building blocks to an outfit with trendier pieces. These should be the investment pieces in your wardrobe (with an exception I'll list below). Pay attention to quality in terms of stitching, fabric, and fit to make sure that you select the very best that you can afford, but do keep in mind that more expensive doesn't necessarily mean better quality. It's going to take time to sift through all of the choices to find the items that work for you. You may have to order multiple styles and brands to try. You might have to actually head to the store to feel the fabric in person. You might need to head to a tailor for a sartorial nip and tuck. But the time investment is worth it. These are seasonless items you'll wear year after year.
White T-Shirt
A white T-shirt is a classic layering piece that can be layered under itchy sweaters, tucked into a skirt, or worn with a pair of great-fitting jeans. It's an item you might not reach for all of the time, but you'll be happy you have in your arsenal. It's also the item you shouldn't spend a lot on. White T-shirts are going to get dirty and stained and that's just the reality of owning one. Save by stocking up on T-shirts somewhere inexpensive like Old Navy — and if white doesn't work for you, try another neutral like grey or black.
Ballet Flats
Channel Audrey Hepburn with a pair of ballet flats. This wardrobe classic is equally chic and comfortable for daytime worn with trousers, mini skirts, and cropped pants. A patent pair is a touch more dressed up and can work beautifully with a cocktail dress. Black is always a great choice. For something more daring with a little more personality, try a vibrant red pair. As for brands, you know I'm going to recommend my beloved Ferragamos. They're insanely expensive for most budgets (including my own), but the cost per wear of such a high-quality shoe is worthwhile. I can't tell you how many pairs of black flats I cycled through before finally biting the bullet. I'm going on two years of wearing my black flats almost every day to work and they still look new. Plus, you can always have them resoled at a cobbler when the bottoms start to become worn. But I do want to point out that I didn't buy my first pair until I was in my 30s. Oftentimes there's a "keeping up with the Joneses" mentality with blogs. In my 20s, I was just as happy with a pair from J.Crew that still felt like an investment at the time.
High Heels
Yes, even if you're a flats girl like me, you'll need a pair of sky-high heels for those occasions that call for a little bit of oomph. Whether you need the extra height to feel more confident for a work presentation or just want to infuse your look with a bit more sex appeal, a pair of high heels can help you accomplish that. I'd go with black, but a pair that matches your skin tone looks just as fabulous.
Tailored Blazer
This goes along with the advice that you should always have an interview outfit at the ready if your ideal employer requests a meeting with you. A tailored blazer can get you through that career-altering opportunity with ease. Plus, you can incorporate it into your look the rest of the year. Wear it when the weather is too chilly for bare arms, but doesn't warrant a coat just yet.
Striped Long-Sleeve T-Shirt
No matter how versatile that white T-shirt is, it's got nothing on the classic stripes of a Breton tee. It's one of those pieces that's effortlessly chic with every item in your closet, from a pair of jeans to a pencil skirt. Try mixing it with other patterns or layer it underneath a shift dress. Once you find one you love, buy a couple of them to have on hand. You won't regret having a backup in the future. My favorite was from Banana Republic years ago and unfortunately they don't make the same style of T-shirt anymore. What I'd give to have the opportunity to go back and buy more!
Great-Fitting Jeans
This is probably a little ridiculous coming from me as the girl who really doesn't enjoy wearing denim! However, no one can deny the timeless appeal of a pair of jeans and few things are more versatile. When it comes to finding a fabulous pair, don't worry about the of-the-moment cut. Try on everything from flares to skinny jeans and from to boot-cuts to cropped pairs. Find a pair of jeans that's most flattering on your body. Opt for a dark wash and you'll be able to dress them up easily for nights out and for casual Fridays at the office.
Black Pants (or a Skirt)
Black pants are basically the fancier version of your favorite jeans: they make you feel beautiful and you'll wear them with just about everything. They're a natural fit for the office, but you can dress them up with a pretty blouse (like this one or this one) and high heels for happy hour. (Here's my favorite pair.) Alternatively, if pants aren't your thing, choose a black skirt in a flattering shape. A pencil skirt is a classic choice, but I prefer the forgiving cut of an A-line option.
White Button-Down Shirt
If you need any convincing that a white button-down shirt is a wardrobe must-have, look no further than Sharon Stone who wore her husband's Gap version tucked into a skirt on the red carpet, and Carolina Herrera who wears the piece more elegantly than anyone else. Admittedly, both ladies opted for fancier looks than many of us will wear, but you'll find that a white button-down shirt is the perfect piece to wear with jeans or black pants (with a few buttons undone to showcase a statement necklace like this stunner), or wear loosely over a bathing suit as a cover-up.
Little Black Dress
I don't think I need to wax poetic about the little black dress, a piece so ubiquitous that it has an acronym! Choose your go-to LBD in a silk jersey or crepe fabric. Both options drape well and can be easily dressed up or down. (Wouldn't this make the perfect LBD if it were hemmed to the knee?)
Trench Coat
A camel-colored trench coat is the single best investment you can make in your closet. It's a piece that will never go out of style and will make you feel pulled together every time you wear it. You could pinch pennies for years in order to purchase a Burberry topper and no one would blame you for seeking out the gold standard for the trench coat. However, I'd suggest that you look into lower-priced retailers to find your trench coat. I'm loving this spring's version from Banana Republic (plus this modern take on the trench). London Fog also has fantastic options for affordable, quality trench coats.