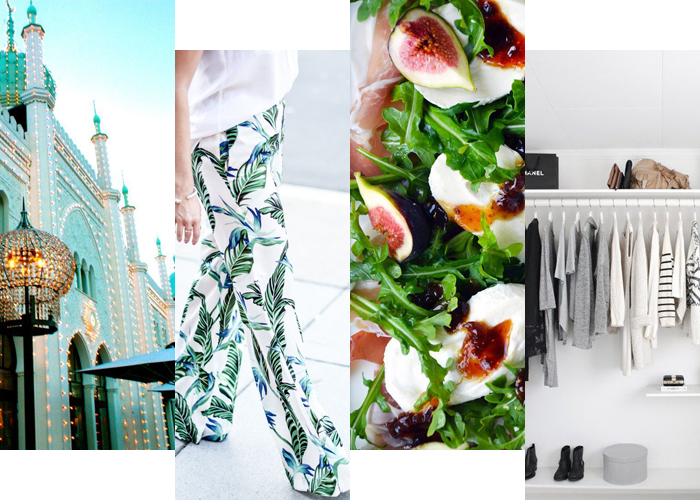 Happy 2016! Honestly, I'd be lying if I said I was excited to get back to my weekly routine on the first Monday of the year, but I am happy to have the holiday hoopla behind me! After a month of travel — and a flat tire on Saturday — I'm ready for a few weeks at home. And, it's a good thing we don't have plans this month. I'm going to need the extra time to get started on my new year's resolutions:
CLEAN, ORGANIZE, PURGE
Dave and I have lived together for almost five years and we've accumulated quite a few things in our small apartment. Now that we're becoming more serious about our house hunt, I'd like to spend the next few months going through our place and getting rid of the items we don't love. I don't want to move things into a new home if we'll never use them again. I'm planning to go through my wardrobe in January and donate or sell unused items in February. After that, I will be going through the boxes I moved from my old apartment and never opened since. It's a daunting project, so I'm heading down memory lane one box per weekend until the project is done, which should be completed by March.
FEWER, BETTER THINGS
This really goes hand-in-hand with the previous resolution. I'm growing tired of clutter. To be fair, it's partly because we have a small apartment, but it's also because I haven't been as thoughtful about new purchases as I could be. In terms of clothing, I'm planning to cut back on the number of purchases during the year. Last year's Pinterest board for new wardrobe additions shows that I added over 100 items in 2015. As much as I love clothing and accessories, that's a bit much. (You can view my 2016 additions here.) This should be a fairly easy task to accomplish. I'm sticking to a stricter budget this year with $750 per season earmarked for clothing and accessories. This isn't to say that I'm solely focusing on wardrobe classics again. I have enough of those. I simply want every sartorial purchase I make in 2016 to be very much "me." For non-wardrobe items, I want to spend time looking for the "right" item and not throw money at something that will work for the time being.
TRAVEL SOMEPLACE NEW
My broken foot last year led us to reconsider some of our travel dreams. I wasn't sure exactly when I'd be healed and how far I'd feel comfortable walking, so we revisited a few of our favorite U.S. cities. This year, we'd like to expand our horizons and travel to new destinations. We're talking about visiting Copenhagen in the spring and taking a fall road trip to New England. I've always wanted to go to Maine and eat my weight in lobster rolls.
LOSE WEIGHT
…and speaking of weight, I need to shed a few pounds this year. My ambitious goal is to lose 20 pounds. I was on my way last year until my foot broke and I fell out of my exercise routine. Oh well, it's a new year and a new chance to get myself in better shape! After college, I lost 70 pounds and have since gained back 35 of them. It's incredibly hard, but I need to prioritize my health as I get older. Besides, my sluggish metabolism needs a kick in the arse with Jillian Michaels! I'd like to give myself little reward at each five-pound benchmark. Any ideas? (That said, I'm focusing more on total wellness than the scale itself with clean eating and exercise three times a week.)
JUST FOR FUN
Try two new recipes each month.
Keep champagne chilled for even the smallest special occasion.
Search for the perfect bar cart.
Wear bold patterns and embrace color.
Buy a new mattress.