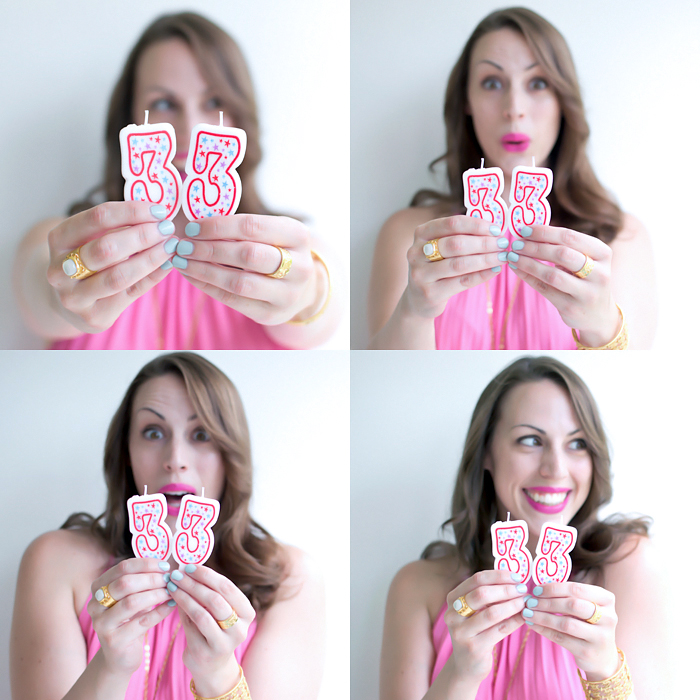 My 30s have been my favorite decade thus far and today I kick off year 33! I've had a stellar birthday weekend already with a walk through Olbrich Gardens, lunch at a new restaurant, mini golf, a Memorial Day cookout with friends, and dinner with my parents last night. I'm feeling incredibly content and excited for the next year.
I don't want the year to slip by without fanfare, though, so I put together a list of 33 must-dos for year 33. Think of this as an alternative to a New Year's resolution list without the pressure of losing weight and saving money!
Close on our first home! We just need to find it first. (We have about three weeks left to shop until we need to figure out housing for the next 12 months. Our lease ends Aug. 1.)
Visit a new state.
Plan a trip to Iceland. We're hopeful we can make this happen next summer. It'll be after I turn 34, so we'll aim to have the trip booked this year! (Really, though, any overseas destination will do!)
Head up to Duluth, Minn. for the Tall Ships.
Spend a long summer weekend in Chicago.
And a weekend in Milwaukee.
And head back to the Windy City this December for the Christkindlmarket. It's becoming our traditional way to kickoff the holiday season.
Buy a new mattress …
… and a new couch. I love this one, but we might go with a modern sectional if it's a better fit for the floor plan of our eventual house.
Oh, and a dining set while we're at it. I want a table like this one with these chairs. I'm using this image for inspiration.
Go through our possessions and donate anything we won't use again. I don't want to move items that aren't loved.
Finally buy a bar cart.
Take a fitness class, possibly hot yoga or barre.
Keep champagne chilled for impromptu celebrations.
Play hooky from work to head to a water park.
Go to the zoo.
Spend a day at the ballpark.
Watch the fireworks.
Go to a beer festival.
Read a book each month.
Take a jewelry-making class.
Try two new recipes each month.
Master the quiche.
Find a great red-orange lipstick.
Actually learn the ins and outs of my camera. I can't justify purchasing a new one until I have this one down pat.
Visit a beach … or a desert. Basically anything with a lot of sand.
Relearn how to ride a bicycle and go biking with Dave.
Enjoy a summer afternoon at the Memorial Union Terrace on the UW-Madison campus.
Mini golf!
Go to an art fair.
Buy produce at the farmers' market.
Write useful travel guides for our vacations, and finally edit and share trip photos on Facebook. (I'm so bad at taking the time to actually do this.)
Embrace another year older!

My necklace is from Lele Sadoughi.  You can save 20% on everything — including sale items — with code BEDKNOBSANDBAUBLES.