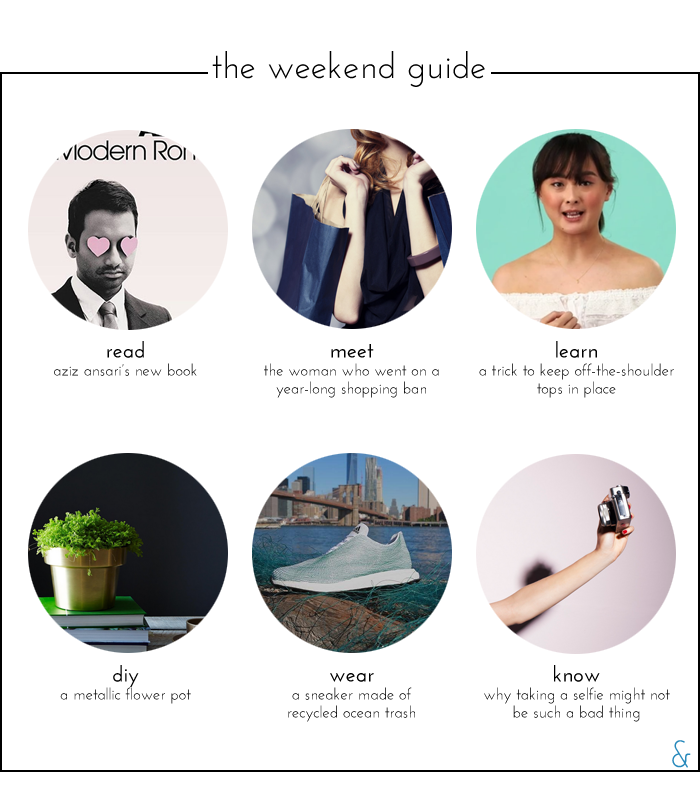 READ
Aziz Ansari is undoubtedly my favorite comedian. I'm downloading his new book, Modern Romance, once I'm finished with my current read: Cold Black Earth, which was downloaded for free with our Amazon Prime account (it's not good, but I'm halfway through and feel like I should stick with it). Read some of Ansari's romantic insights on the Tory Burch blog.
MEET
This inspiring woman went on a year-long shopping ban and managed to live on just 51% of her income. And to think that we break out in a cold sweat when challenged to a 30-day ban.
LEARN
Can't keep your off-the-shoulder tops, well, off your shoulders? Try this trick.
DIY
I spotted this gorgeous metal flower pot this week. I'm in no position to drop over $100 on a planter, but it's the perfect DIY inspiration for a terracotta pot and a can of metallic spray paint. This silver paint has pretty good reviews.
WEAR
Adidas recently released a running shoe prototype made of ocean trash.
KNOW
This piece argues that selfies just might be one of the most visual acts of feminism in decades.