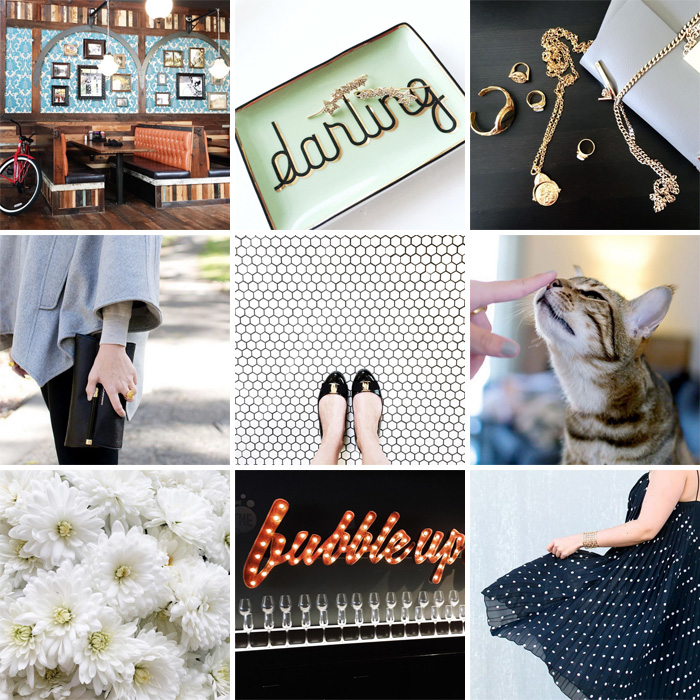 October is my busiest work month and I think that was pretty evident this year, given the lack of color in my Instagram feed over the month. I didn't realize quite how dark things had gotten until I posted this yesterday. It looks so out of place with the other photos! Here are some of my favorites from the month:
Tried the new Cafe Hollander, a Belgian-inspired restaurant in Madison with roots in Milwaukee. Everything was good (they even had bitterballen!), but it was too expensive. Four beers, bitterballen, and two sandwiches came to $100 after tip. Brasserie V in Madison is a much better bet for better beer, food, ambiance, and a lower ticket price.
How, ahem, darling is this little tray?! It's only $15 and makes for the perfect gift this holiday season. I'm also obsessed with this Tiffany-blue mug and saucer.
My jewelry drawer (seriously, not a jewelry box, a full drawer in our dresser is dedicated to gems) got a serious upgrade thanks to Julie Vos and her team. I've been wearing this pendant and ring almost exclusively since they arrived. I'm sharing some insights into her collection with a couple of interviews coming up!
This outfit post is one of my most popular yet and for good reason: the cape is pretty amazing! If you're a medium/large, it's on sale right now for $100! You can score the black version for $90 in XS/S or M/L here. (I went with the XS/S because I have narrow shoulders.)
I can't pass up an opportunity for a Ferragamo + Floor photo.
Sharing a special, slightly-harass-y moment with Bacon. I went to Target on Sunday, hoping to find deeply discounted Halloween costumes for him (because if there's one thing a cat loves, it's a costume…). They were sold out, but I did find this fuzzy winter hat to purchase later.
Treated myself to snowy white mums.
Tried out the recently renovated Avenue Club in Madison. It was a wood-paneled neighborhood bar before it underwent a Midcentury Modern makeover.
Went out of my comfort zone to try this ASOS dress. I just wish the weather was warm enough to wear it again!