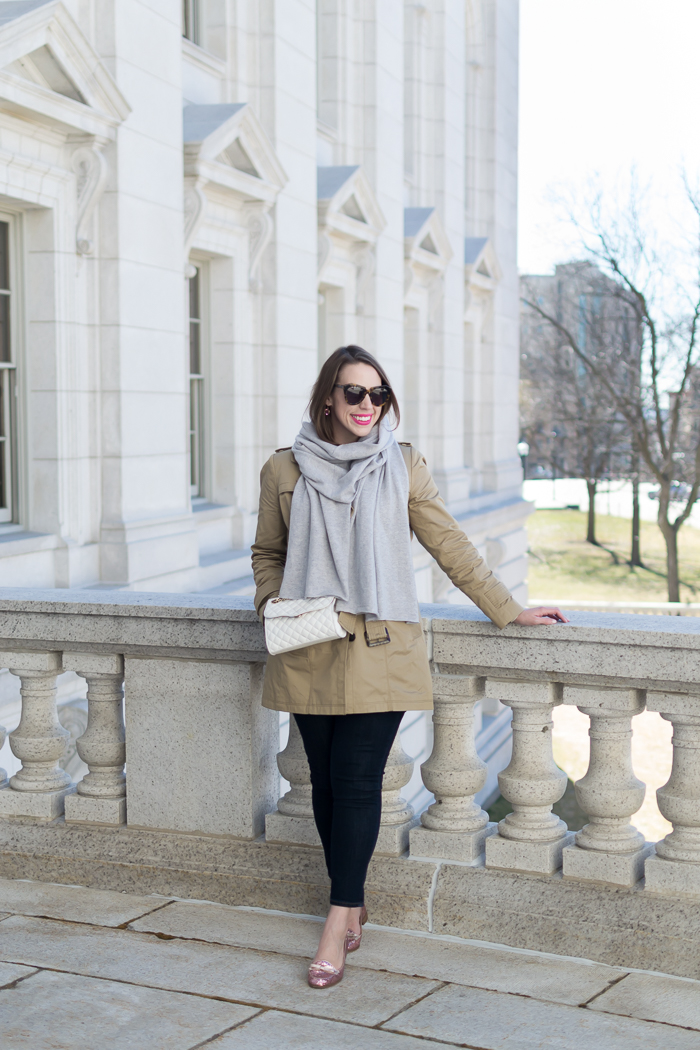 Much to my dismay, we're back to seasonably cold temperatures and the threat of snow, but the flirtation of warmer weather earlier this week was all the inspiration I needed to do a bit of sartorial spring cleaning! My wardrobe is bursting at the seams right now with a veritable mountain of wool, silk, cotton, and various poly-blends that threaten to spill out whenever I open the door! To say a wardrobe refresh is needed would be a bit of an understatement! It's an absolute must-do that's at the top of my weekend plans. Below, you'll find the steps I'm taking to tackle this project and some of my tips for your own closet clean out.
Pull Everything Out of Your Closet
It may be a daunting task, but the first step to reorganizing your wardrobe for the year ahead is to pull everything out of your closet. Seriously, everything. I'm talking clothing, shoes, and accessories. Take your time with each item and consider whether or not you should keep it. Anything that immediately pulls at your heartstrings and you can't bear to part with goes back in your closet, along with anything that you wear frequently. Some questions to guide the process include:
Does it flatter your figure? Give the heave-ho to anything that doesn't fit correctly and alterations won't fix.
Does it fit your lifestyle? If it's not something you ever see yourself wearing, it's time to part ways or at least put it in storage if it has sentimental value.
Have you worn it within the last year? Your closet shouldn't be filled with items that you don't get excited about wearing.
Does it make you happy? As silly as it sounds, sometimes an infrequently worn item still makes you happy. It's worth holding on to when that's the case. After all, the sequin dresses that we all seem to own aren't the most often worn pieces, but they definitely elicit a grin and the promise of wearing it again in the future.
Does it make you feel beautiful? The ideal wardrobe is filled with pieces that not only make you feel happy, but also make you feel beautiful whenever you get dressed.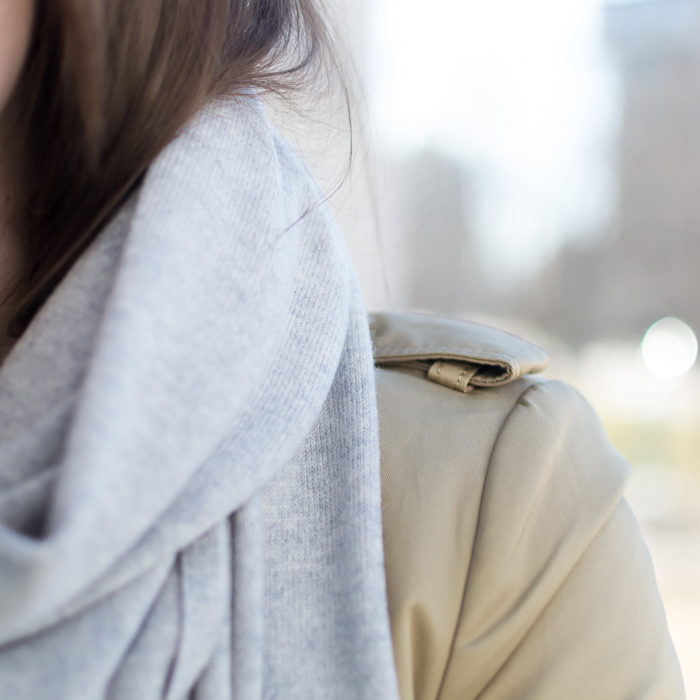 Alter, Store, Donate
Now that you've added your must-haves back to your wardrobe, it's time to carefully consider the pieces that didn't pass muster and identify why they're laying listlessly in the "meh" pile. Some pieces might simply need a nip and tuck at the tailor. Round up everything that you still like, but never quite fit correctly and head to a local tailor to see what kind of magic he can perform. Things like shortening dress straps or bringing in the waist are easy (and usually inexpensive) fixes that can make a huge difference. For the items that still fit, but you're on the fence about, box them up to store in the basement or under your bed. Revisit them in a few months and see if there's anything that you'd like to reintroduce into your wardrobe or part ways with. And, finally, donate the items you no longer want to wear or no longer fit your lifestyle. Dropping off a bag of clothing at Goodwill is definitely the easiest route, but consider alternatives like Dress for Success for your professional clothing and accessories. Many cities also have opportunities to donate special occasion pieces so that underprivileged girls can find a beautiful dress for prom. (I actually volunteered for one of our local groups a few years ago and it was incredibly fun to help girls pick out their dresses. In addition to dresses — both cocktail and gowns — they desperately need shoes, handbags, and jewelry. Those were picked over quickly.)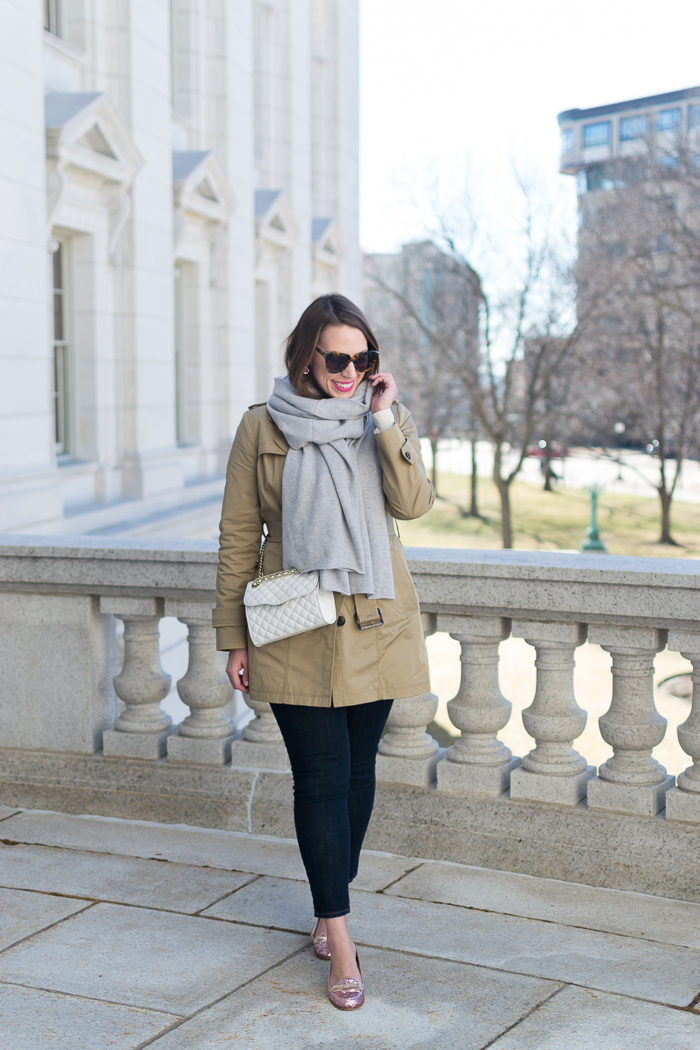 Reorganize Everything
After the very best pieces are nestled back in your closet, you'll want to keep things neat and tidy to ease your morning routine. Opt for matching hangers to make your closet appear streamlined. I like using slim flocked hangers that keep flimsy dresses from slipping off. I use satin padded hangers for blouses and dresses with sleeves that might show puckering from a rigid hanger. Store accessories like scarves and clutches in clear plastic bins. This will keep them visible and dust-free. Fold all of your sweaters with a folding board (a magazine works, too) so the stacks are neat and organized and be sure to buy a few shelf dividers to keep them corralled.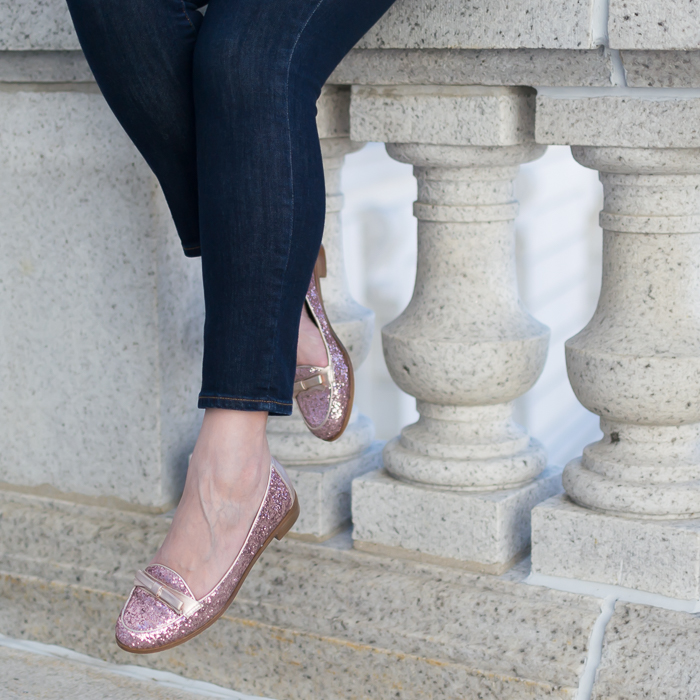 Identify "Missing Links"
With a critical eye, take a look over the pieces you decided to keep. Do they match your style aesthetic? Pay attention to the items that just seem a little "off" with the rest of your wardrobe. What are they missing? If you decided that your style is full of bright colors and embellishments, yet you kept a black turtleneck sweater, think about what it needs. Is it a statement-making pendant necklace? Is it to be worn under a unique wrap dress in the winter? Do you need a candy-colored taffeta skirt? At the same time, consider the foundation garments you'll need to make your wardrobe functional. Do you need black high heels for your classic collection of little black dresses? Do you have enough tights to make it through the winter? Keep a list of these "missing links" and use it as your shopping list.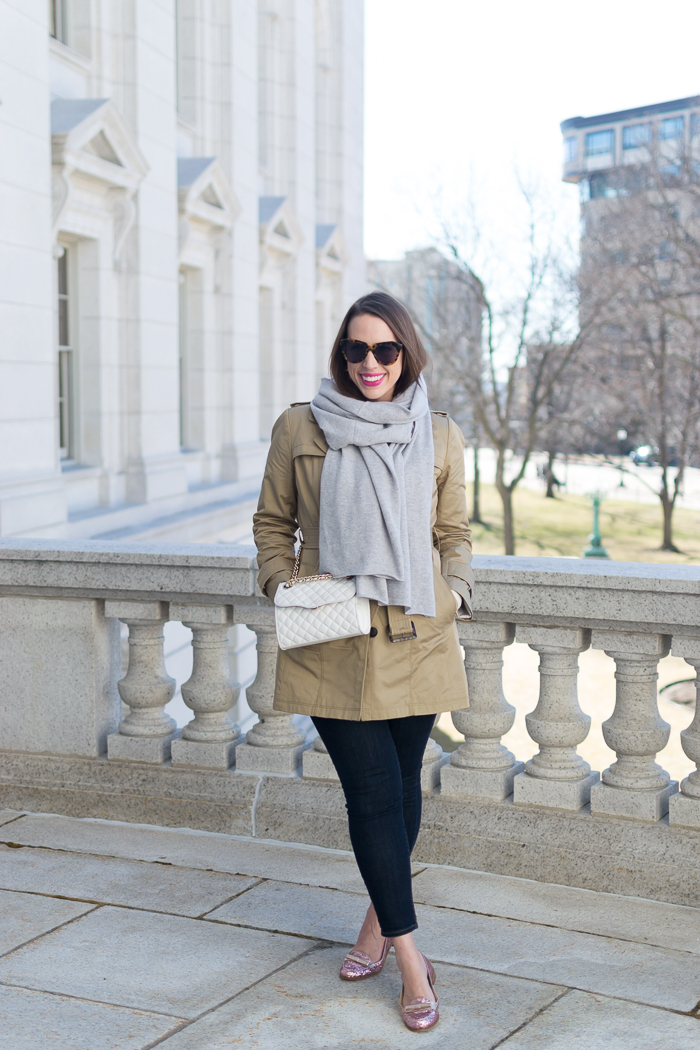 Shop for the Classics
The thing I love most about spring style is the opportunity for a fresh start — and that means thoughtfully shopping for (and investing in) the classics. These are the versatile items likely on your "missing links" list that you'll reach for throughout the season and for years to come. For me, well, this outfit sums up my spring must-haves: great-fitting jeans, a striped sweater (although not shown), a khaki-colored trench, oversized sunglasses, and a plush cashmere scarf. (The latter is large enough to double as a travel wrap, plus it's on sale!) It's virtually impossible to experience a "I have nothing to wear!" moment when you have these classic foundation items in your wardrobe. When you're scouting out classic accessories, do spend as much as you can reasonably afford and pay attention to quality. Pieces like a cashmere scarf or Ferragamo flats are items that will always fit and will always be in style.
Banana Republic trench coat | Garnet Hill cashmere wrap (c/o) | Rebecca Minkoff purse (c/o Shopbop) | Kate Spade loafers (old; also love these pink loafers and this glitter pair) | J.Crew sweater (also love this one) | Gap jeans | Karen Walker sunglasses (c/o Shopbop) | J.Crew earrings
***
A special thanks to Garnet Hill for partnering on this post and motivating me to start this project!