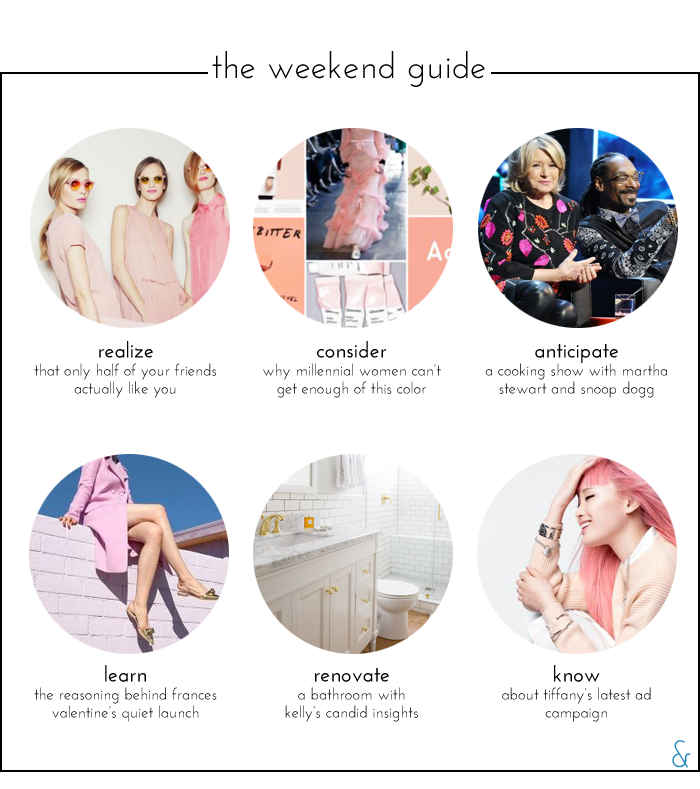 REALIZE
This study makes perfect sense when you remember that everyone has a different definition of friendship, but even so, half of the people you consider a friend might not reciprocate those feelings. Isn't that depressing?
CONSIDER
I've found myself pinning and wish listing items in this rosé-meets-salmon hue for a few months now. Apparently it's beloved by other Millennials, too. One person's comment sums it up beautifully, "We need a transitional color out of the neutral black and white palette of 2012-2015 and this bridges the gap quite nicely."
ANTICIPATE
I have never been more excited about a television show in my life.
LEARN
The launch of Frances Valentine received a quieted buzz of excitement, but you would have thought the return of Kate Spade herself would have made more of a splash. As it turns out, that marketing move was very much intentional.
RENOVATE
Kelly's post about the realities of gutting and renovating a bathroom made me less apprehensive about embarking on the project when we finally buy a home.
KNOW
In an effort to reverse slipping sales numbers, Tiffany & Co. is giving its iconic "Return to Tiffany" collection a makeover for a new generation.
EARLIER THIS WEEK
Wore the best summer-to-fall dress.
Coveted a selection of pretty pink items plus a funky calf hair clutch.
Shared how you can travel with your signature scent.
Launched a giveaway!
Celebrated International Cat Day.
Admired the dome of the Wisconsin State Capitol.