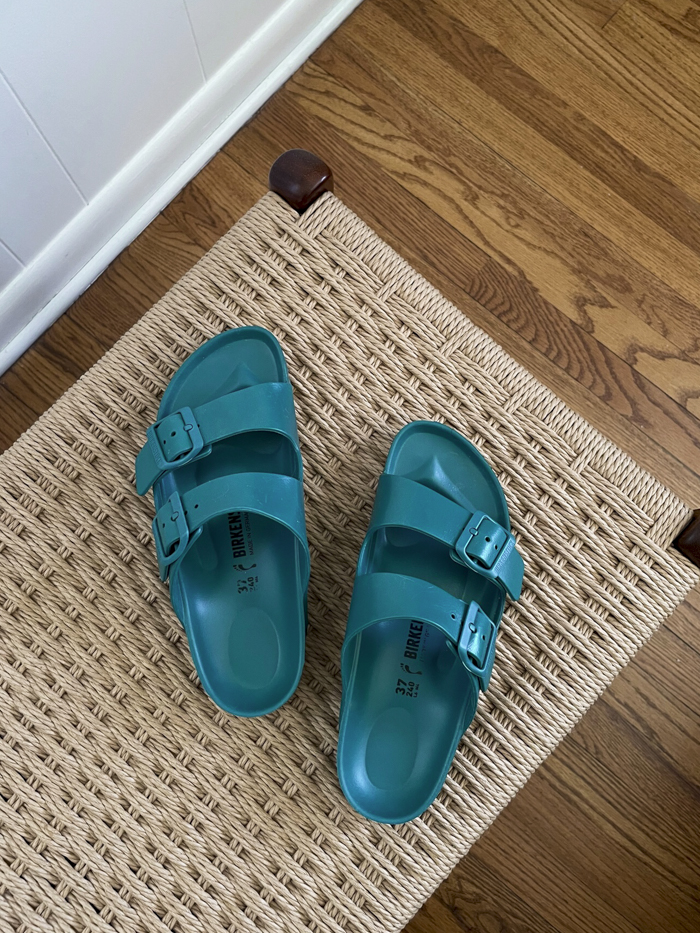 I'm going to preface this by saying that I love that Birkenstocks became the "It" sandals a few years back and are still going strong. I resisted at first, but caved soon after seeing women in Brussels that year navigating the cobblestone streets in their Birks — and looking chic in them. I bought the single-strap Madrid style in black and they're hands-down the most often worn sandal in my wardrobe followed closely by the big-buckle style I bought a couple of years ago. Thanks to quality craftsmanship and comfort, the brand has staying power — and that's unlikely to cease any time soon with their recent designer collaborations.
This year, I realized that I needed a shoe to wear in our yard that could easily be rinsed off. We have a mulberry tree that drops berries all over and I was tired of my regular shoes getting stained on the bottom. While I have a dedicated pair of beat-up sneakers to wear when gardening, oftentimes I'd rather just slip on a pair of slides to head out for light yardwork or to put produce waste in the compost bin. Birkenstock's waterproof slides fit the bill perfectly.
Let's be clear: these aren't pretty. I also have no intention of wearing them with an actual outfit, save for the beach or pool. It might be the "Lake Green" color I opted for, which gives borderline Miss Frizzle vibes with its chunky, colored plastic. I think the white pair would look better, which is the pair I originally wanted, but didn't think the light color would hold up with our mulberry situation.
Aesthetics aside, I love these for their practicality. "EVA" stands for ethylene vinyl acetate: a lightweight, elastic material. It feels like a sturdy foam, or what I assume Crocs are made out of. (I've mercifully never worn Crocs.) The molded footbed is incredibly supportive, while the thick, cushioned sole is comfortable to walk on. They're comfortable right out of the box with no break-in period necessary and no blisters in sight.
Of course, the biggest selling point is that they're waterproof. They have the standard-issue deep treads that all Birkenstocks have for traction, so I imagine these will be great for a boat or a rockier shoreline. If you prefer the pool, I have no doubt they'll offer better support than a slippery flip-flop. (I realize this focus on practicality is aging me, but c'mon, who wants to do that awkward shuffle in wet flip-flops?) This also means that you can simply wipe them down when they get dirty, which makes them a wonderful option for the garden.
Long story short, they're great. Definitely worth $50 and I think I'll be getting years of use out of them. You can find them here.
Sizing notes: The sizing is the same as other Birkenstock sandals. I go down a size, so while my American size is 7, I wear Birks in a 37 (the EU equivalent of 6/6.5).
–
Let's keep in touch!
Instagram / Facebook / Pinterest / Bloglovin'
Thanks for visiting! As a reminder, I may earn an affiliate commission if you buy an item through my links. This is at no cost to you. I appreciate your continued support!