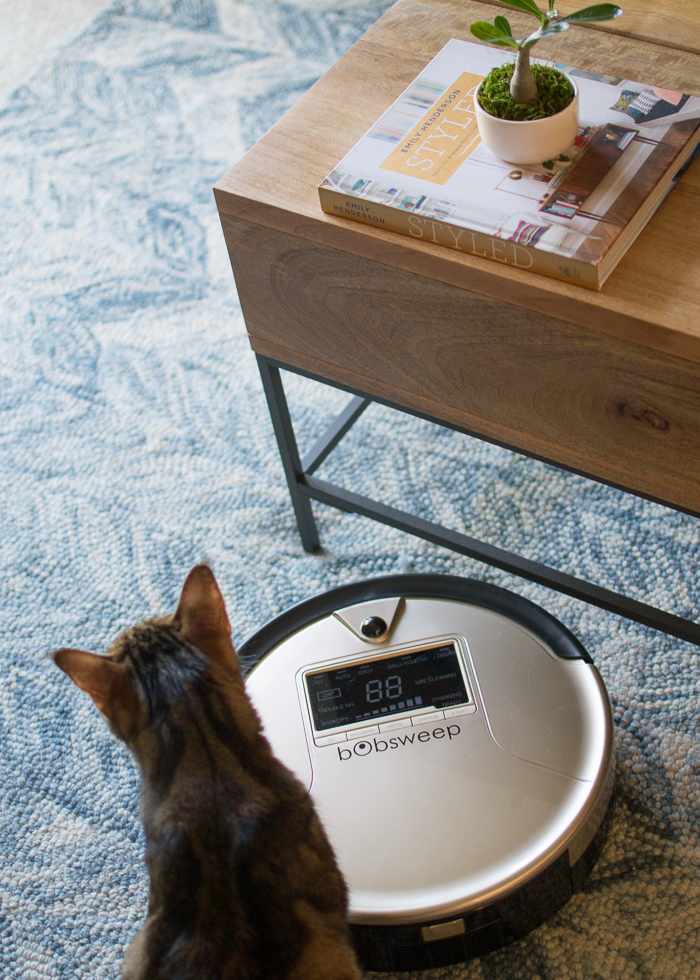 Home purchases are becoming more abundant 'round these parts as we continue to get rid of our transitional furniture and invest in nicer items with a future home purchase in mind. In fact, we're planning to finally order a king-size mattress and frame this weekend! So, you can imagine how excited I was when bObsweep reached out with an opportunity to try the bObsweep PetHair, a robotic vacuum cleaner that's akin to having a live-in maid who vacuums, sweeps, mops, and UV sterilizes the floors.
As any pet owner knows, keeping up with hair and dander is a seems like a never-ending chore. (How Bacon manages to shed as much as he does without going bald is a miracle.) And, if we're being brutally honest, I'm not as good at staying on top of my vacuum duties as I probably should be. (#RealLife) This is exactly why I was thrilled to invite the robot affectionately known as "Bob" into our lives.
Bob arrived with a little birth certificate to announce his arrival. (He wasn't exactly a petite newborn at 7.6 pounds and 4.2 inches tall!) After letting the the little guy fully charge overnight, he was ready for action. He seemed a little scatterbrained buzzing around our living room and bumping into just about everything, but he began to learn the placement of items and would adjust his trajectory as he continued through our apartment. Honestly, I wasn't sure he was doing much at first and we laid down a pile of crumbs (rather, a smashed goldfish cracker) to see if he could sweep it up. There's a setting that forces him to spot clean one area and yet he struggled with the larger pieces. Overall, though, he did a great job with pet hair (as promised), dust, and the fibers my rug doesn't seem to stop shedding. (We actually had to empty the dustbin five times during his 20-minute excursion because of how much stuff he was picking up. I realize that makes me sound like a bad housekeeper.)
When Bob starts get tuckered out and only has 15% of his battery remaining, the vacuuming component shuts down and he begins to search for his docking station. We didn't heed the instructions and had placed the docking station in the middle of the room, which makes it harder for Bob to locate. Out of pity, I picked him up and set him on a course to make a beeline for his dock … which he missed. Afterward, we read that picking him up screws up his internal map. Oops. Placing the docking station parallel to a wall with plenty of open space around it makes it easier for Bob to take a break.
Overall, it seems that Bob will be best at keeping up with daily or weekly chores. We've actually set a timer for Bob to get to work at 9:00 on Saturday mornings so we can lounge around enjoying brunch while he picks up after us! You can adopt a bObsweep of your own at www.bobsweep.com.
I was giving Bacon so many treats (enough to take the place of his dinner) to get him acclimated to Bob and he was doing so well … until I turned it on. As you'll see below, Bacon wolfed down the last of his morsels before making a mad dash in the opposite direction. He eventually warmed up enough to tolerate the bObsweep PetHair as long as he was on a perch looking down on it with plenty of room to bolt if Bob got too close.
Rug: West Elm
Coffee Table: West Elm (it's the raw mango version)
Book: Styled by Emily Henderson
Vacuum: c/o bObsweep PetHair

***
Thanks to bObsweep for partnering on this post!