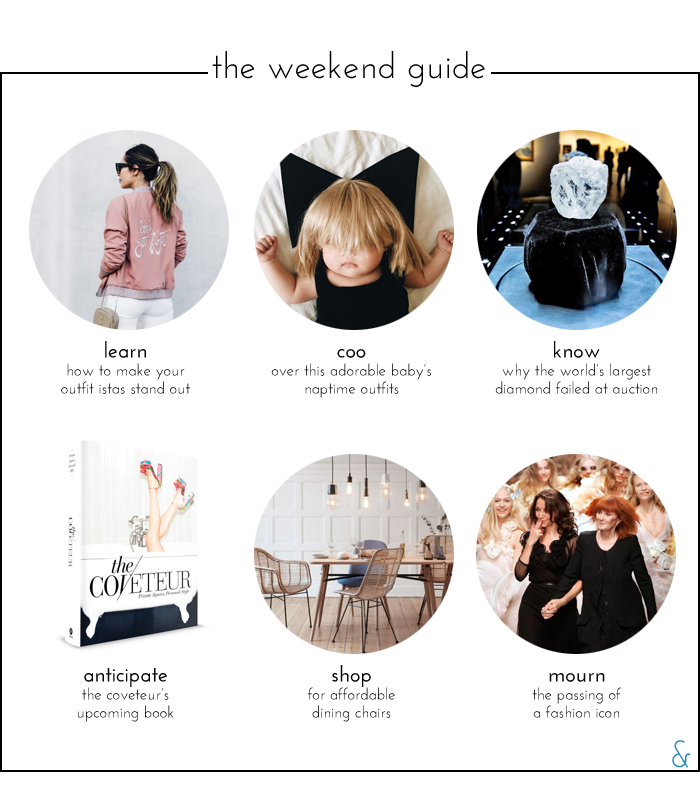 I'm sorry I'm late with this weekend's guide! I sat down to work on it yesterday and found myself suddenly motivated to sift through our photos from our spring vacation Denmark, edit them, and create a Facebook album to share with family and friends. I'll share some of them here soon with the travel guide I'm working on. Hopefully, it'll be next week!
LEARN
Nailing the perfect outfit Instagram isn't easy, but Marianna breaks it down with ten tips for making your #OOTD stand out.
COO
These photos are probably the cutest things you'll see all day.
KNOW
The world's largest diamond was expected to sell for over the $100 million reserve at auction, and yet, it struggled to close at $61 millon. This article offers insights into why that may have happened, along with some background into the diamond industry.
ANTICIPATE
The Coveteur is coming out with a book this October! I can't wait to get my hands on the coffee table eye candy.
SHOP
We've been keeping our eye out for furniture we'd love to buy as we continue with our house hunt. Some things, like a king-size bed and mattress, will happen now (so excited!) and others will be put on the back burner until we close. I've bookmarked Kirsten's post with 30 affordable dining room chairs to reference when we're finally ready to take the plunge.
MOURN
Fashion icon Sonia Rykiel passed away last week at the age of 86.
EARLIER THIS WEEK
Daydreamed about a tropical vacation in this outfit.
Coveted a sophisticated collection of jewel tones.
Went "Behind the Baubles" with Lisi Lerch.