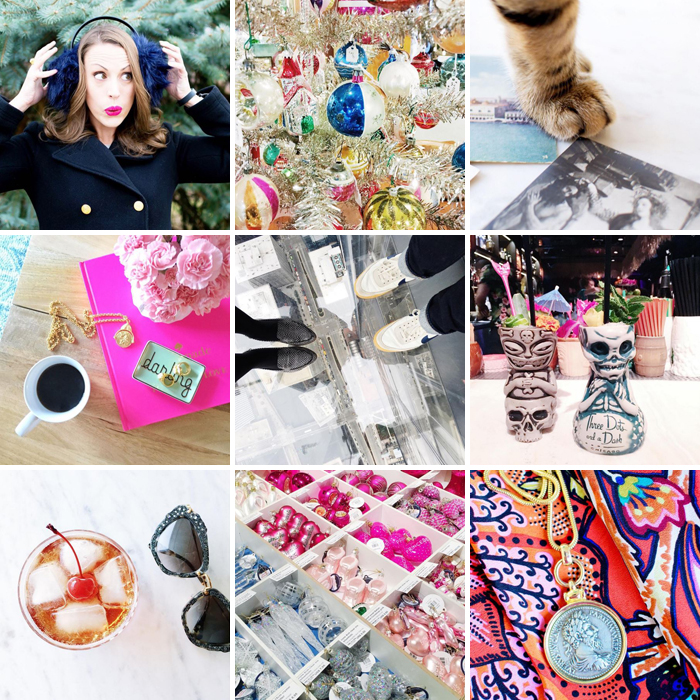 I can't believe there are only 28 days left of the year! It seems like only yesterday that I penning my 2015 New Year's resolutions (only to cast them aside shortly after), but I'm thrilled that it's finally the holiday season. We went to Chicago last month for the opening weekend of the Christkindlmarket, which is becoming one of our favorite annual traditions. It was the perfect way to spend time together before the whirlwind of family and travel consume every weekend of December. Here are a few of my favorite snapshots from November:
Picked up a pair of furry ear muffs at Uniqlo. They're ridiculously large, but they are warm. For $13, they were obviously coming home with me.
Stopped at a local antique mall and admired the tinsel trees filled with vintage ornaments.
Begged Bacon to move away from my photoshoot location for this post.
Kicked off the week with coffee and Julie Vos jewels. I've been wearing this necklace and ring on repeat. (Find the book here. The "darling" tray is sold out, but I'm also in love with this one.)
Stood 1,353 feet above Chicago at the Willis Tower. (Find my beloved loafers on sale here. They're still full price here, but in more sizes.)
Enjoyed cocktails at Three Dots and a Dash in Chicago. I loved the tiki glasses so much that I had to buy the set to bring home with us. (Now, about that bar cart…)
Wore fabulous Miu Miu sunglasses. I borrowed them from Ditto, a subscription service to borrow sunglasses. It normally costs $24 per month, but you can sign up for one month free with code BEDKNOBS. Read more about Ditto's Endless Eyewear.
Spent a fair amount of money on Christmas decorations and ornaments at the Christkindlmarket in Chicago.
Geared up for an incredible collaboration with Ben-Amun. Isn't this Roman coin pendant amazing?
Let's be friends on Instagram @bedknobsandbaubles!