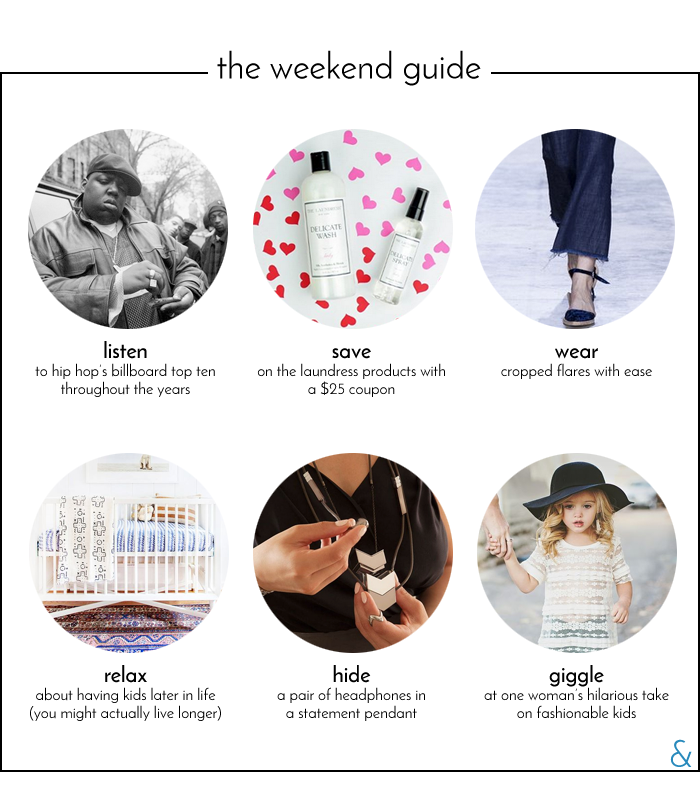 LISTEN
Head down hip hop's memory lane with a scrolling audio timeline of the Billboard Top Ten from 1989 to 2015.
SAVE
I wanted to chat about my experience with The Laundress products this week, but I ran into some technical difficulties with our computer that left me in a blog drought for a few days. I'll get to it on Monday (fingers crossed). In the meantime, snap a photo of your laundry day chores and post it to Instagram with #IamTheLaundress. Then, fill out this form for a $25 voucher to spend at The Laundress!
WEAR
I'm late to the cropped flare bandwagon, but I'm eager to jump aboard now that I came across this pair (also in a darker wash here). Here are tips on how to try the trend.
RELAX
At this point, I'm in the kids-after-33 camp. Everyone seems to have their opinions about older mothers, but those who naturally conceive later in life might enjoy a longer life.
HIDE
Stop looking like a DJ with a gigantic headphones. Instead, disguise a pair of ear buds in a statement pendant.
GIGGLE
Have you seen Tiffany Beveridge's hilarious take on toddler fashion? I'm eager to pick up her book featuring the fictional pint-size fashionista Quinoa.