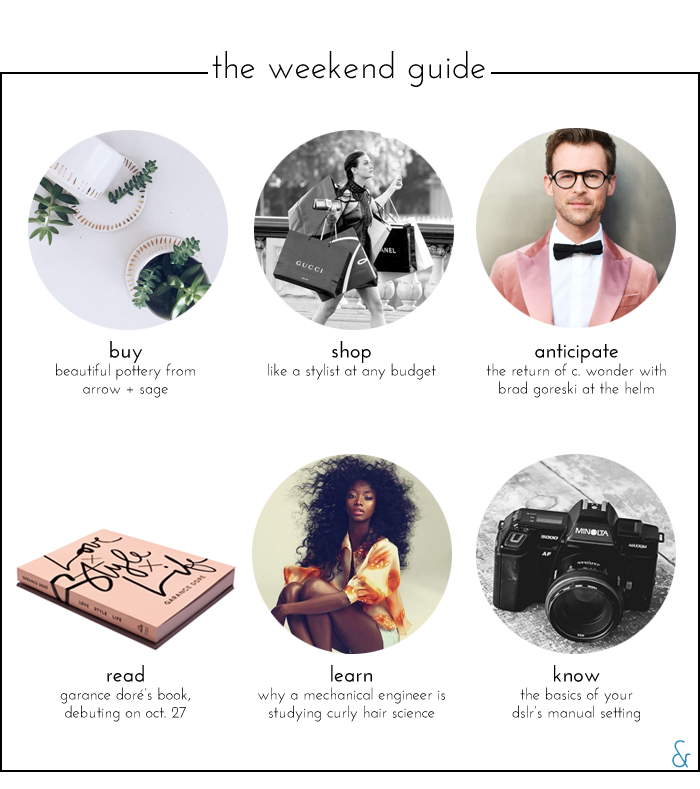 BUY
It's a little early for holiday shopping, but I have Arrow + Sage bookmarked for unique gifts this year. I'm obsessed with the pretty ceramic planters.
SHOP
I've been going a little overboard with spending this year and not always on items I'm crazy about a few months later. Here are tips to shop like a stylist — on a budget — to keep your wardrobe in check.
ANTICIPATE
With Brad Goreski at the helm, C. Wonder will relaunch next spring on QVC.
READ
Be one of the first to read Garance Doré's book, Love Style Life, when it's released on Oct. 27.
LEARN
Hair doesn't always react to heat the same way. One mechanical engineer is taking it upon herself to study the science of curly hair.
KNOW
Your DSLR's manual mode can be a little intimidating. Get acquainted with the basics and start practicing this weekend.
EARLIER THIS WEEK
This week's five finds under $55.
Nine acres of sunflowers.
Mini moments from July.
My favorite face care products.
Learning to embrace sneakers with dresses.
Meeting up with Fran for cocktails.
A scalloped leather bag to obsess over.