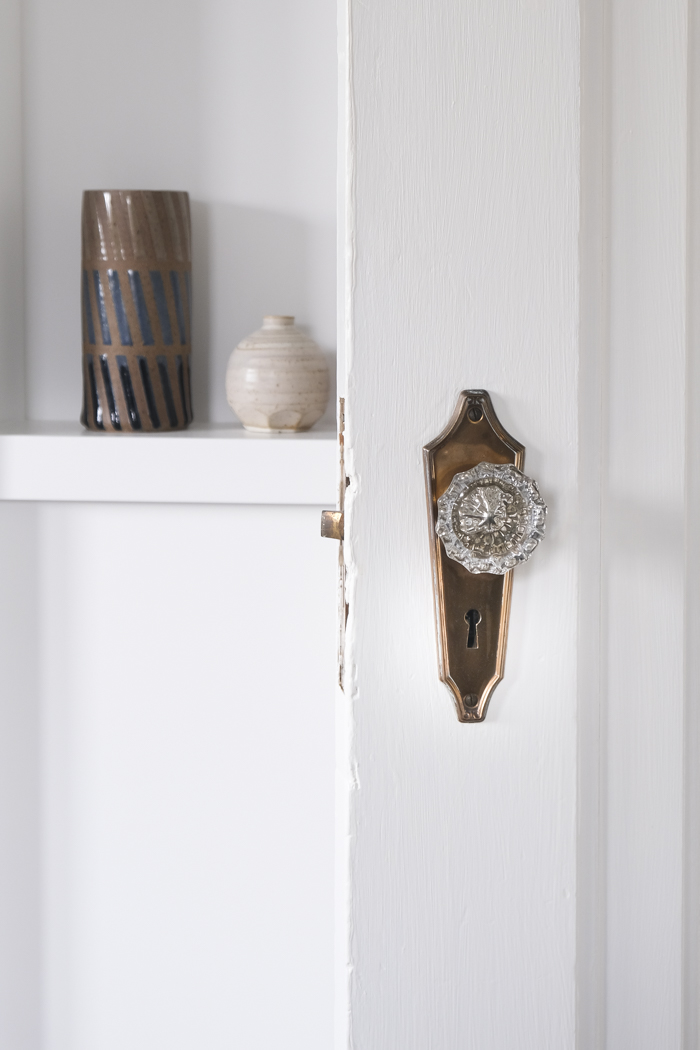 As far as I'm concerned, people who paint over hardware are the worst kind of people. (Well, no, but they're up there.) I know that taking hardware off of the door and frame is a pain. It's difficult to rehang a door. It's annoying to take precious time away from painting in order to do the prep work. However, please, please, please just do it for people like me who have spent literal hours removing paint and polishing the original brass hardware in her 1920s home. That said, removing old paint (be it latex or lead-based) is an easy one, even if it can be time consuming.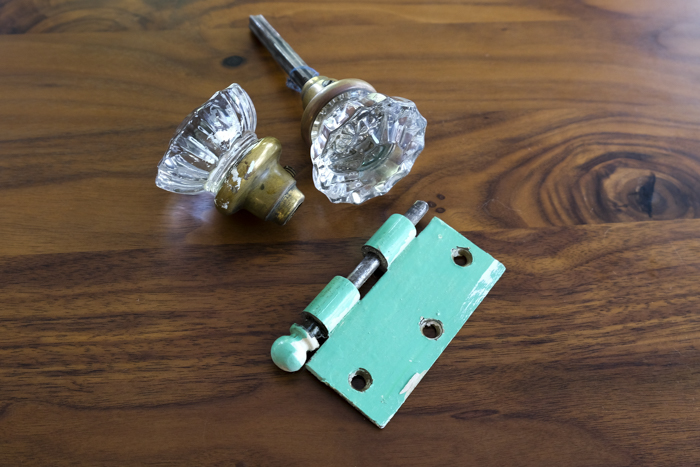 All of the hardware in our home was painted over to various degrees. (I mean, look at that green hinge from our guest room.) For the most part, the door hinges and mortise locksets were in the worst shape and only a few splatters were on the door knobs and rosettes. After doing some research, I found the following to being the most efficient process to removing the paint and bringing back luster to the brass.
Materials:
Old stock pot – You're going to be boiling water and your hardware in this, so use an old one that you never plan to use for food again. If you don't have one that you can dedicate to house projects, check Goodwill. Alternatively, here's the cheapest one I found on Amazon with Prime shipping. You can also use an old Crock-Pot. This can be on the smaller side, but a lot of water will evaporate depending on how much hardware you're cleaning at once.
Tongs – The cheaper the better for the same reasons as above.
Heat-resistant rubber gloves – For handling hot hardware when it's done boiling.
Nylon bristle brush – You'll need it to loosen some of the paint. If your hardware is already scratched and you don't mind a few more scuffs, you can use a brass bristle brush. Keep in mind, though, it's much more abrasive and you'll be leaving scratches in its wake.
Utility knife – Useful for getting bits of paint out of small crevices.
Flitz polish – This metal polish has rave reviews on This Old House and it works really well. I used it for this project, but also on other vintage brass pieces.
Citristrip paint remover – You're using boiling water for the majority of your paint removal, but as you'll see below, there are a few times you'll want to avoid dunking your piece in water: namely glass door knobs and mortise locksets. More info is in the "tips" section below.
Latex gloves – Between the metal polish, paint remover, and old flecks of paint, I promise you'll want to keep your skin protected.
Old rags or paper towels – You'll use these for polishing the hardware. I opted for paper towels to make cleanup easier, even if it's not the most eco-friendly of choices.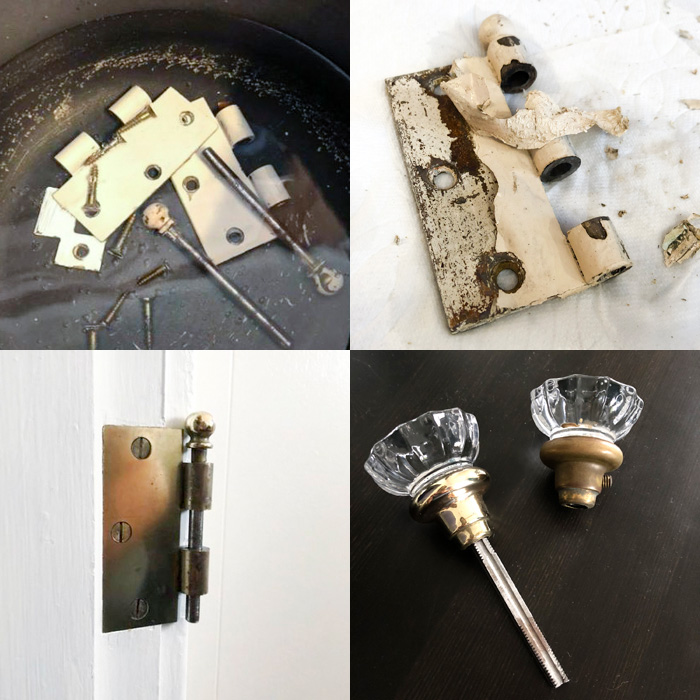 Steps:
This step is crucial to making your life easier: Take each hinge off and slip them into plastic baggies labeled with the location of each component. I had labels such as "main bedroom door frame top" and "main bedroom door frame bottom" to keep everything as organized as possible. While the hinges all look the same, I didn't want to risk swapping anything around if there had been imperceptible warping over the past 90 years. To that end, if there are shims behind your hinges, keep and label those, too. They're there for a reason.
Bring water to a boil in an old pot. You can also use an old Crock-Pot and let it simmer overnight. I prefer using a pot on the stovetop so I could move through the process in an afternoon for each set of hardware rather than waiting until the next day.
Drop your hardware in and bring it to a boil. (Again, I did this section by section to avoid mixing up any hinges.) It takes about 20 to 30 minutes at a boil for the paint to loosen from the hardware, so be patient. And, please do this in a well-ventilated area. Theoretically, the latex paint will peel off in sheets and lead-based paint flakes off. Apparently in this situation, the lead isn't as much of a concern compared to sanding it because the wetness is keeping it from being airborne. (Don't hold me to this, though, it's what I read on This Old House and I trust those folks. We'll see how my lungs fare in a few decades.)
Once the paint is starting to come off the hardware, remove it from the boiling water with a pair of tongs. This is where your heat-resistant rubber gloves come into play, too. You'll need to hold the hardware and use your brush to scrub the remaining bits of paint off — and the hardware is extremely hot. Some of the paint might be stubborn. In those instances, I used a utility knife to gently scrape away the paint. This was also useful for getting into the crevice of screwheads. If that doesn't work, put it back in the boiling water for a bit longer.
At this point, you'll need to let your hardware cool. It'll look similar to the photo below. If you have bits of paint leftover after cleaning it, you can use the utility knife to get at the little bits before going to the next step: polishing.
Polishing your hardware is incredibly satisfying. I prefer using Flitz polish. It's non-toxic, but you might want to crack a window as it doesn't smell the best. Donning a pair of latex gloves, smear polish on your hardware and give it a minute to start reacting. Then, using either a clean rag or paper towels, rub the polish over the hardware. You'll need to keep finding a new area of your rag or paper towel as you remove more and more of the black tarnish from your hardware. A rag will be less abrasive, but I found that I preferred using paper towels as I went through quite a few of them.
Rinse your hardware under running water, dry it, mount it!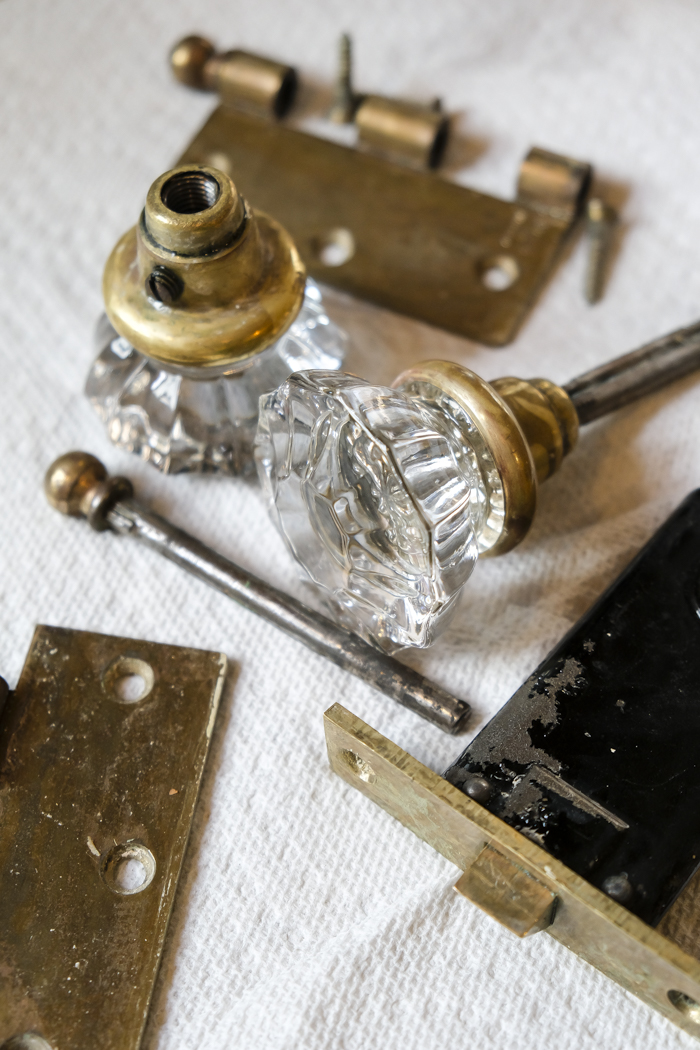 Tips:
Do not boil glass doorknobs. Water can get stuck in the knob itself and take awhile to evaporate. In this instance, use Citristrip, a chemical-based paint remover that's safe for indoor use, to remove the paint. You'll need to protect your hands with a pair of gloves and smear on the chemical remover and wait a half hour or so. The paint will start to pull away from the hardware and you can wipe it off. I then rinsed it well under running water to remove the chemical and stop the reaction.
Paint on the glass portion of the doorknob can often be scraped off with a utility knife without scratching the glass.
I also did not boil the mortise lockset to avoid any accidental rust of the interior components.
When remounting the hardware, I put a fresh pair of latex gloves on. If you weren't careful about removing every last bit of patina when polishing your hardware, it's easy to transfer some of that black grime to your fingers and inadvertently get it on your door and frame. It didn't clean off particularly well when the smudges happened to me, but a bit of touch-up paint did the trick.
Pin It for Later: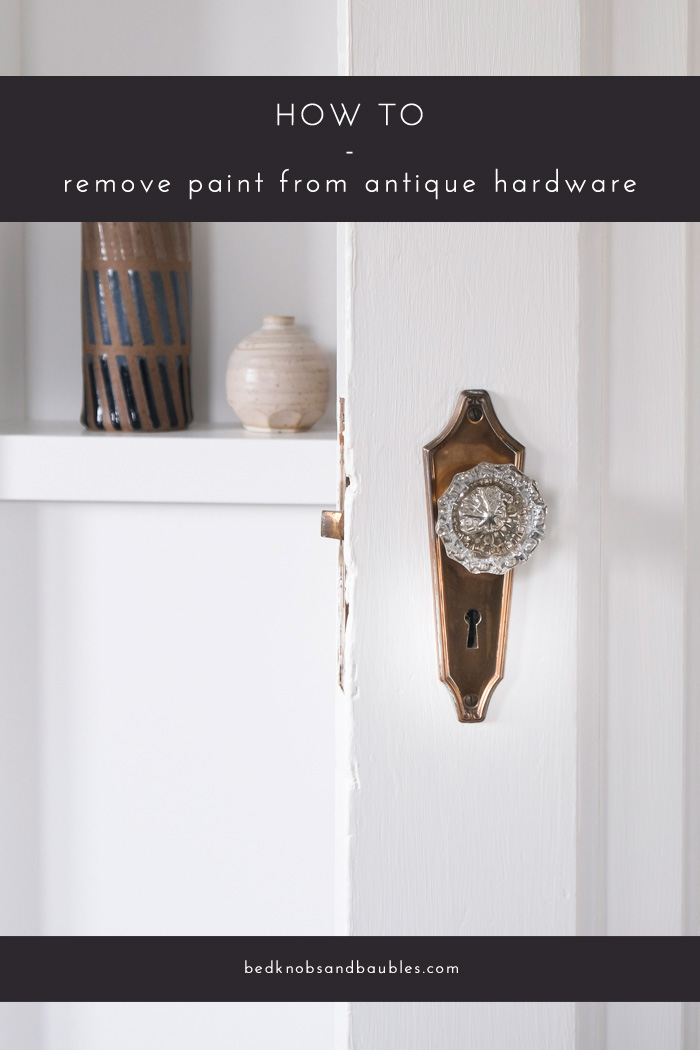 –
Let's keep in touch!
Instagram / Facebook / Pinterest / Bloglovin'
This post contains affiliate links.