I can't believe we're already through the first month of 2016! I don't really get out much in the middle of winter, but there are a few mini moments worth reminiscing about:
Playful stripes kept a monochromatic look from being too boring. (The cape is still available in medium/large and it's on sale.)
Grocery store blooms are one of my favorite indulgences. Bouquets of tulips (my favorite flower) must mean that spring is on its way!
I managed to stay on budget with the first shopping recap of the new year. A $200 Visa gift card from work allowed me to take home that Tory Burch beauty for virtually nothing. It's been popping back on the Tory Burch site in various colors. Keep an eye on it here.
I go through my jewelry collection each spring to reorganize messy piles and rediscover old favorites. I'll do a post on my organization technique soon, but I will say that stackable clear plastic trays (sort of like this) are lifesavers.
One of my coworkers brought back chocolates from a recent jaunt to Italy.
We booked a trip to Denmark and Belgium! While we visited Belgium in 2014, we're beyond excited to go back to Brussels to restock our beer supply and head out on day trips to cities we didn't visit the first time around. However, we're definitely going back to Bruges for a day. The city looks like it's straight from a fairy tale.
I was given the opportunity to try out some products from The Laundress. I'm going to do a full review in a couple of days, but let me tell you that their Signature Detergent is a total game changer. I always buy white sheets, but didn't realize that they weren't living up to their full potential with Tide until I used The Laundress product. The sheets have never been this bright since I purchased them. You can try their products out with a FREE $25 voucher. All you need to do is post a laundry day Instagram with #IamTheLaundress and then fill out this form.
My beloved faux fur coat is available for an even deeper discount! It runs true to size.
Kate Spade's latest book is all kinds of adorable.
Let's be friends on Instagram @bedknobsandbaubles!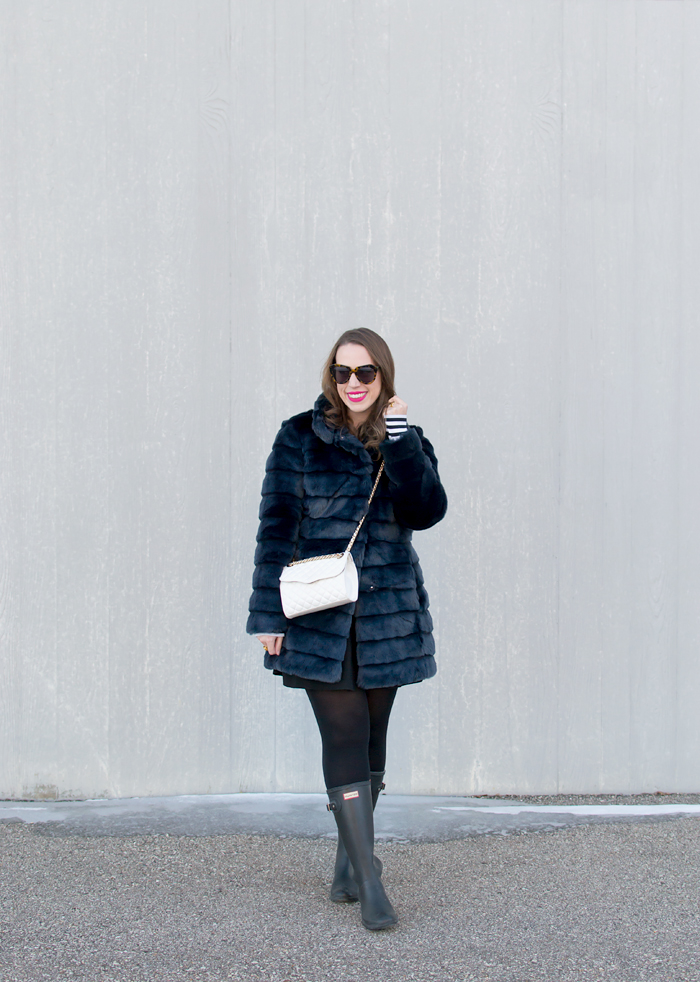 Well, we spent quite a bit of money on Saturday and officially booked an April trip to Denmark and Belgium! We're spending a week in Copenhagen with day trips to other Danish cities, and an afternoon in Malmö, Sweden. The second week of the trip will be in Brussels. We visited Brussels in 2014 and we're excited to go back and visit other Belgian cities, including Antwerp, and bring back even more amazing beer to cellar when we buy a house. Please send any and all travel recommendations!
Spending that much money at once always leaves me feeling sick to my stomach. So, this faux fur coat will likely be my last new purchase for awhile, but it's a good one. The "fur" is silky and smooth — a convincing replica of real fur — and it's warm enough for a Wisconsin winter. (I felt warmer in this on a windy 20-degree day than I do in the J.Crew stadium cloth cocoon coat. It's currently -7 degrees outside. I suppose that will be the true test!)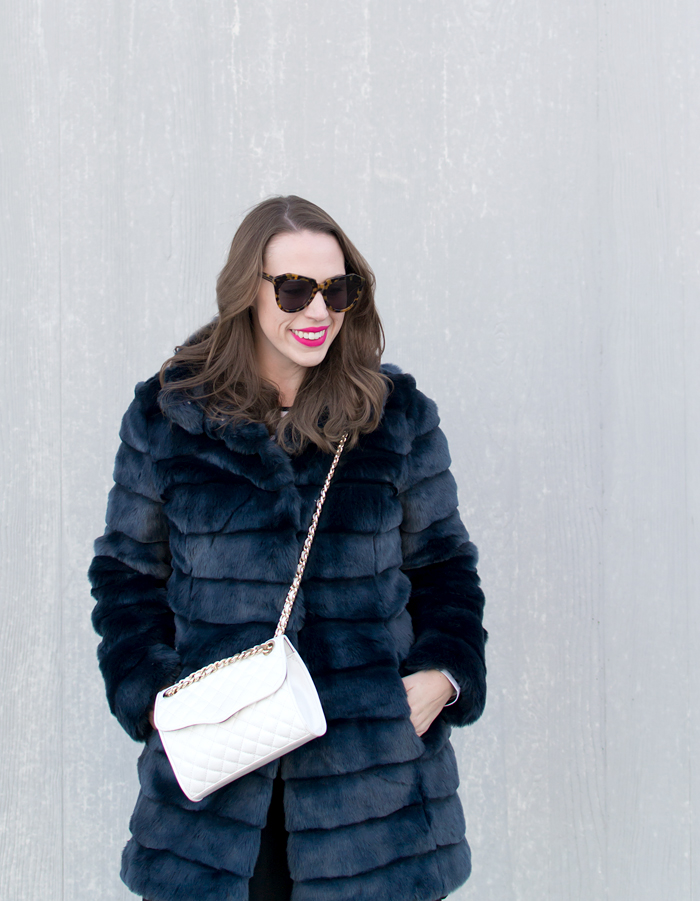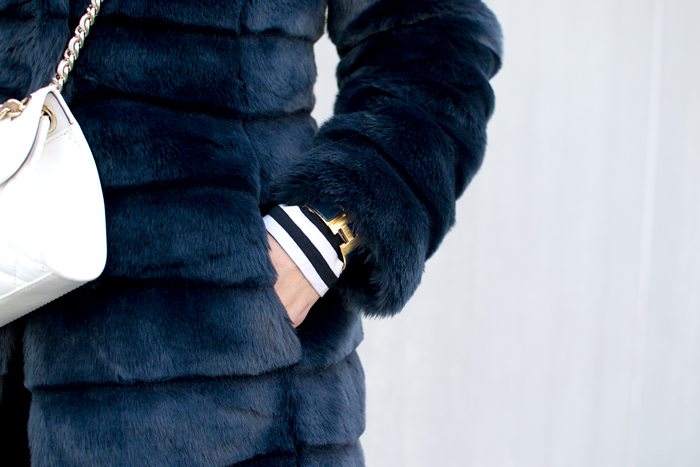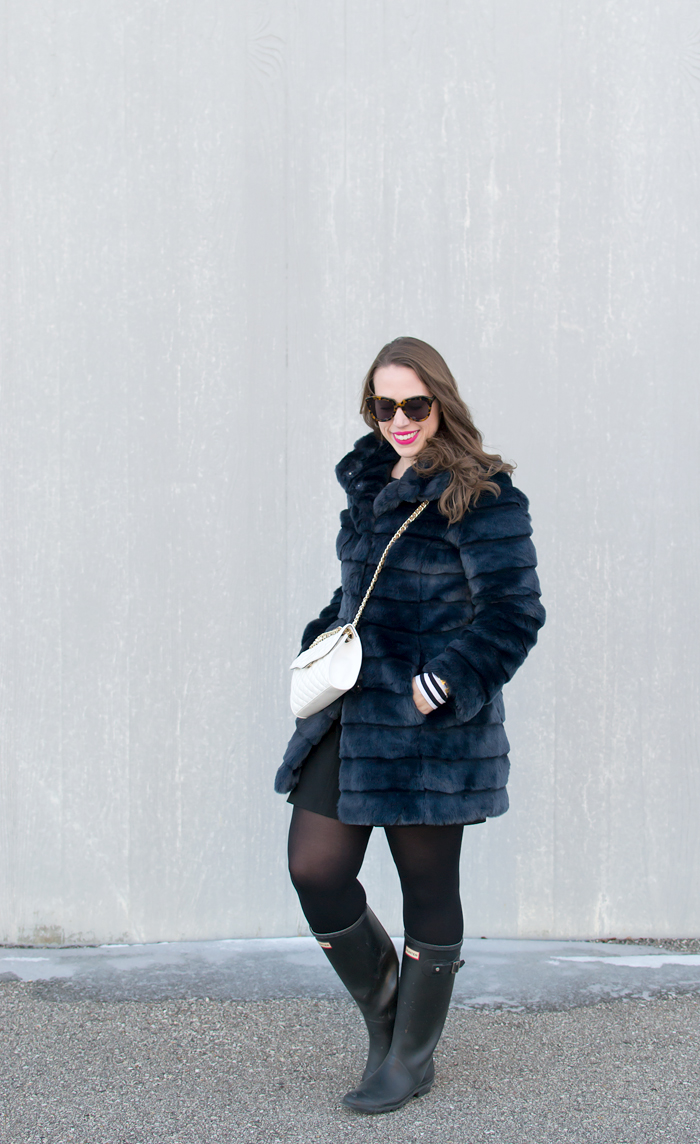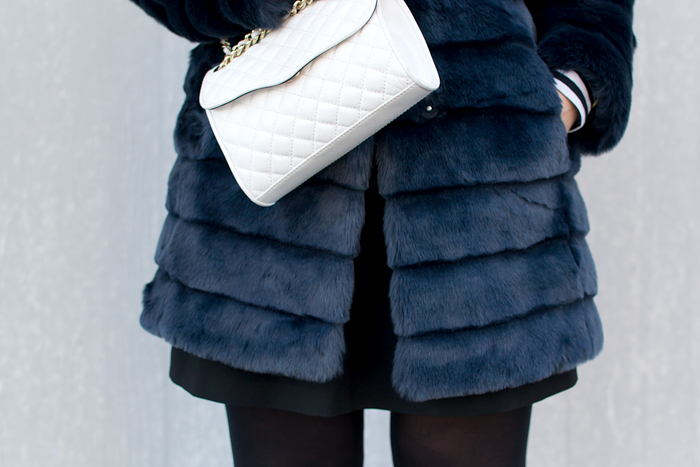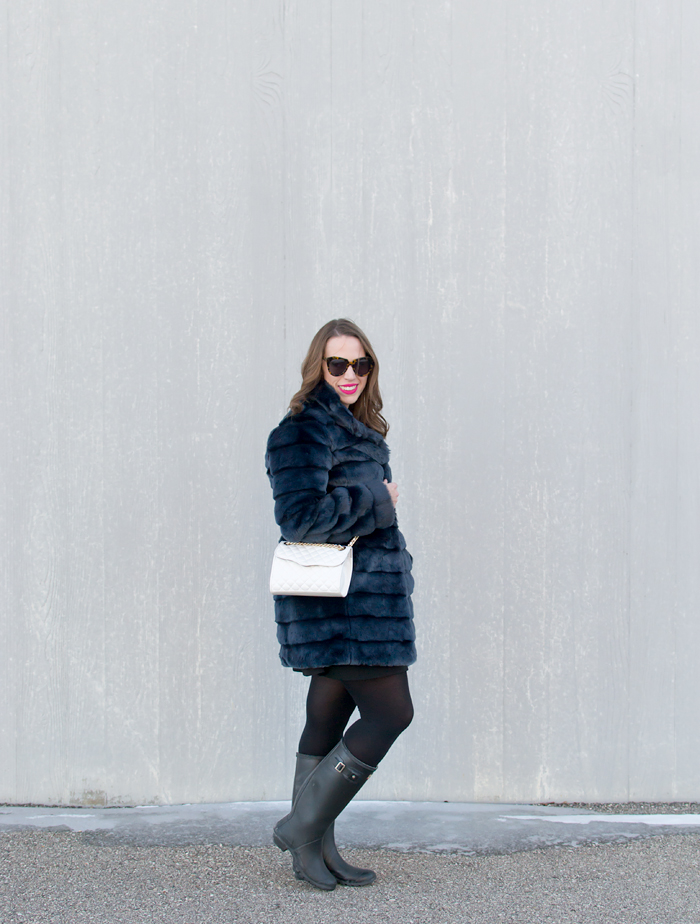 Coat: Eliza J (also in burgundy and silver) | Top: H&M | Skirt: LOFT (old, similar) | Tights: Calvin Klein | Boots: Hunter | Bag: Rebecca Minkoff c/o Shopbop | Rings: Monica Vinader, c/o Julie Vos | Bracelet: Hermes | Sunglasses: Karen Walker c/o Shopbop | Lips: Stila "Bella"