[spacer]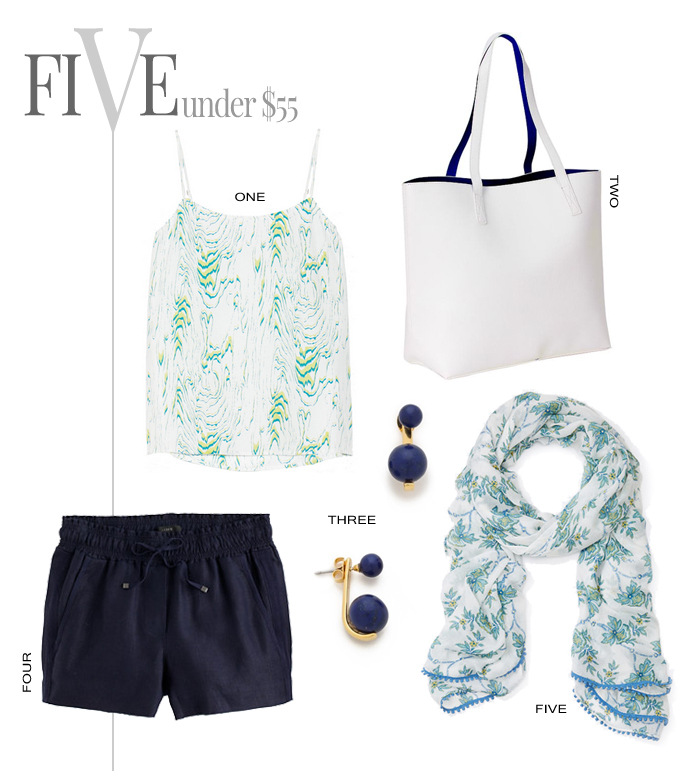 ONE | TWO | THREE | FOUR | FIVE
[spacer]
If you buy one thing from today's Five Under $55 post, make it the Equipment cami for $54. It's 100% silk and all of the sizes are currently available.
[spacer]
Take 50% off your entire purchase at Ann Taylor today. This scarf reminds me of a print Tory Burch would create. It also comes in a pink colorway. Other favorites under the $55 threshold include this tunic and these flat sandals. If your budget is a bit more relaxed, this maxi dress is just begging to be taken on vacation. I'm also fond of the heel on these sandals in "wet stucco."
[spacer]
Do you remember the Banana Republic blouse I posted earlier this week that's on sale for $40 through June 29? It just arrived and it's gorgeous. The material is perfectly lightweight and breezy for summer. When it's worn with the shoulders up, it's work appropriate, but it's happy hour ready with the neckline shrugged down. It runs large. I was worried about the small fitting over my hips, but it's just fine. I'll try to post photos of it on Monday.