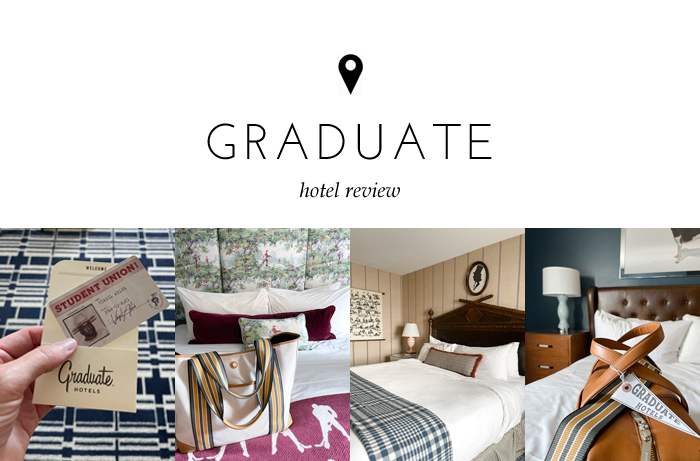 At the beginning of June, Graduate Hotels had a limited time offer for a $500 "Hall Pass" that allowed for virtually unlimited hotel stays in the month of July at their properties across the U.S. Like many of you, our travel plans were dashed last year thanks to the pandemic, and we've had wanderlust ever since — making this opportunity a no-brainer to get us out exploring again despite not having concrete plans when we booked the pass. We ended up doing four cities over the course of the month: Madison, Minneapolis, Iowa City, and Richmond. (Had our jobs been less busy that month, we would have squeezed in another city or two.) After staying in four properties within four weeks of each other, I thought I'd share my thoughts on the brand along with a few highlights from each city.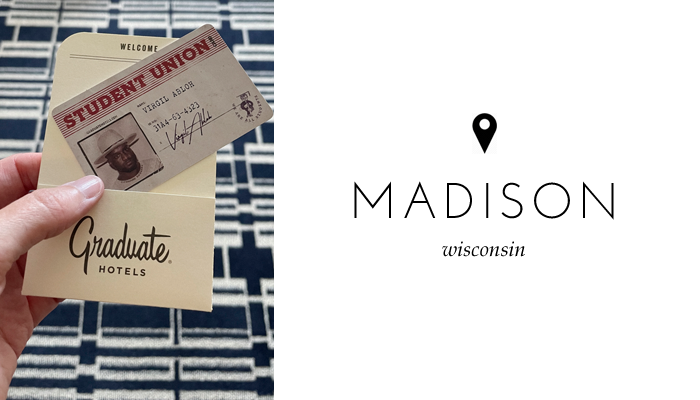 We kicked off our month of travel with an overnight right here in Madison. I've never stayed in a hotel in the same city I'm currently living in, which made the one-night staycation feel special. Like all of the Graduate properties, the Madison location pulls inspiration from its city, state, and university. The lobby, below, feels like a chic summer camp with the canoe light fixture and vintage decor. And those flamingos on the wildlife print? That's a cheeky nod to Madison's official city bird. As we discovered during the month, the hotels are typically renovated properties, so there's some inconsistencies with the buildings themselves as far as upgrades and finishes are concerned. It often adds to the charm of the vintage-inspired design, but it's something to keep in mind. (P.S. If you also have a collection of branded hotel writing utensils from places you've stayed, the hotel has you covered with branded pencils.)
I'm working on a comprehensive insider's guide to Madison, so it's difficult for me to share real highlights from the city with this stop! That said, we started our evening with lakeside drinks at the Memorial Union Terrace, followed by deep-fried cheese curds at Camp Trippalindee (the hotel's rooftop bar and restaurant) and dinner at Nattspil, a Madison staple serving up the city's best three-cup chicken in a dimly lit, intimate environment. There's no signage on the door, so check Google Maps when you're nearby.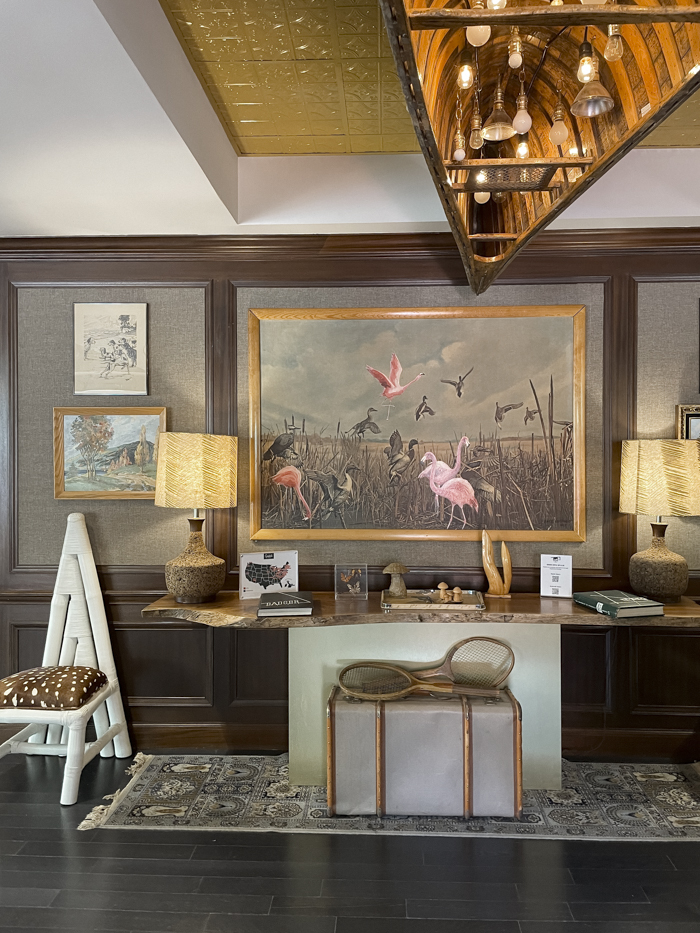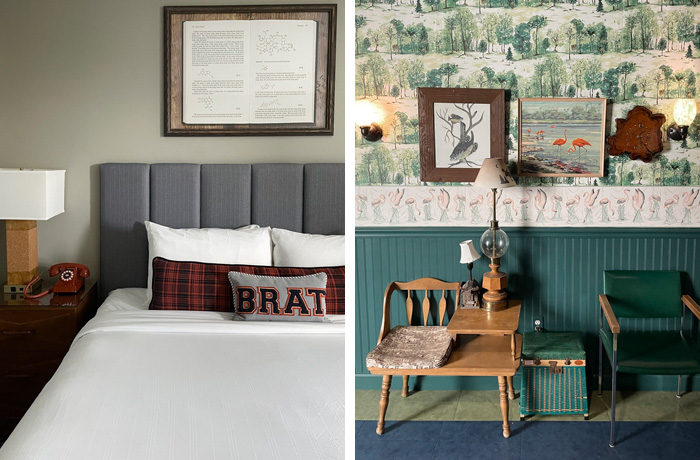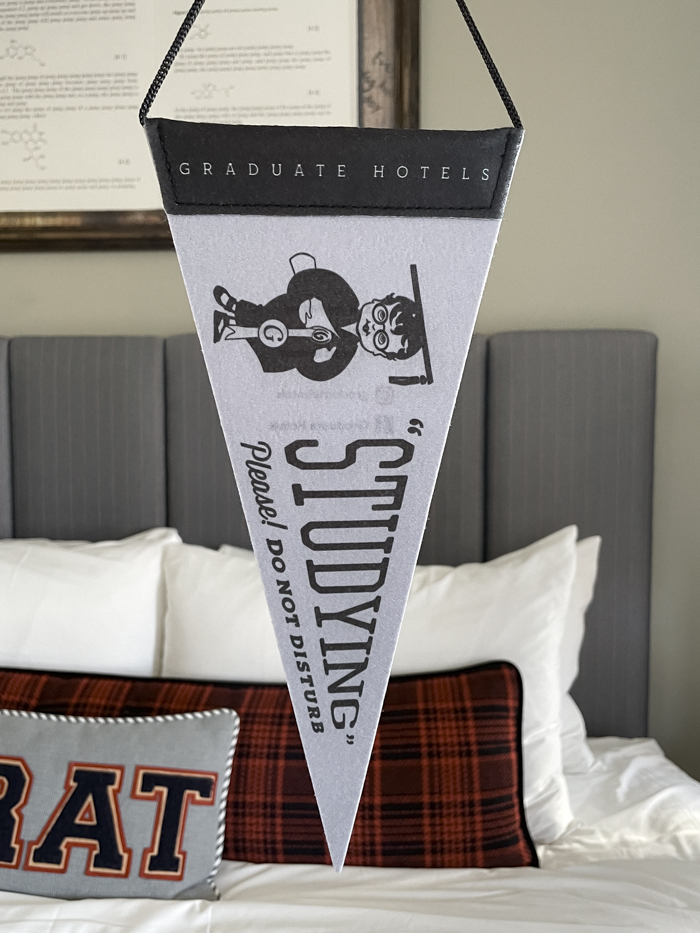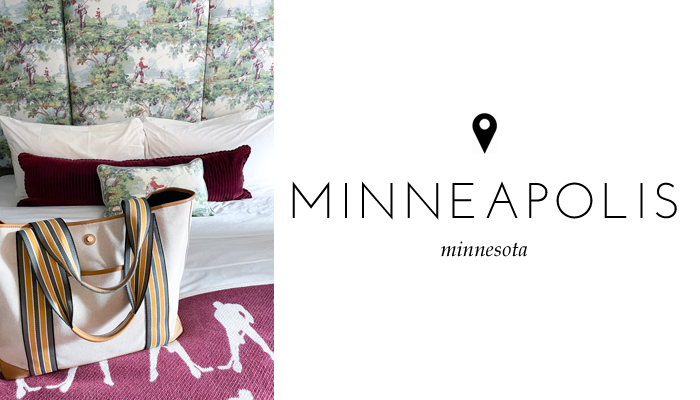 It's been a long time since we've made the four-hour drive to Minneapolis and this was the perfect excuse to make it back for a two-night stay in the Twin Cities! The location of this Graduate property is right on campus, which isn't the most convenient in terms of being a tourist, even if it was my favorite in terms of design with the outdoorsy upholstered headboard, a nod toward the university's hockey team with the throw blanket, and the wallpaper selections: herringbone in the bedroom and fish in the bathroom. And if you find yourself curious about the in-room art while you're staying at a Graduate hotel, you can use the AR mode on the brand's app to scan the pieces in the room to learn more — and some even have interactive games!
Minneapolis highlights: Walk through the Minneapolis Sculpture Garden to snap a photo of the iconic Spoonbridge and Cherry before exploring the Walker Art Center. If you love old houses, check out the American Swedish Institute for a tour of the historic Turnblad Mansion. For those looking for a bit of nature witihout venturing too far, visit Minnehaha Regional Park, one of the city's oldest parks that features a 53-foot waterfall. Dining and drinking took us to breweries throughout the city with favorites being Surly with its beautiful and expansive outdoor space (and excellent food — get the pretzel supplied by local favorite Aki's Bread Haus), BlackStack Brewing (the plant-filled tap room warmed my Millennial heart), Fair State Brewing Cooperative, and Indeed. We also enjoyed the North Loop Galley, which has food stalls from various local eateries, where we had Detroit-style pizza at Wrecktangle.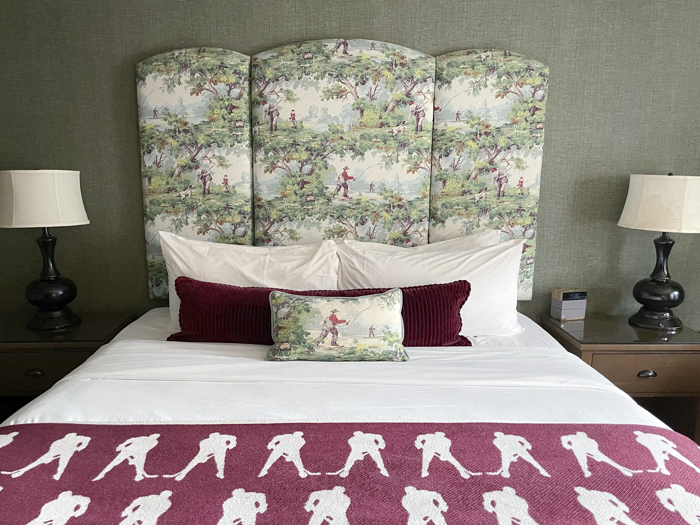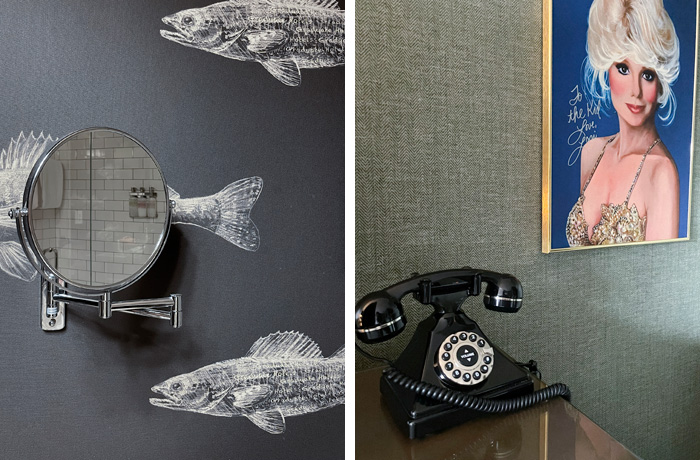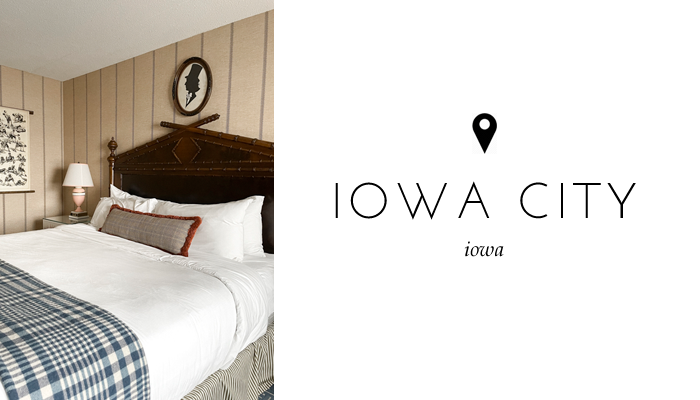 Iowa City was a surprise hit! My expectations were shockingly low after reading numerous blogs and visitor's guides that started their recommendations with variations on a theme: "First leave Iowa City…" They are seriously underselling this quaint college town. Plus, it's a UNESCO City of Literature — and only the world's third, following Edinburgh and Melbourne. The city's literary history influenced the Graduate's lobby and coffee shop with books and pencils adorning the walls. The decor also pays homage to the university's mascot — the hawkeye — with nods to the iconic movie Field of Dreams, and boasts its connection to Eskimo Pie desserts. This Graduate location was hands-down our favorite of the bunch, and they even included a welcome bag in the room with snacks, and a branded koozie and glass water bottle. (Speaking of which, a bottle of water in the room will run you $5.)
Iowa City highlights: There's a pedestrian mall near the hotel and side streets with shopping, restaurants/bars, and murals. Take time to wander around and duck into the boutiques. You can walk up to see the Old Iowa Capitol Building and then duck into the Museum of Natural History. Admission is free and you can see Rusty the Giant Sloth. For eating and drinking, we loved Big Grove Brewery (they also have a solid food menu and a huge outdoor space), St. Burch Tavern for nicer fare and cocktails, and The Dandy Lion for brunch (get the chicken biscuit).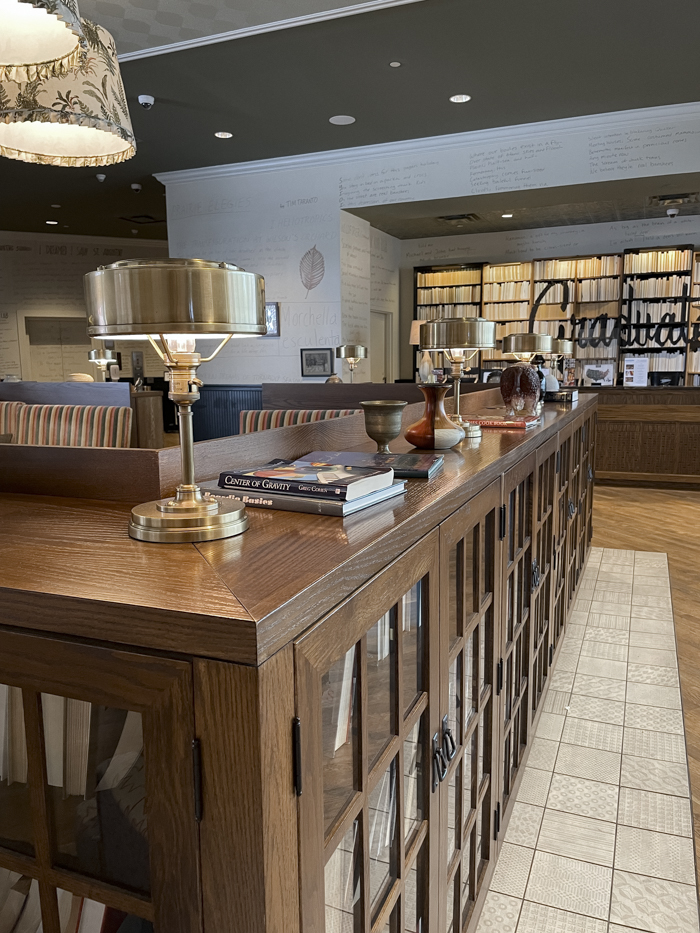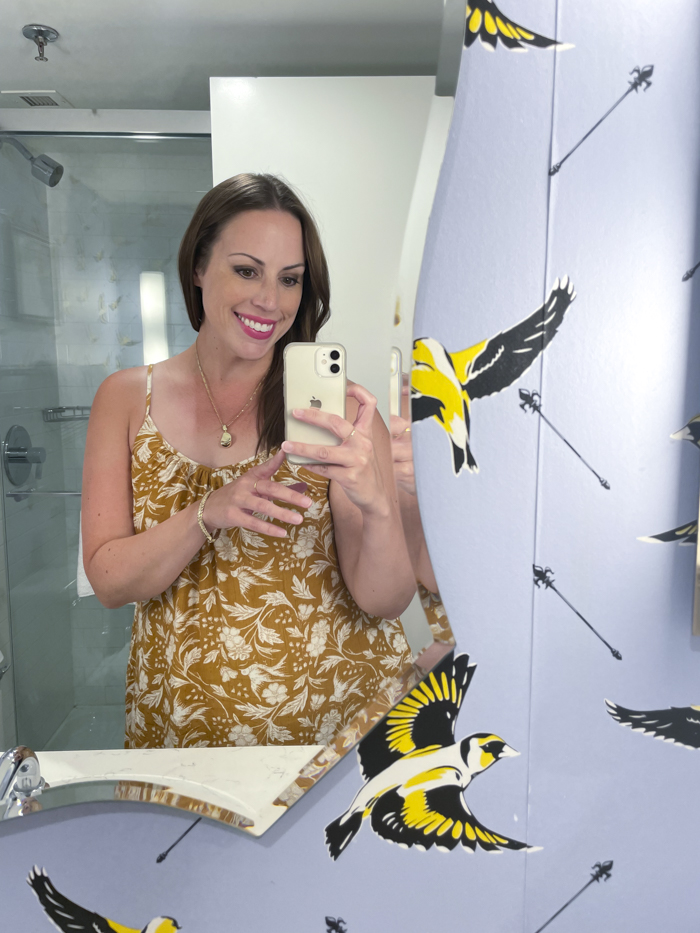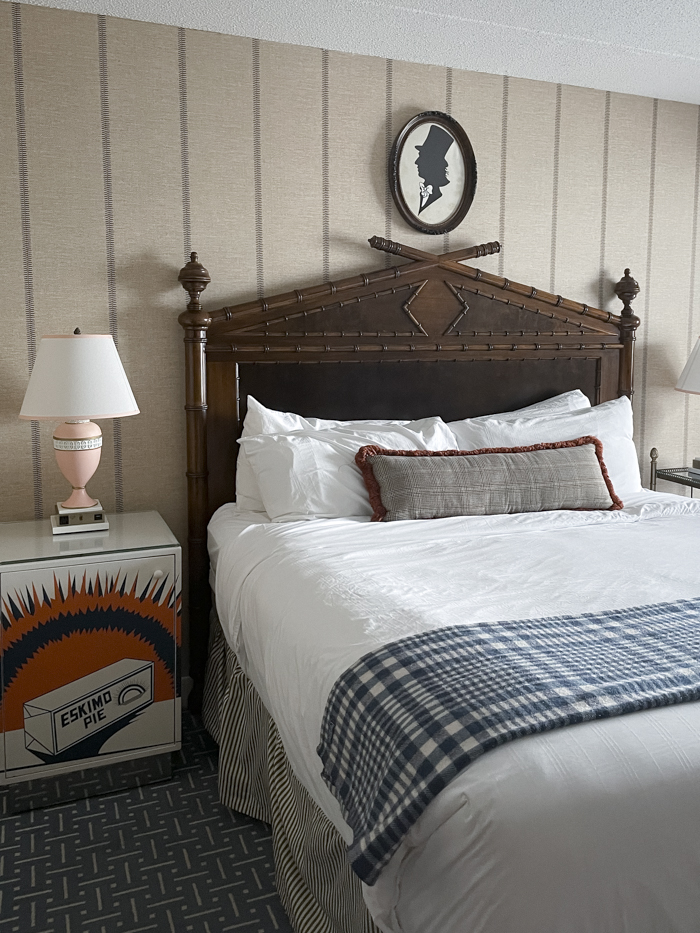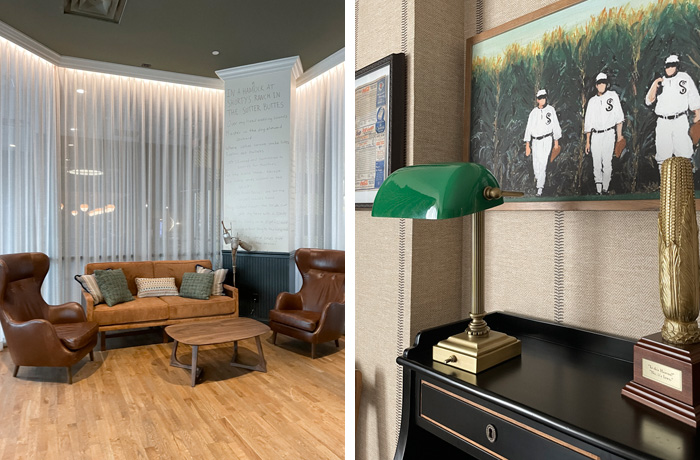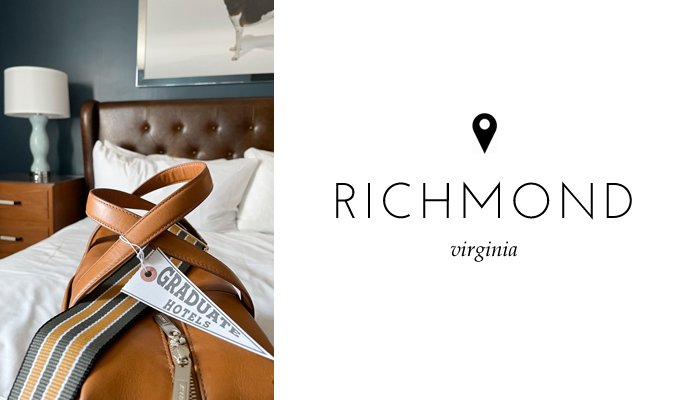 I have mixed feelings on the Richmond location, which I think is mostly due to the fact that the only room available at the time of booking was a handicap-accessible room, so everything was a touch lower than "normal" and the room was missing mainstays like a desk and a bathroom vanity. (The bathroom had the tiniest sink with the most ill-placed faucet that made washing my face a challenge.) The room design was also a lot more sparse than that of the other properties we stayed at. It seemed to be missing the special touches that made the other hotels so charming. Don't get me wrong, the hotel staff was lovely (we had an erroneous parking charge that was easily cleared up), the location was good, and the stay was nice overall — plus, there was a pool and a rooftop bar — but I'm not sure I'd rave about this one to those visiting Richmond.
Richmond highlights: I wasn't really sure what to expect from Richmond. It had been on our travel list for awhile thanks to its burgeoning beer scene, but we weren't sure that we'd find enough to do outside of that to make a trip worth it. Happily, there's plenty to do to keep yourself busy in the city! I'm going to do a dedicated travel post soon, but here were some of the highlights to add to your itinerary: Lucky AF for Asian fusion and sushi, Lift Coffee Shop and Cafe where we went for breakfast and iced coffee every day, Charm School for ice cream (including dairy-free options), the Triple Crossing brewery has solid beer options and excellent pizza, Virginia Museum of Fine Arts, Edgar Allan Poe Museum, and the Scott's Addition neighborhood for breweries (The Veil and Vasen were two of our favorites; check out Starr Hill's rooftop patio).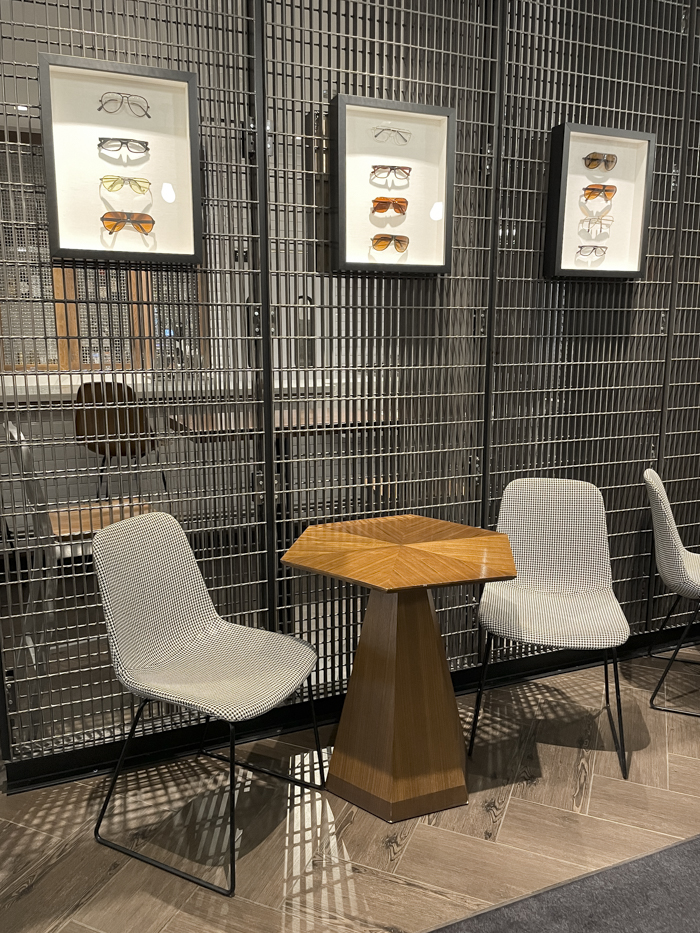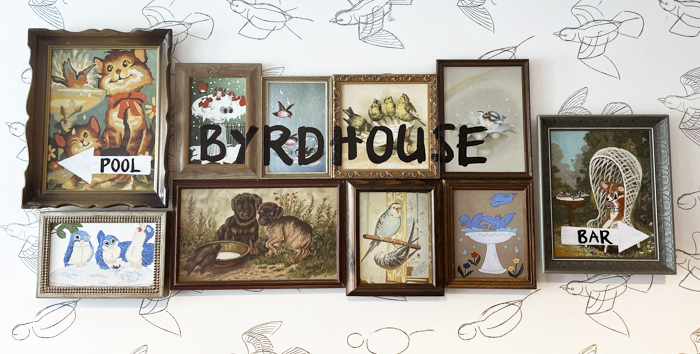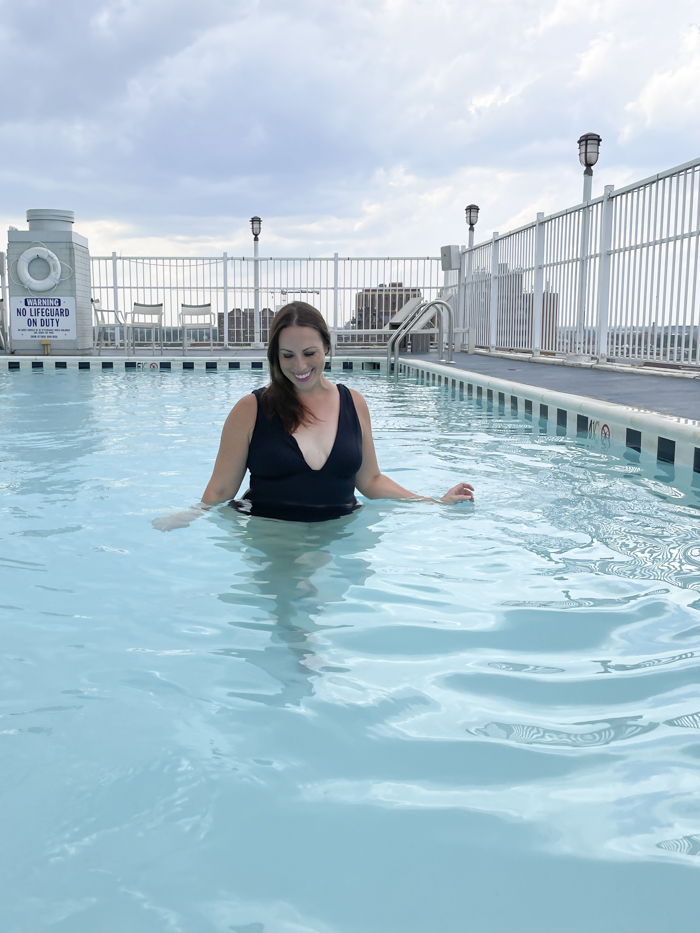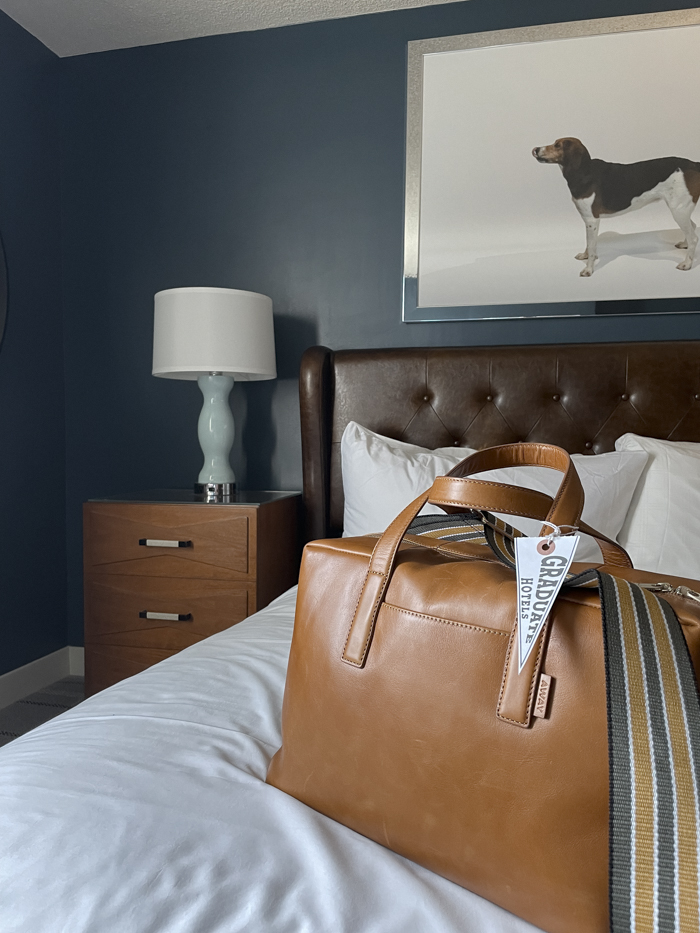 –
Let's keep in touch!
Instagram / Facebook / Pinterest / Bloglovin'
This post contains affiliate links