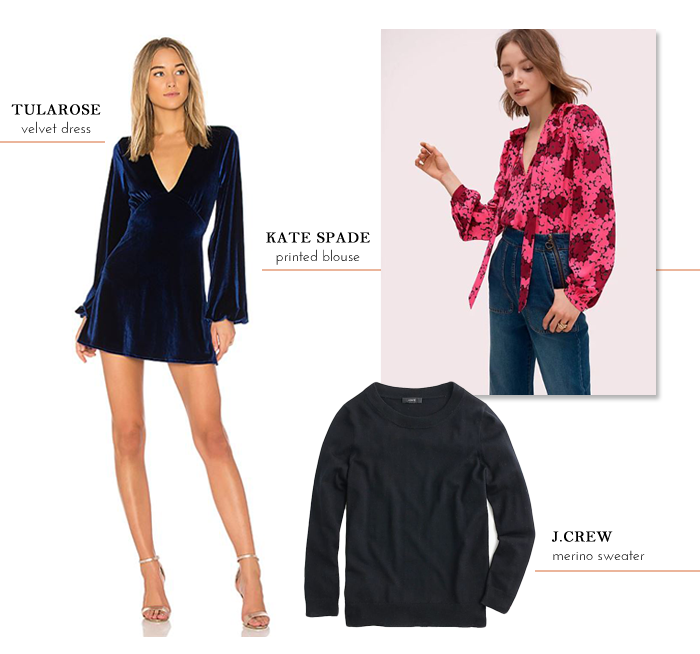 I'm happy to report that I'm sticking to my guns when it comes to selecting fewer, better things each month, and I can probably credit Marie Kondo in part for it. I went through a single dresser drawer last month, donating more than half of its contents. It wasn't a closet clean out by any stretch of the imagination, but it still felt great to shed myself of items that weren't my style any longer and it served as a poignant reminder to spend money on just the items I truly love. It's a process, of course. I feel like I've wanted to be able to approach my wardrobe like this for years, but it's only now — at age 35 — that it seems to have clicked.
PURCHASED
See all of this year's sartorial additions here.
Kate Spade bubble dot blouse – The one-star review for this blouse cracks me up since it has absolutely nothing to do with the quality of the piece. Unlike that person, I absolutely love the vibrant color and pattern of this '70s-inspired piece. I'm all about Nicola Glass' debut collection for Kate Spade and fell in love with this blouse (and this sweater vest) immediately. It is polyester, so I'd almost suggest waiting for a sale if that bothers you, but the fabric feels substantial, it has a nice drape, and it's well made. It runs a bit large. I ordered both the small and medium to try on. There wasn't a huge difference between the two, but the small looked more tailored and I preferred that look.
J.Crew 'Tippi' sweater in black – I had a $25 promotional gift card from J.Crew that expired at the beginning of February. I thought about buying something more playful, like this leopard skirt, but I figured I'd be happier buying a duplicate of my favorite sweater. The black Tippi sweater is one of my workwear staples and I love it with jeans on the weekends. Now I won't have to wait as long to wear it again when one is in the dry clean pile!
Tularosa 'Ryland" dress in aegean (also comes in pink, plum, and a print) – My lifestyle doesn't lend itself to too many cocktail events, so I love picking a new dress when I have something fancier on the calendar. I tried two other dresses (listed below), but nothing came close to how I felt when I put this one on. I love the '70s-inpsired cut, the slinky velvet fabric, and that exceptionally low neckline. (Plus, Dave said I could repurpose it for Halloween and go as a sexy Merlin. Haha.)
DIDN'T WORK OUT
Things I tried and didn't love.
Reformation 'Radford' mini dress – I loved how this looked when I had a pair of tight on to keep everything in place, but wouldn't have felt confident without a control top. Plus, the fabric felt a little cheap.
Speechless lace fit and flare halter dress – I almost kept this for the aforementioned cocktail event, and while I liked it, I didn't love it. The halter neckline and fit-and-flare style was flattering, but the back zipper just wouldn't lay flat against my back unless I stood perfectly still. I was fidgeting with it too much during my try-on session at home that I feel like I would have been doing the same in public.
–
Let's keep in touch!  Instagram / Facebook / Pinterest / Bloglovin'