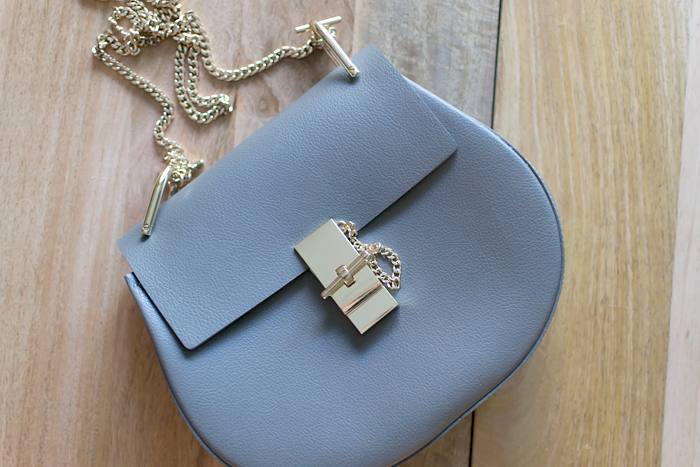 I recently purchased this JCOS crossbody bag, a knockoff of the ubiquitous Chloe "Drew" bag. Now that I've been using it for a month (outfit photos coming soon), I wanted to share my thoughts on the piece for anyone interested in snagging this trendy style for a fraction of the price. (Though, I'm jealous of those who have $1,850 laying around for the original!)
Shipping took a ridiculously long time. I placed my order on July 29. It shipped on Aug. 21 and arrived on Aug. 24.
The quality is fantastic. The leather is thick, the hardware is sturdy, and the stitching is uniform. The metal clasp is attached with screws and, as you'll see in a photo below, there's a leather strip under the flap that reinforces the handles.
The clasp didn't get as scratched as I thought it would over the course of the month.
On the original bag, there's a turnlock that secures the bag before you slide in the metal bar. That's not the case here. Sometimes the bar slides out and the bag hangs open. It's not often enough to be a nuisance and nothing has fallen out when it happens. I've found that putting more items in the bag makes it less likely to occur.
The knotted chain at the handles can sometimes undo itself if the bag is tossed around too much. It's easy to retie.
Of course, there's the concern about "being inspired by" (::cough::knocking off::cough::) an iconic design. I struggled with this a bit, but decided that it didn't bother me too much because it doesn't pretend to be an original and, as I said, I'm in no position to spend almost two grand on the original. You can judge my questionable ethics, though.
Bottom Line: If you're crazy about the design, but can't fork out $1,850, go for it. It's a fun '70s-inspired saddle bag for fall.