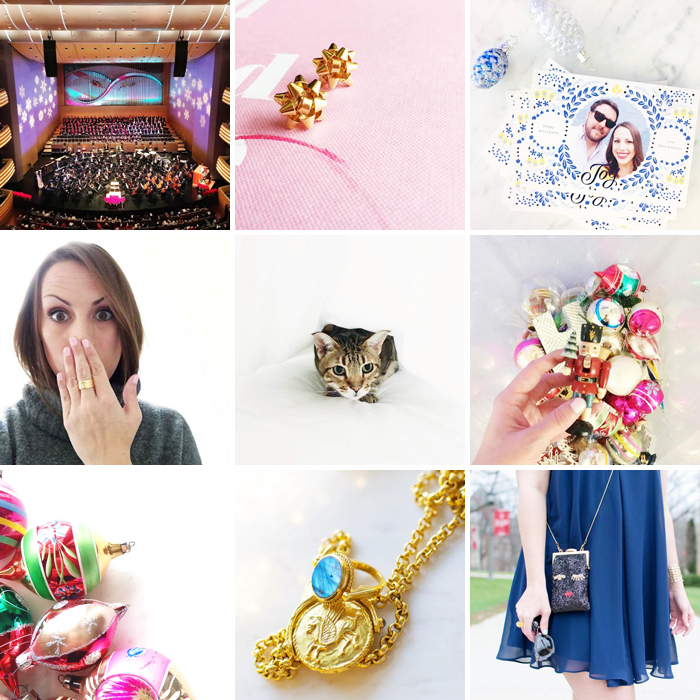 With all of the year-end hoopla and twelve-month recaps, I usually forget to share a few of my favorite memories from the merriest month of all. Here are some of my beloved snapshots from December:
Kicked off the month at the Madison Symphony Orchestra's Christmas concert. The first half was a little dry with opera singers and unfamiliar classical music, but they energized the room with beloved carols after intermission. The gospel choir was amazing.
Wore my favorite holiday earrings. I found these darling Kate Spade studs on eBay a few years ago and I look forward to wearing them every Christmas. It looks like there are a couple on eBay for reasonable prices here and here. I also adore this year's pair of festive studs.
Mailed our first photo cards. I'm normally one for handwriting notes in traditional cards, but I'm getting lazier with old age! These Modify Ink cards allowed us to change the colors of the design to personalize our greeting. And match our outfits.
Tucked my hair in my turtleneck for an ever-so-chic faux bob!
Coaxed Bacon out from between the clean sheets. Fresh laundry is by far his guilty pleasure.
Unpacked dozens of ornaments, including this nutcracker we picked up in Belgium last year…
…and vintage ornaments from antique stores and the attic of my childhood home. (I'll never know why the previous owner left such treasures behind!)
Adorned myself with pieces from Julie Vos' "Pegasus" collection. Learn more about the designer's inspiration here.
Took a stroll on the University of Wisconsin-Madison campus for the first time since I graduated in order to take these photos.
Let's be friends on Instagram @bedknobsandbaubles!