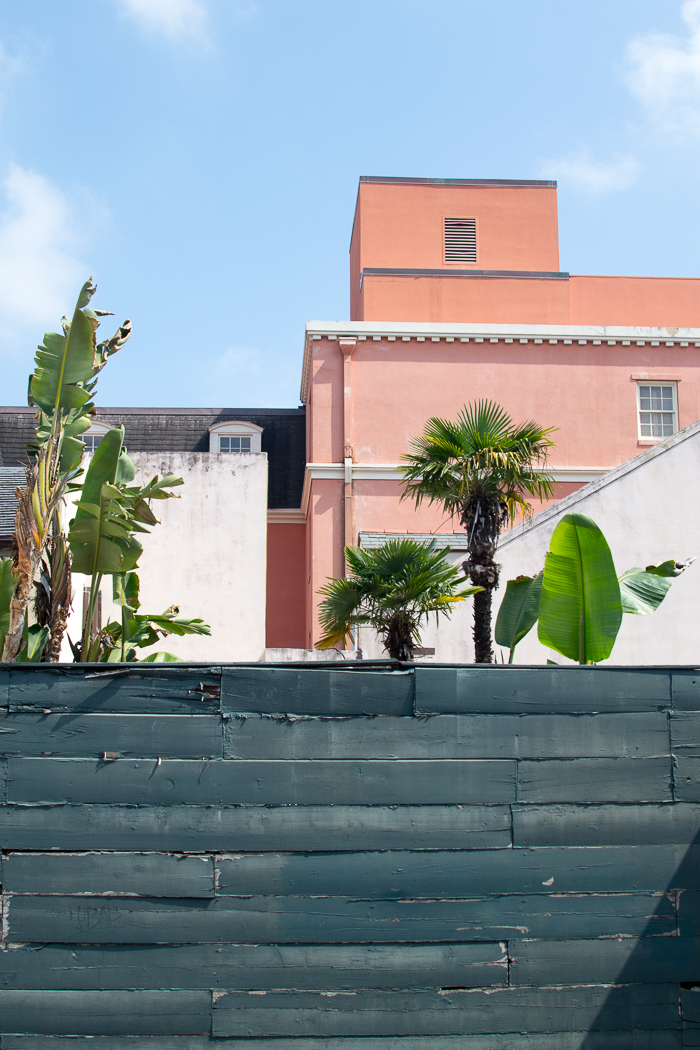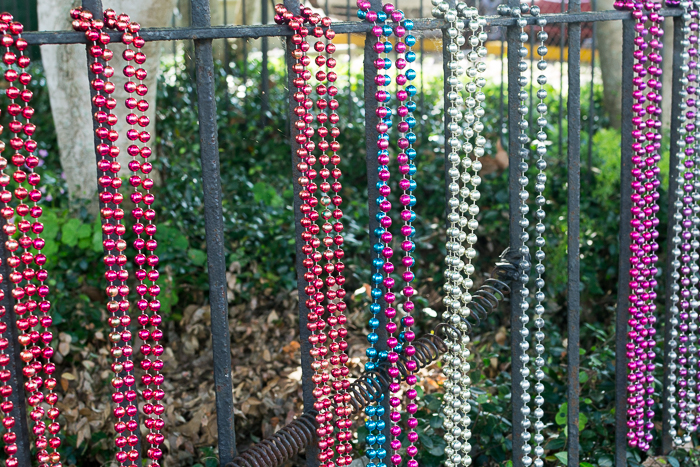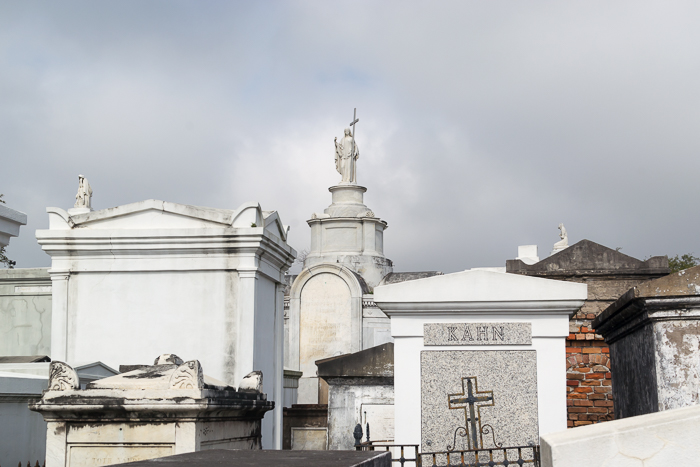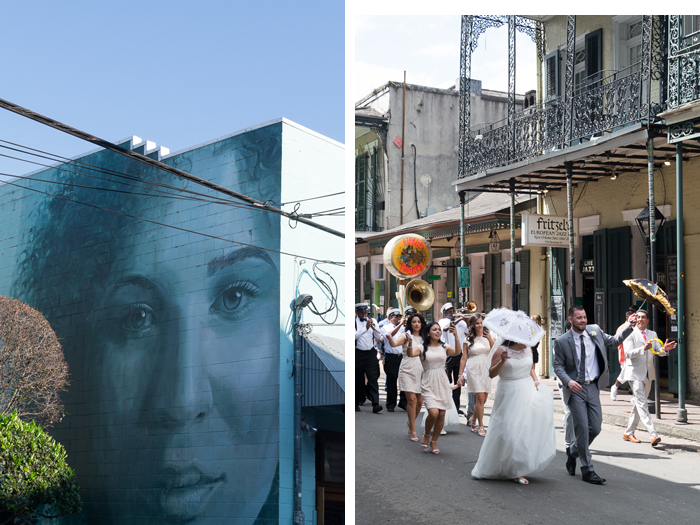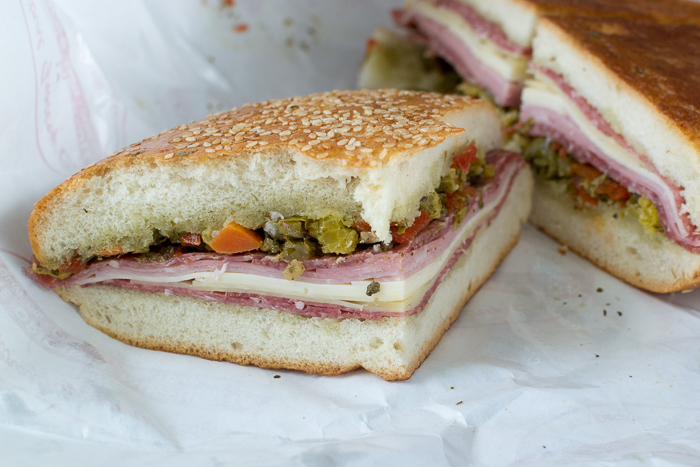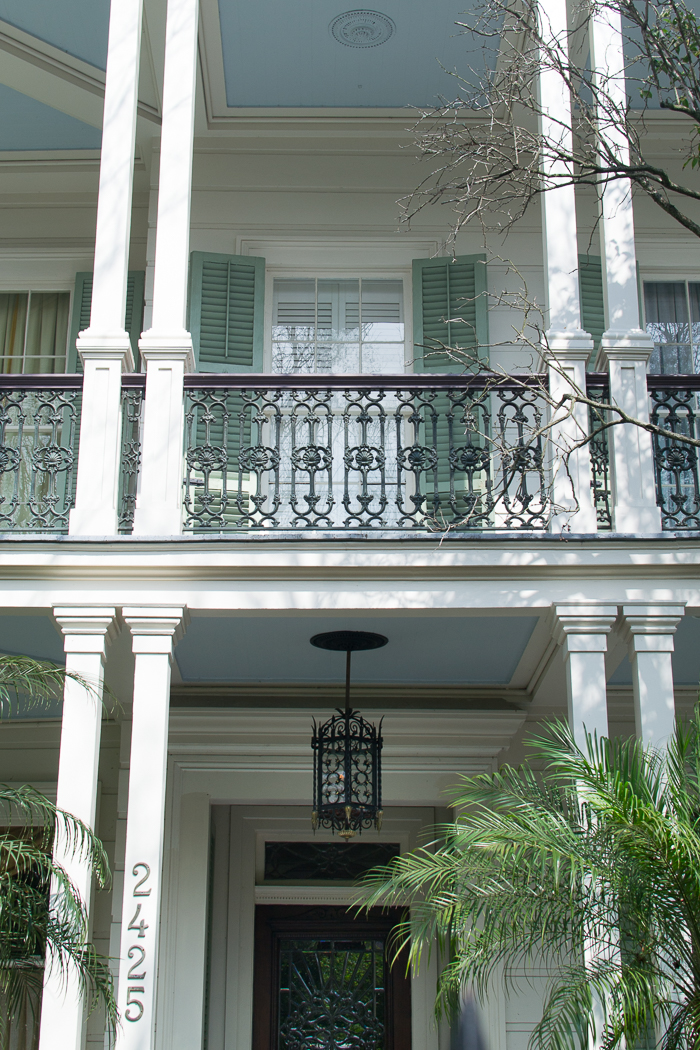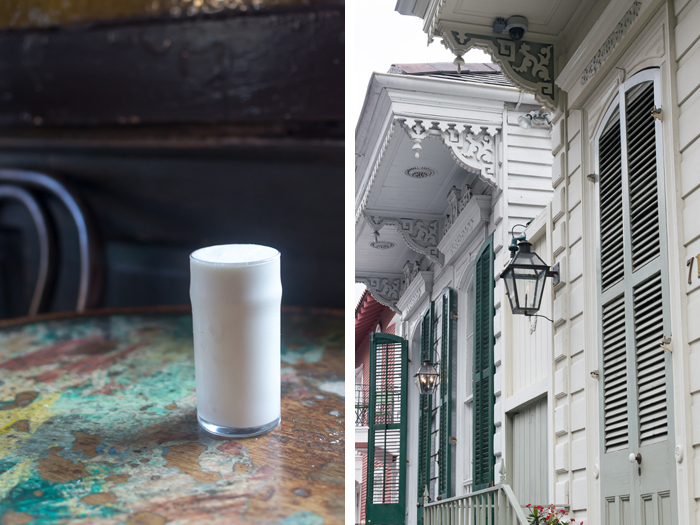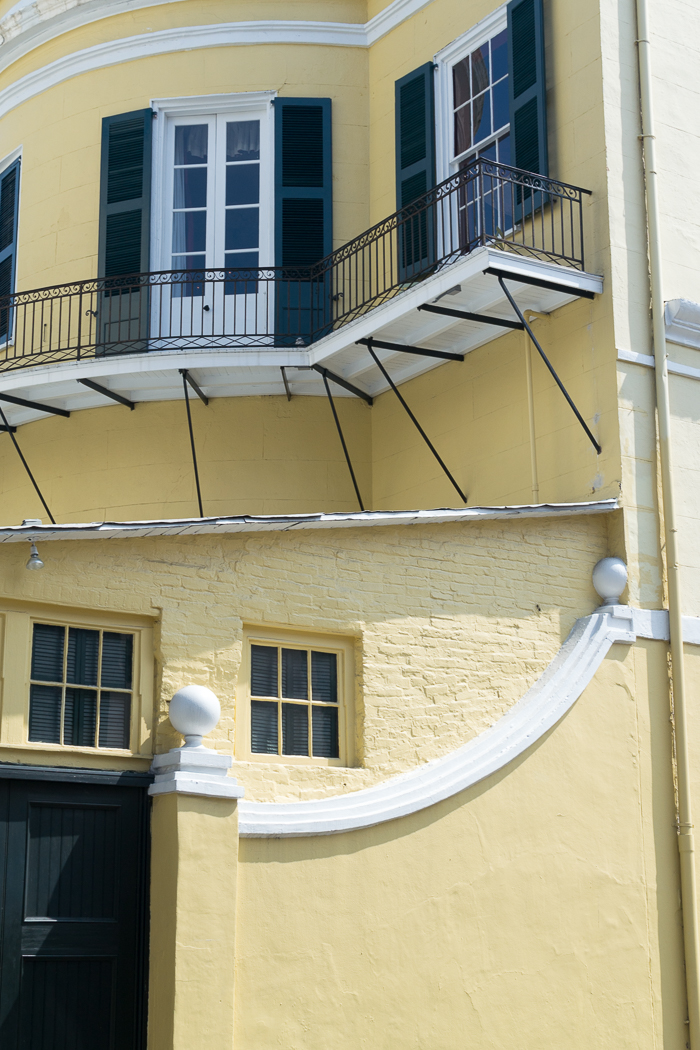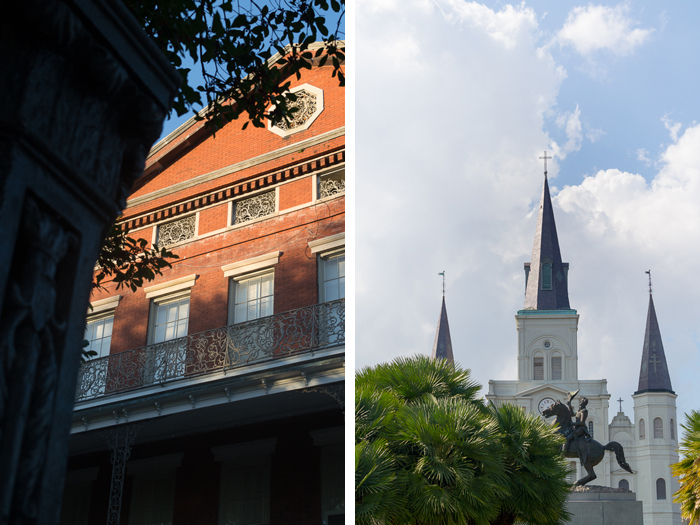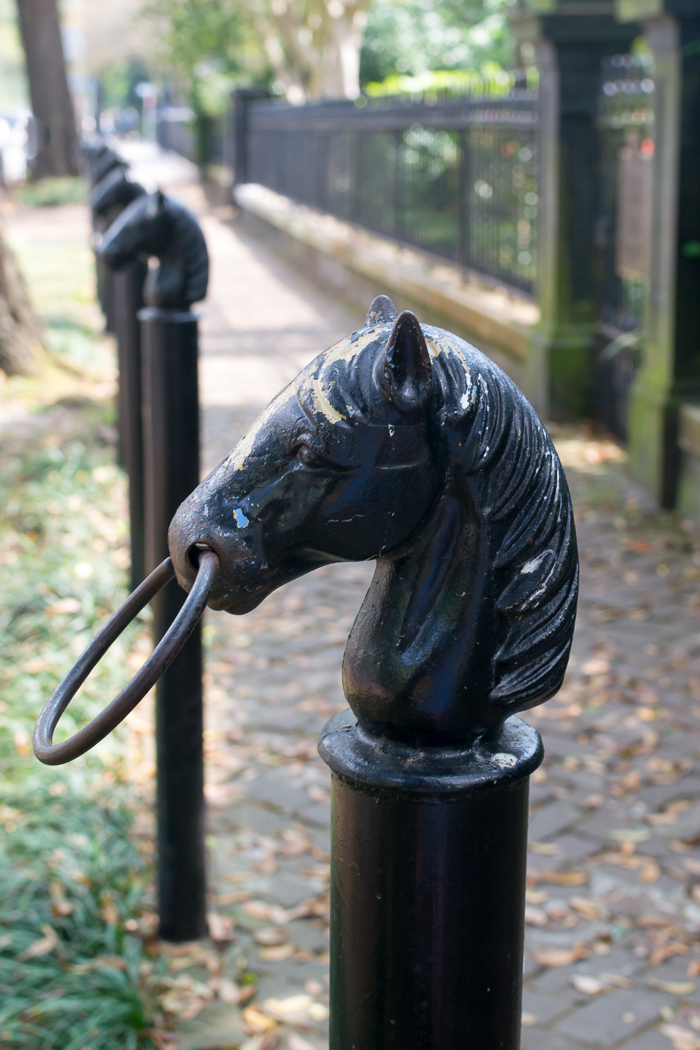 WHERE WE STAYED
Loft 523 – As expected, Loft 523 is a loft-style hotel with open, airy rooms with minimalist design that feels both sexy and artsy. The property has 18 loft-style hotel rooms and penthouse space. It's a great location off of the French Quarter, which should have provided a slightly quieter retreat than it did. On the weekends, the hotel blasts music in its on-site bar. Our room was on the second floor and we could hear the music clearly. It wouldn't have been such a big deal if we weren't both sick for the duration of the trip and wanted to go to bed earlier than we would have otherwise. (Weirdly, though, I don't think the bar is open to the public. We had to use our room entry key to get into the building at night.) Overall, we really liked the property and would consider staying there again. My favorite feature with the oversize tub in the bathroom, which was a welcome refuge after a long day of exploring. Its sister property is the  International House across the street where you can use the exercise facilities. We found the best price on Expedia by booking the flight and hotel together.
---

TRANSPORTATION
From the Airport – I don't think I've been in a more efficient taxi line ever! The people monitoring it were incredibly friendly, and they provide you with a brochure with a city map inside that also has your cab number written on it in case you forget to collect all of your luggage.
New Orleans Streetcars – While they might not be as convenient as getting an Uber, the streetcars in New Orleans are so charming! They're also a wallet-friendly way to get around town. The St. Charles Line features the oldest continuously operating streetcar in the world. The streetcars fill up at peak times, so it's not a great choice if you're zipping off to dinner reservations. You can buy tickets ahead of time with the mobile app. Otherwise, you'll need exact fare upon boarding.
---
​
EAT
Café DuMonde – I'm not sure any trip to New Orleans is complete without a stop by the popular coffee stand that opened in 1862. It's definitely touristy and there's a long line (although, it moves quickly). Personally, I'd skip the Frozen Café Au Lait if you're getting beignets. I have a sweet tooth, but it was entire too much together! Afterward, explore the area around Jackson Square for live music and local artisans who set up shop on the street. If NOLA isn't on your immediate travel itinerary, you can pick up some of the iconic beignet mix and make them at home. (We also heard great things about Café Beignet, but didn't have a chance to stop by.)
Central Grocery and Deli – This is touted as the birthplace of the muffuletta, the Italian sandwich made with marinated olive salad, layers of mortadella, salami, mozzarella, ham, and provolone. The shop was founded in 1906 by Salvatore Lupo, a Sicilian immigrant who created the sandwich, and the grocery store looks like it hasn't changed since it was first built! We went with a full sandwich to split, which was too much food. I'd urge you to split a half muffuletta, grab a beer from the liquor store next door, and find an area in the nearby park along the Mississippi to enjoy your meal.
The Company Burger – Think of this place as a chic diner with an excellent beer lineup. The burgers are made quickly and there's a condiment bar with various aioli to suit your tastes.
Felix's Restaurant & Oyster Bar – We were planning to go to Acme Oyster House, but the long line deterred us and we found ourselves at the slightly quieter oyster bar across the street — and I'm so glad we did! This was my favorite meal of the trip. We kicked things off with oyster shots, followed by char-grilled oysters as a starter. The buttery, garlicky oysters are a must when you're in NOLA! They're cooked, so no worries if swallowing slimy seafood isn't your thing. I had a half crawfish po-boy with étouffée, and Dave opted for red beans and rice. It was all exceptional and I can't imagine the Acme Oyster House would have been better.
Pêche Seafood Grill – We didn't actually make it here, but I've heard so many good things from online reviews and friends who have visited New Orleans that I'd be remiss to leave it off my recommendation list. Go there and let me know how good it is!
---

DRINK
---

DO
Bourbon Street – If it's your first time in New Orleans, you absolutely must do Bourbon Street once for the boozy experience that it is. Wear sneakers as the streets quickly become filthy. (We were out early in the morning and saw the streets being hosed down to wash away the spilled alcohol.) I liked walking around in the morning to admire the architecture. #OldLady
French Quarter – Get lost walking around the French Quarter enjoying the architecture, and popping into shops and restaurants. I fell in love with Hové Parfumeur, a perfume shop that was founded in 1931. I purchased the Clochette des Bois perfume, an elegant lily of the valley scent, as my souvenir of the trip. Spritzing it on transports me back to the city!
Garden District – The Garden District is home to the most picturesque and historic residential properties, like the Cornstalk Fence Mansion. (It's for sale if you have $6.5M laying around.) Lafayette Cemetery No. 1 is located here and doesn't require a tour guide to tour the cemetery, unlike the famed St. Louis Cemetery No. 1. Here's a resource for a self-guided tour.
Jackson Square – Jackson Square is a historic park that features the impressive Saint Louis Cathedral. The square feels like the heart of New Orleans with live music and local artisans selling their wares. The square is roughly four blocks from The French Market, which is also worth a stop.
Magazine Street – We didn't get a chance to explore Magazine Street, but it's on my must-do list the next time we visit the city. It's filled with clothing boutiques and antique shops.
St. Louis Cemetery No. 1 – I urge you to put this at the very top of your to-do list. The cemeteries in New Orleans are rich with history and folklore. You can only visit St. Louis Cemetery No. 1 with a tour guide because of its history of vandalism, but it's really the best way to have done it anyway. It affords you the opportunity to learn about the burial traditions of NOLA, see Nicolas Cage's pyramid tomb, and visit the grave of Marie Laveau. We did our tour with Save Our Cemeteries, a nonprofit that works to restore and preserve the city's cemeteries.
Steamboat Natchez – I'm including this on the list because we did it, but I wouldn't actually recommend the two-hour excursion down the Mississippi river. You can do a lunch or dinner cruise, or you can just purchase tickets for the cruise sans food (which is what we did). The hour out from the dock is more interesting as the narrator explains what we're passing and seeing along the river (like the Domino sugar refinery). On the way back, there's a jazz band that performs and you're free to wander around the steamboat. There is a cash bar on the boat, which is reasonably priced. Stick me on a boat and I'm usually happy as a clam, but this one was too long and I was counting down the minutes until we were back on land.
---

WHAT I WORE
A one-shoulder top with denim shorts here.
A pleated yellow dress here.
A short dress with a ruffled bodice here.
Browse other New Orleans posts here!
P.S. There's an image for your travel Pinterest board after the jump! 😉