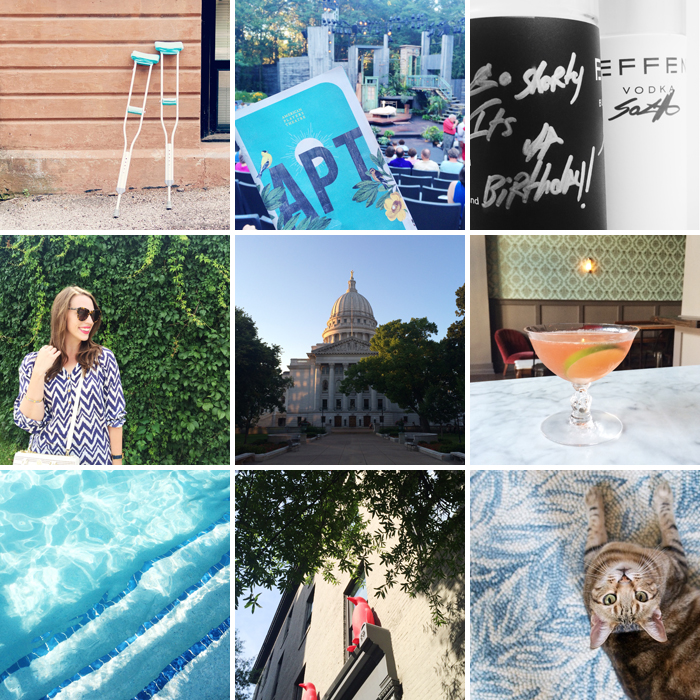 This summer really hasn't been a banner one with my injury, but things started to look up after we went to Louisville for a three-day weekend to celebrate the removal of my boot. It was just the thing I needed to kick off the rest of summer on the right foot (…see what I did there?). Here's what I was up to:
Finally ditched my crutches and slipped into sneakers! I'm not a sneakers girl by any means and didn't actually own a pair other than uncomfortable canvas Chucks. Black Pumas and white Jack Purcells have proven to be fairly versatile. Now, if only the Jack Purcells would stop cutting into the back of my ankle.
Watched A Streetcar Named Desire under the stars at American Players Theatre. APT is an open-air performance theater near Madison. I had always wanted to go, but never made it a priority until a Travelzoo deal came around.
Met 50 Cent. He was visiting a nearby suburban grocery store as part of his Effen vodka tour to do bottle signing at the country's highest volume stores. My coworker and I waited in line for over three hours and suffered serious sunburns for a minute-long meet-and-greet with the artist. When it was my turn in line, I asked the rep if he would have 50 write "Go Shorty" on my bottle. The rep was skeptical because 50 wasn't writing anything more than his name. I must have been suffering from sunstroke when I insisted that he ask him anyway because "I'm a pretty girl!" Evidently, it worked. 50 Cent was smirking as he wrote the lyric on my bottle and I was deliriously happy (and dehydrated). This article sums up the experience perfectly.
Found a vine wall in Louisville. Score. (If you're not familiar with the glory of the Elsa tunic, you're seriously missing out. It's my favorite road trip shirt. It's breathable and still looks pretty after you've been sitting in a car for hours.)
Went to see The New Pornographers in downtown Madison at a free outdoor concert. Dave is a fan and I couldn't have named a song they performed. I was happily surprised by how much fun it was.
Enjoyed craft cocktails at Meta in Louisville. This was our third trip to the city and we had already taken care of the tourist must-dos, so we spent the weekend shopping and imbibing. I'm terrible at writing trip recaps afterward, but I'll make it a priority this time. We've found so many gems during our three vacations that I feel like I'm holding out on you!
Two words: Pool. Time.
Stayed at 21c. I was beyond excited to stay at this boutique hotel, which is part modern art museum. The hotel has a large golden statue of David outside and its signature red penguins throughout the hotel. We've wanted to stay here in the past, but it was always just a bit too pricey. Thank goodness for last-minute deals online! (There are 21c hotels in other cities, each with different colored penguins. I've been collecting the small ceramic versions available for purchase in the gift shop. So far, I have the red one and the yellow one from Cincinnati.)
Watched Bacon get acquainted with our new rug. We haven't actually put it down yet because I wanted to wait for the coffee table to arrive (it's been on back order for two months), but Bacon races to it whenever I unroll it to peek at it. He loves stretching on it and rolling on his back. I'm assuming he wants the rug to smell like him, but I prefer to think he's just enamored with it.
Let's be friends on Instagram! Find me @bedknobsandbaubles.