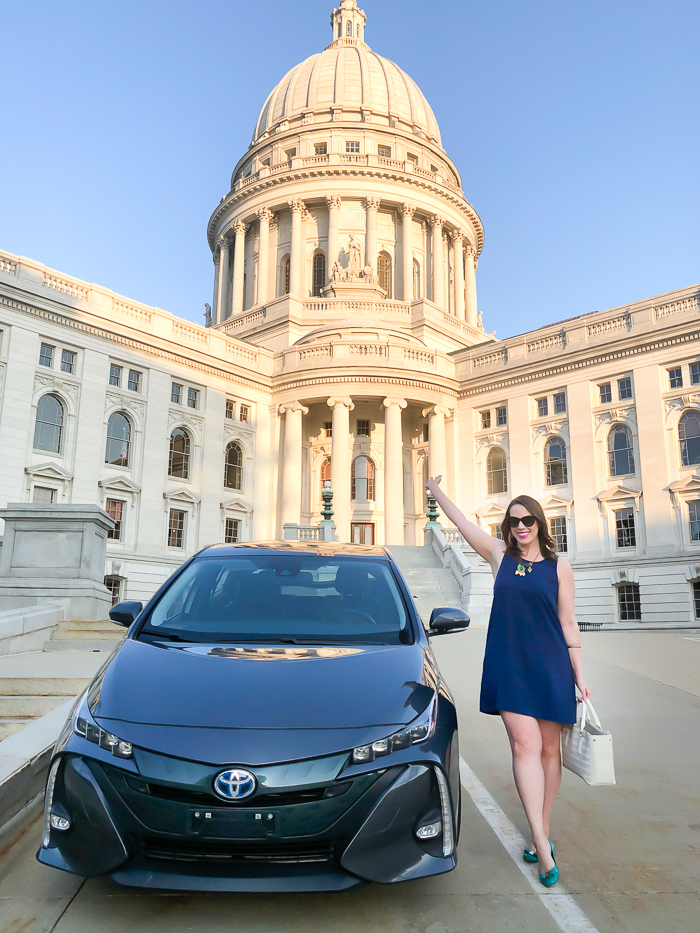 It's not often that I explore my hometown like a tourist, so when Toyota reached out and asked if I'd be interested in taking a Prius out for a spin in Madison to share some of my favorite local haunts as part of its #MyTownMyPrius campaign, I jumped at the chance. And talk about a perfect partnership; Madison is largely focused on eco-friendly and sustainable initiatives, especially in my neighborhood on the east side, which makes the Prius right at home on our isthmus. (I can get on board with driving a hybrid vehicle, but a mulch pile is another story.)
Below, you'll find a two-day itinerary with some of the best that Madison has to offer, and I'll admit that it wasn't an easy task to narrow down what a perfect 48 hours in Wisconsin's capital city would look like. If you have any questions or are in need of more travel recommendations, please let me know in the comments!
SATURDAY
8 a.m. – Dane County Farmers' Market
Start the day at the Dane County Farmers' Market, the largest producers-only market in the country with approximately 275 vendors. Located on the Capitol Square, the market offers fresh produce and meat, flowers, breakfast pastries, squeaky cheese curds, and the crowd favorite: hot and spicy cheesebread from Stella's Bakery. (You'll know you're getting close when the counterclockwise traffic flow comes to a halt.) In need of caffeine? There are plenty of options, but the two I'd recommend are near each other on South Pinckney Street across the street from the market: Graze for "Magic Coffee," a concoction of half and half, cinnamon, brown sugar, coffee and espresso, and Colectivo on the Square.
10 a.m. – Admire the Local Architecture
Pop in for a tour of Madison's most iconic buildings: the State Capitol. The capitol building dominates the Madison skyline thanks to an ordinance that no building within a one-mile radius can be taller than the base of the dome. You don't need to participate in a formal tour, although they do exist, to admire the impressive dome and enjoy the sixth floor observation deck. Afterward, take a short walk down to another iconic Madison building: Monona Terrace, which is located on one of the two lakes that make up the downtown isthmus and was first designed by Frank Lloyd Wright in 1938. You can take a tour, stop in for one of the community events, or just enjoy the Rooftop Gardens.
1 p.m. – Lunch on the Square
Restaurants around the Square are busy when the farmers' market wraps up near 2 p.m., but there are too many good options to skip this area of the city entirely. Here are a few I'd recommend:
2:30 p.m. – Shopping and State Street
Walk off those lunch calories by continuing your journey around the Square and popping into local shops like Fromagination, a favorite for local artisan cheese. (You may want to consider putting cheese in your check bag. While you can bring it in your carry-on, apparently cheese is too dense to X-ray and your luggage will be hand searched.) Once you've gotten your fill of the Square, head down State Street, which connects the Capitol to the University of Wisconsin campus (my alma mater!), and is bustling with shops, restaurants, and bars. The street itself is open only to buses and cyclists, so feel free to dart back and forth between sides. Be sure to visit the Madison Museum of Contemporary Art, a free art gallery housed in a beautiful downtown building that's great for an Instagram-moment on the glass staircase, and pop into the museum's gift shop. (If you happen to be at the museum in the evening, visit the rooftop restaurant Fresco, which opens at 5 p.m. Snag an outdoor seat for dinner or cocktails.)
5 p.m. – Monroe Street
When you get to the end of State Street, lakeside beer will be tantalizingly close, but I'd urge you to hold off until the sun is about to set and head over to Monroe Street instead. Monroe Street offers over a mile of locally owned shops and restaurants to explore. A couple of favorites include Orange Tree Imports, a gift shop with an extensive selection of kitchenware, and Strictly Discs for new and used vinyl. Stop by our favorite restaurant for dinner: Brasserie V. It's a Belgian-inspired pub with rustic, hearty food, addictive frites, and an extensive beer menu featuring local, American, and international beer. They have a cicerone on staff (the beer version of a sommelier) who directs the beer offerings, and any of their staff can help you select a beer to suit your tastes. It seems uninspired to recommend the burger, but I promise that their seasonal "V Burger" is always worth getting.
8 p.m. – Memorial Union Terrace
After dinner, head back to the end of State Street to visit the Memorial Union Terrace. Located on Lake Mendota, the Terrace is a favorite for university students and locals alike. Grab one of the iconic Terrace chairs (the green, yellow, and orange color scheme pays tribute to Wisconsin's agriculture tradition), order a pitcher of beer, and enjoy the sunset over the lake. Check the Terrace After Dark calendar to see what free live music or movie is on deck for the evening. (In order to purchase beer, you technically need to be a Union member or obtain a guest pass here. They don't always ask for it, so I wouldn't worry about it too much. You can always duck out of line, fill out the request form, and hop back in.)
SUNDAY
10 a.m. – Brunch
As you may have gathered by now, Madison has no shortage of incredible restaurants and there's no better way to start day two than with brunch at a local haunt. Embrace the city's farm-to-table focus at Forequarter. (A few things to note: the French press coffee will come to you in an actual French press. The small is a completely reasonable size for one person. The large is gigantic. Just get one large to split. Also, the everything bagel breakfast sandwich is good, but it's surprisingly small for the price tag. Just keep that in mind if you're ravenous!) Another brunch option worth considering is Mint Mark, one of the city's newest restaurant that's getting a lot of buzz, thanks in part to its adorable interior with banana leaf wallpaper and rattan chairs.
11:30 a.m. – Get Active
Madison is an active city, and it's necessary given the amount of cheese and beer we consume! For those itching for a water activity, head to Lake Wingra and rent a canoe, kayak, rowboat, paddleboard, or paddleboat. But I would strongly encourage you to experience Madison's cyclist-friendly roads and bike paths by renting a bicycle through the BCycle program. It costs $6 for a 24-hour pass, but you do need to dock the bike at another station within 30 minutes for each trip. (That shouldn't be a difficult task when you take a look at the station map and realize just how many are available downtown!)
1 p.m. – Olbrich Gardens & Biergarten

Bike over to Olbrich Gardens where there's a BCycle station for you to dock your bike at, and explore 16 acres of free outdoor gardens. The jewel of the gardens is undoubtedly the Thai pavilion, a gift from the Thai government to the University of Wisconsin. It's surrounded by traditional Asian gardens and a reflecting pool. You can also pop inside the Bolz Conservatory for exotic plants. Afterward, head across the street to Olbrich Park and visit the Olbrich Biergarten for a lakeside beer, fresh cheese curds, pretzels, and mini bratwursts.
3 p.m. – Neighborhood Exploration
Head back out on bike to visit two of Madison's most noteworthy areas: Willy Street and Atwood Avenue. These east side locations are really the heart of the city and you'll get a feel for our vibrant (and slightly hippie) culture. Below are a few recommendations for each area.
Willy Street:
Atwood Avenue:
7 p.m. – Dinner on the Capitol Square
After spending time poking around some of the area neighborhoods, head back to the Capitol Square to cap off your weekend in Madison with dinner at Lucille.The decor is Instagram-worthy, the wood-fired pizzas are delicious, and the cocktails are perfect for toasting to your weekend getaway in Wisconsin! Cheers!
STAY – The AC Hotel Madison is one of the newest hotels in Madison and would be the perfect spot for your stay. It's near the Capitol Square, close to parking ramps if you're not keen on valet service, the decor is sleek and sophisticated, the first-level bar makes an incredible Manhattan, and on the top floor you'll find another favorite local restaurant: Eno Vino. It's a wine bar and bistro that has some of the best views you can find downtown. (I love that the hotel opted not to make the top floors into suites and offered a restaurant instead. It's a real testament to Madison's community culture.)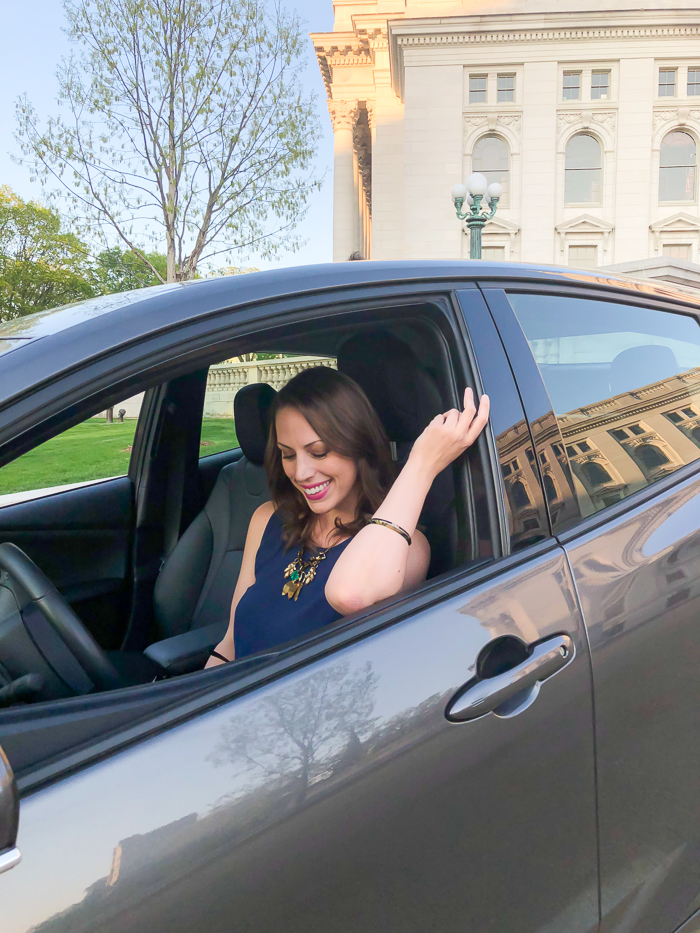 WEARING – Leith dress | Lulu Frost necklace (old) | House of Harlow bracelet | Ferragamo flats | Dolce & Gabbana sunglasses (old; similar) | Tory Burch tote (old)
–
Thank you to Toyota for sponsoring this post!
(I wasn't required to talk about the car's features, but I already miss the wireless charging pad for my phone!)

Let's keep in touch!  Instagram / Facebook / Pinterest / Bloglovin'