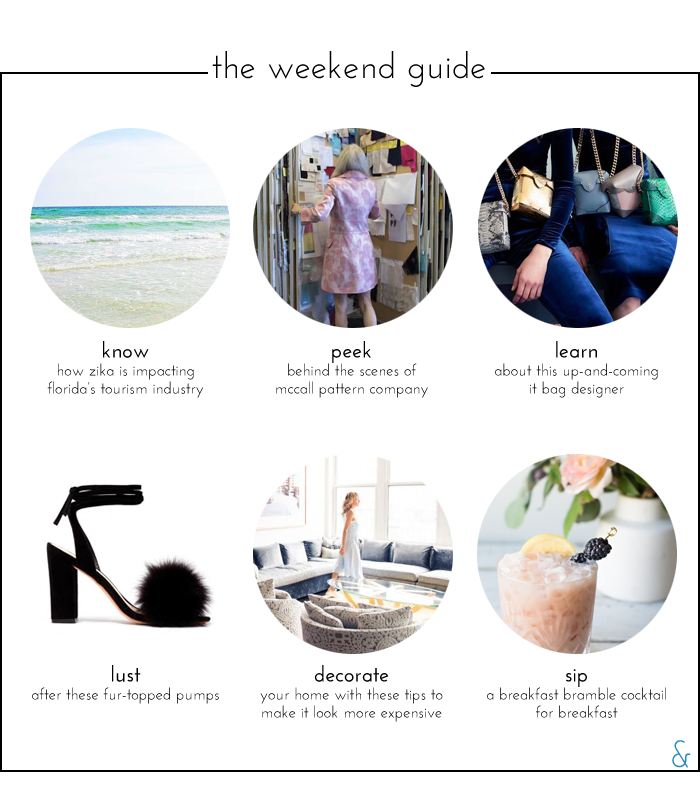 KNOW
The Zika virus has officially hit Florida and now the state must brace for the impact on its tourism industry.
PEEK
I loved going to the fabric store with my mom when I was young, and spent most of the time pouring over the vast array of possibilities in the McCall pattern book. (It was one of my motivations to learn how to sew!) Here's a peek into the the company.
LEARN
Manu Atelier's bags are quickly rising to It bag status. Learn more about the Turkish designer here and then shop the bags here. I'm crazy about this blue suede fringe number that's sold out. Fingers crossed that it gets restocked!
LUST
How amazing are these?! However, I have no place to wear them — and no closet space for something so impractical! This tempting fur bag would get a lot more use.
DECORATE
Making your home look expensive doesn't have to break the bank.
SIP
Booze and Greek yogurt? I'm in breakfast cocktail heaven!
EARLIER THIS WEEK
Got sporty with Stan Smith sneakers and a jersey dress.
Coveted the best late-summer pieces.
Enjoyed the sweetest subscription box yet.
Bought this dress. It looks so good with these.