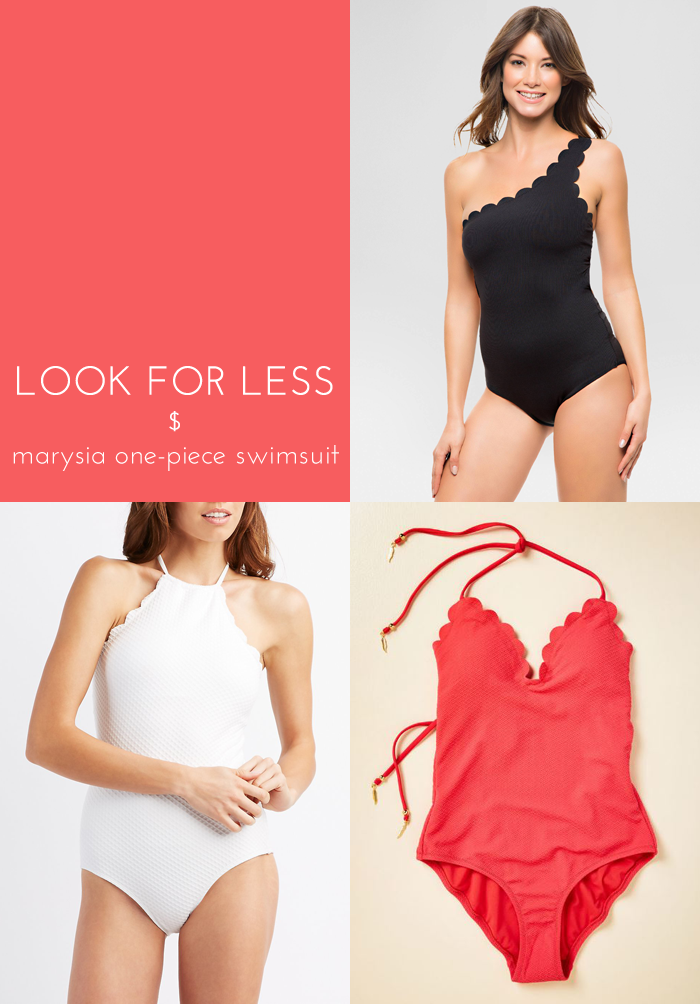 Lydia's comment on yesterday's post prompted me to go on an Internet scavenger hunt last night to find affordable alternatives to the Marysia swimsuits we all love. It's definitely easier to find scalloped-edged bikinis, so I focused my hunt on one-piece bathing suits, which I love more anyway. (Seriously, why bother killing yourself at the gym just to get a summer-ready bikini body? Pack it all in a one-piece, grab an umbrella cocktail, and call it a day! #MoreToLifeThanAbs 😉 ) I bypassed quite a few cheap-looking versions and narrowed it down to three I felt were the best "inspired by" swimsuits that look like they cost more than they do. The key was finding options with a textured fabric, which is characteristic of a lot of Marysia suits.
First up, this black one-shoulder swimsuit that comes in at just $39.99. It has quite the flirty back! It's also available in magenta.
Next, a bright poppy bathing suit. This is the most expensive of the group at $99.99, but it's still a far cry from dropping over $300 on a swimsuit. Like the black one, it doesn't have a lot of coverage in the back. It's also available in white and black.
And, finally, my favorite of the three: this white halter-top suit. It's the least expensive at $28.99. It has full coverage, so you won't need to worry if you're rocking some love handles this year. The online description says the swimsuit is fully lined. Hopefully it's done well enough that a dip in the pool won't leave you overexposed!
Let me know if you try any of these! I'd love to know if they're as great in person as I hope they are!