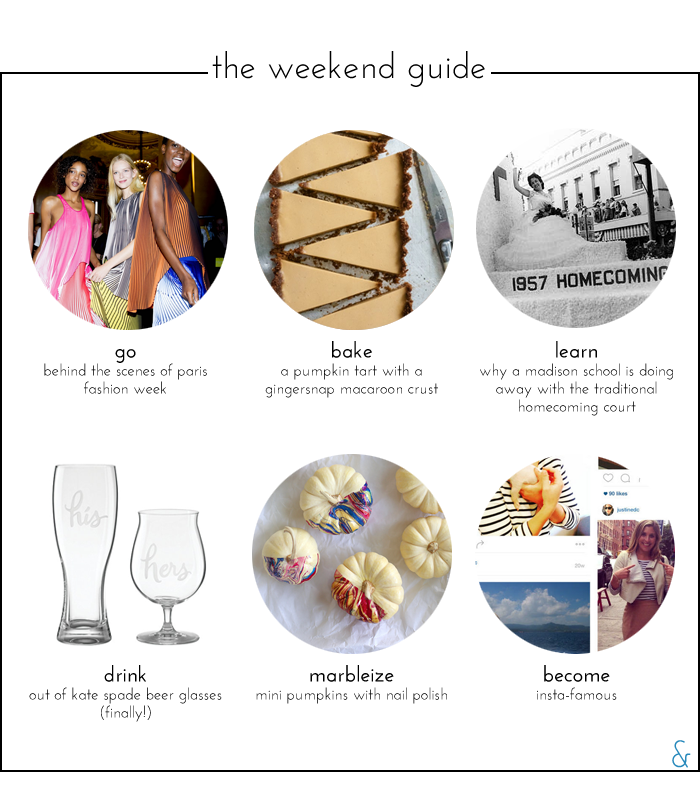 GO
The beauty of Paris Fashion Week is perfectly captured in just 20 behind-the-scenes photos.
BAKE
If you're already tired of pumpkin pie and the #PSL, try this pumpkin panna cotta tart with a gingersnap macaroon crust.
LEARN
I'm so proud of a local high school that's doing away with homecoming kings and queens in an effort to be more inclusive of its entire student body. [Insert praising hands emoji here.]
DRINK
Many of you know I'm a beer girl and I'm beyond excited to have Kate Spade beer glasses for our at-home happy hours.
MARBLEIZE
Sure, you could put those mini pumpkins out in a bowl and call it a day, but it's way more Instagrammable to marbleize them with old nail polish.
BECOME
An Elle editor tried her hand at becoming an Instagram celebrity. Here's what the experience taught her.
FIVE UNDER $55

EARLIER THIS WEEK
I daydreamed about a London getaway in my plaid coat.
I shared six items that caught my eye.
I admitted to wearing my new LBD more often than I should.
I daydreamed about our next trip.
I purchased a pair of ankle boots and a grey hooded cape.
I put these on my wishlist, but purchasing sandals seems silly in the fall.
***
additional image via