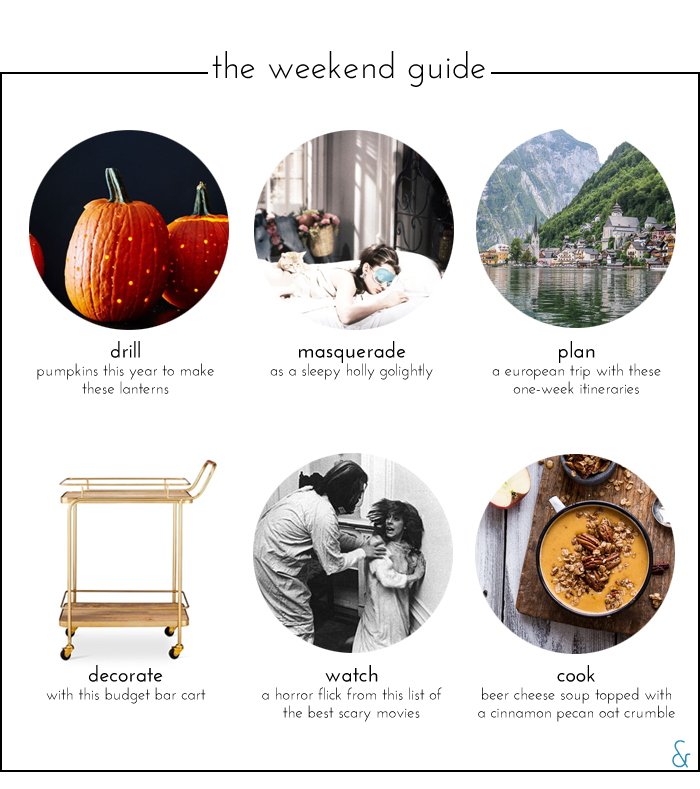 DRILL
Forget carving a face into your Jack O' Lantern this year and opt for drilled polka dots to give your pumpkin a celestial effect.
MASQUERADE
Sleepy Holly Golightly is one of my go-to costumes when I'm in a pinch. (Just make sure your friends actually know of the movie. Otherwise, you risk looking like a walk of shame, albeit a glamorous one.)
PLAN
We're starting to think about next year's travel plans. I've bookmarked this list of ten one-week European itineraries just in case.
DECORATE
Finally! A chic, affordable bar cart that comes in at just $130.
WATCH
'Tis the season for horror movies. Here's a list of the top 50 scariest movies of all time.
COOK
Spending time in the kitchen making hearty meals is one of my favorite things about fall. I'm anxious to try this take on beer cheese soup.
NOTABLE SALES
Take 20% off full-price items at Lulu Frost with code FF2015.
Take 20% off jewelry at Kelly Wearstler with code FALLFLASH.
Save up to 70% at Tory Burch's private sale.
EARLIER THIS WEEK
I finally found a cape!
I worked with Minted to pick out a new piece of artwork.
I wore these "darling" earrings.
I coveted a selection of silver and grey.
I harassed our cat.