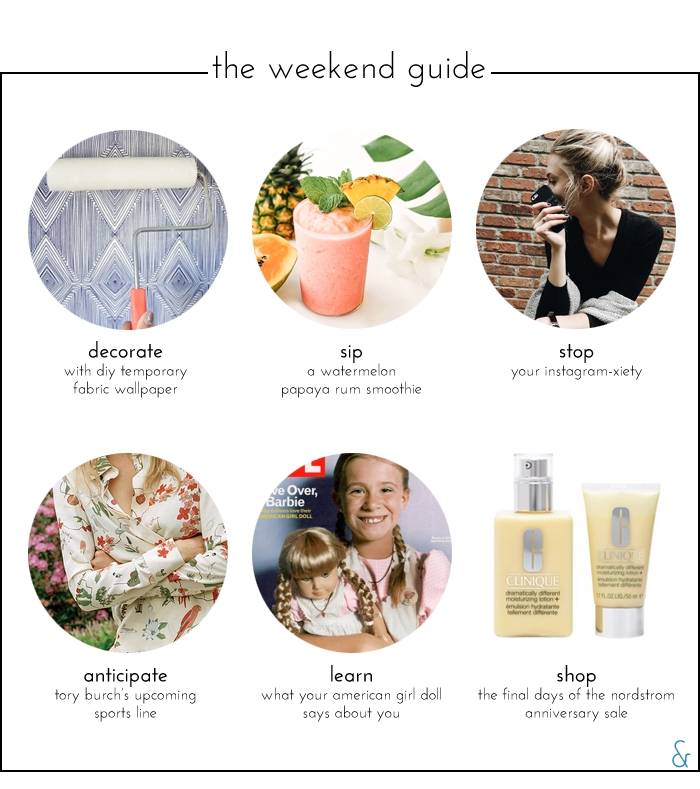 DECORATE
Here's a fab DIY for all of you renters because white walls and beige carpet can be pretty dull.
SIP
A tropical spiked smoothie.
STOP
Do you ever get a twinge of Instagram jealousy when someone else has more followers or more likes? Do you wonder if you should post more photos of flowers, beaches, and perfect latte foam to fix that? Well, stop.
ANTICIPATE
Here's a sneak peek at Tory Sport, debuting this month.
LEARN
I begged my parents for the American Girl doll Molly in the months leading up to my 10th birthday. I'm sure they were tired of listening to me talk about that doll every evening at dinner because they caved. While this piece insists that Molly was just a stand-in for Samantha, I knew differently. Molly was cool. She had pants.
SHOP
The Nordstrom Anniversary Sale ends on Sunday. I'd recommend picking up this necklace. It's one of my favorites and layers well with other pieces. If you're done with your clothing and accessory orders, it's a good time to stock up on beauty favorites that you'll order eventually anyway. I'm planning to replenish my supply of face lotion. I'm also thisclose to ordering this dress. I have 16 days left in sneakers before I can wear sandals and it would be such a pretty dress to celebrate in.
EARLIER THIS WEEK
I featured an adorable $29 dress.
Madewell finally opened in Madison.
Here's where my money went last month.
Behind the Baubles with Majdan Rocks.
I met 50 Cent.
***
additional image via