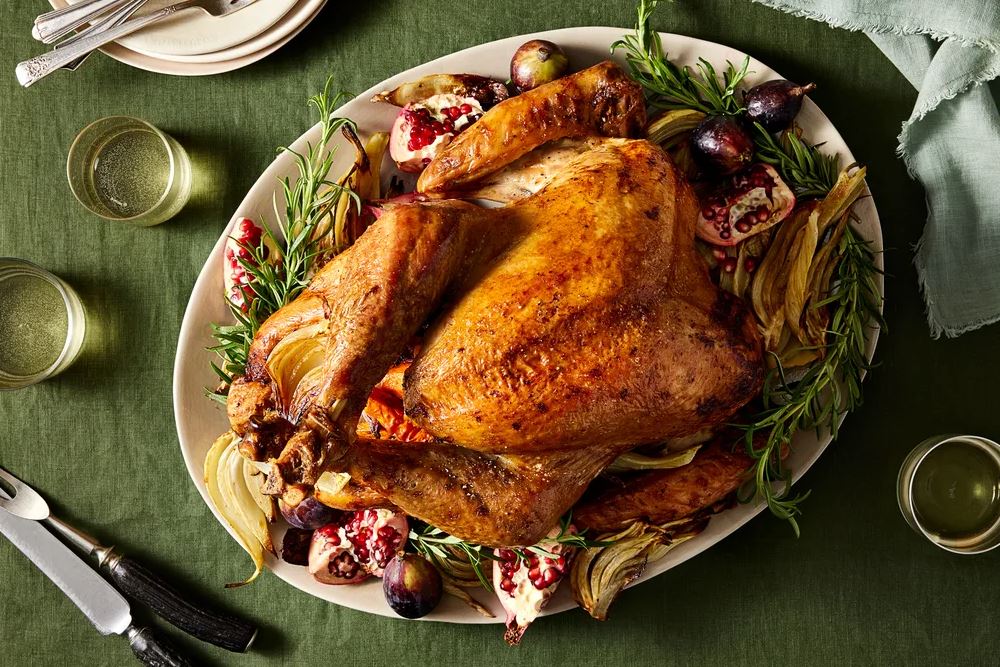 Thanksgiving is fast approaching with just two weeks left until the big day! While I made a case for starting your preparations early this year, I realize that not everyone is thinking about stuffing, mashed potatoes, and turkey in October! Now, I am hosting Thanksgiving dinner at our house this year, and there's a lot to consider when hosting and preparing such a big meal — so, I thought that I'd share some of my tips and tricks to ease Thanksgiving Day stress if you're also hosting this year!
Create a Thanksgiving Timeline: One of the most crucial aspects of hosting a successful Thanksgiving gathering is planning. A Thanksgiving timeline is your best friend in this regard. Start by working backward from your mealtime and create a schedule for everything that needs to be done. From shopping and cleaning to cooking and setting the table, having a timeline will keep you organized and ensure everything runs smoothly.

Bonus Points: Keep notes on Thanksgiving Day, too, to remind yourself of what time the pie went in, how long it actually took to prep potatoes, how many leftovers there were, etc. It'll make future planning much easier.


Plan Your Menu Wisely: Selecting the right Thanksgiving menu is key. You don't want to be overwhelmed with too many dishes. Choose a mix of traditional favorites and a couple of unique recipes to keep things interesting. Don't forget to accommodate dietary restrictions or preferences for your guests. And if you're not a fan of the kitchen, consider asking your guests to bring a dish, potluck-style. It lightens your cooking load and adds variety to the feast. You could also skip the main dish completely! For our Friendsgiving celebration the weekend before Thanksgiving, we're just doing side dishes — it's the best part of the meal anyway!


Stock Up on Thanksgiving Essentials: Before the Thanksgiving rush hits, make sure your kitchen is well-stocked with all the essentials. Check your pantry, refrigerator, and freezer for items like spices, flour, and butter. Make a list of what you need and do your grocery shopping well in advance to avoid last-minute chaos.


Delegate and Collaborate: You don't have to do it all alone! Most people are happy to bring along a dish to share. Send out your menu in advance and don't feel shy about asking your guests to contribute. I like to ask for things that don't require oven space, like salads, cheese plates, or a pie.


Set the Stage: Setting the stage for a successful Thanksgiving dinner goes beyond setting the table. Unearth the serving pieces and cookware you only use once a year, so you're note digging around for them on Thanksgiving itself. Set up folding tables in your kitchen if you need more space for side dishes. Are guests bringing Crockpots? Set out a few power strips so they can plug in. Put out extra bathroom necessities in pretty baskets, so no one needs to feel too embarrassed to ask for more toilet paper! Much of this prep work can be done the day before Thanksgiving, so you don't need to scramble when your guests start to arrive.

Top Tip: Run and empty your dishwasher before guests arrive to give yourself plenty of room for post-dinner dishes!


Relax and Enjoy the Day: Don't forget the most important tip – remember to relax and enjoy the day! It's easy to get caught up in the details, but Thanksgiving is a time for gratitude and to enjoy spending time with loved ones. And while it'd be nice to do all of the dishes before you head to bed, don't stress about it. Instead, grab another glass of wine, a slice of pie, and enjoy your holiday!


Happy hosting, and have a wonderful Thanksgiving Day! And as always, be sure to share your own Thanksgiving hosting tips and experiences with me in the comments below. I'd love to hear from you!
–
Let's keep in touch!
Instagram / Facebook / Pinterest / Bloglovin'
Thanks for visiting! As a reminder, I may earn an affiliate commission if you buy an item through my links. This is at no cost to you. I appreciate your continued support!