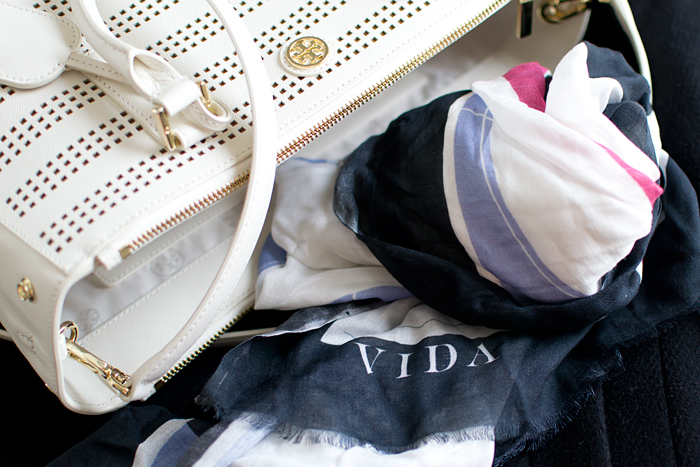 Last week, I wore a gorgeous scarf by VIDA, a new brand that pairs independent artists with textile manufacturers in Delhi, India and Pakistan. It's also one of the latest socially responsible companies to hit the scene, offering literacy programs to its production team. The San Francisco startup was founded by Umaimah Mendhro after she became frustrated with disposable fashion, luxury goods priced only for the elite, and an industry that left textile workers struggling to make ends meet. And with that, VIDA was born.
As you'd expect from Umaimah's philosophy, the scarves are an affordable luxury. Modal scarves are $40, modal-cashmere blends are $75, and silk scarves are $95. You can also save 20% on your first order by signing up for their emails on the homepage.
I received the "Found in a City" scarf, designed by Japanese sisters Midori and Nanako. The lightweight scarf is 10% cashmere and 90% modal, making it incredibly soft. It's been perfect for the warm spell we've been experiencing. I'm also loving the Lilly Pulitzer-esque brights of the "L'Escala" scarf and the Burmese temples on the "Project Rare" scarf. Browse the entire collection, including VIDA's silk tops, online here.
[spacer]
---
Disclosure: I received a scarf from VIDA for review and posting purposes. This does not affect my opinion of the brand.