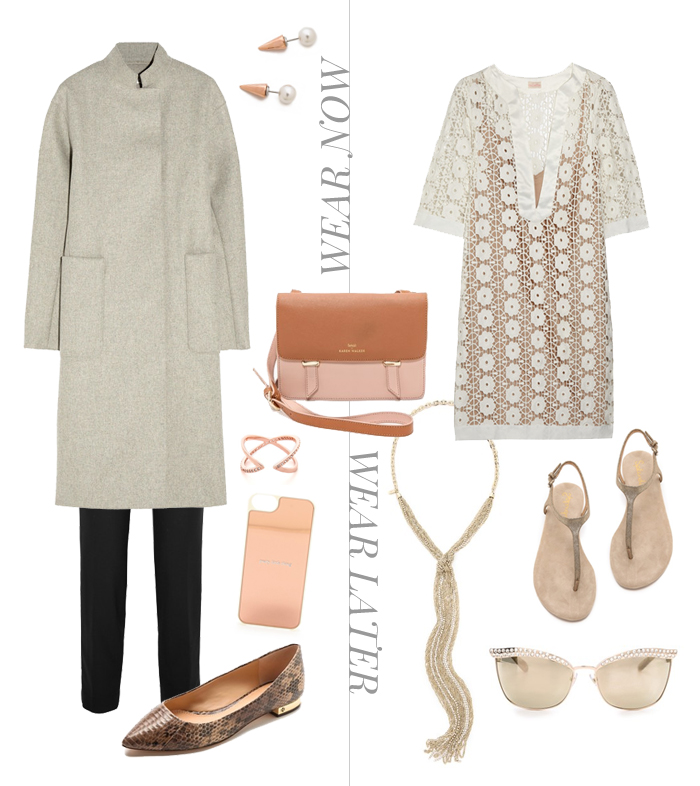 Shopbop just threw its hat into the ring of fantastic post-holiday sales with an extra 25% off all discounted items. Of course, you could spring for a cozy sweater you'll wear the rest of the season (it is the most practical choice with plenty of winter ahead of us), but I'm thinking something more versatile like a handbag. There are hundreds of handbags on sale, including Rebecca Minkoff's Perry satchel and the darling bag above from Karen Walker.
A good handbag isn't cheap, even with the extra discount, but I do think it's where your money is best spent if you're looking for just one beautiful piece to take you into spring. You'll use a light, neutral bag long after the last snowflake melts with a lacy white dress and a pair of simple sandals from Splendid. Throw in carefree, glittery accents with a tassel necklace from Shay Accessories and retro sunglasses from Kate Spade. Until then, bundle up in an oversize coat with sensible black pants and Tory Burch's snakeskin flats. (I have the blue pair and love them. Go with your regular size.) Add a bit of warmth with edgy rose gold accessories to complement the bag's feminine hue.
[spacer]
---
Disclaimer: I receive a shopping credit to Shopbop in exchange for sharing sale alerts and must-have items with you. However, my opinions and the content I choose to share are not influenced by this partnership. If you ever have questions about the brands I collaborate with, please let me know.