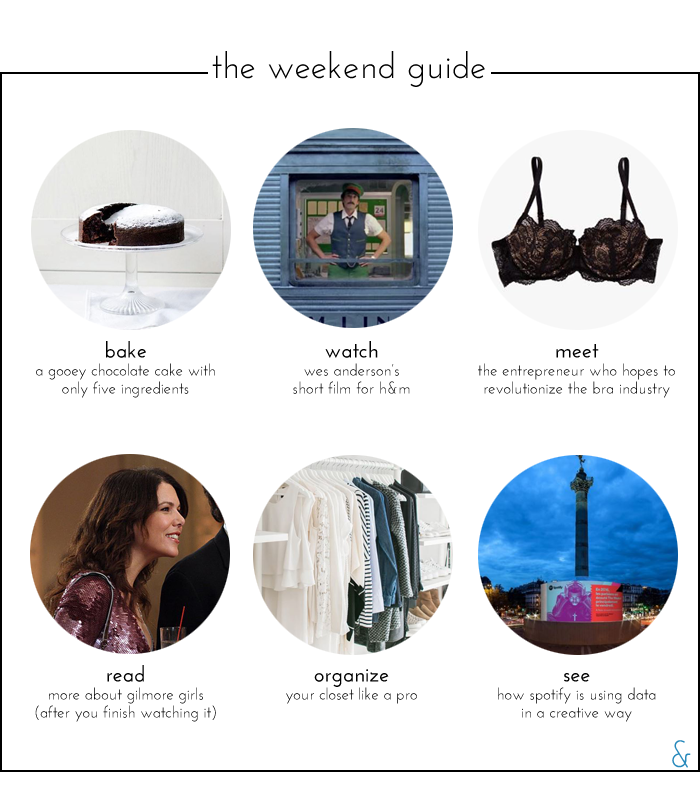 BAKE
Just five ingredients and 40 minutes yields this sinful cake.
WATCH
H&M partnered with Wes Anderson to create an adorable short film for the holidays.
MEET
Heidi Zak, a MIT graduate, hopes to revolutionize the bra industry with her brand ThirdLove. Plus, meet the women taking a fresh approach to condoms and tampons.
READ
Like many of you, I binge watched Gilmore Girls last weekend. Here are just a few of the articles I enjoyed this week following the visit to Stars Hollow: one, two, and three. And they all contain spoilers. You've been warned.
ORGANIZE
My side of the closet is a nightmare. I really need to follow some of this organization advice.
SEE
Spotify mined its user data brilliantly to create its latest ad campaign.
EARLIER THIS WEEK
Everything I bought on Black Friday. (The dress is gorgeous in person, but may be too tight on well-endowed ladies.)
November's shopping sins. (Black Friday excluded.)
Twenty-five holiday dresses under $100.
A gift guide for animal lovers and pets.
And gifts you'll want to keep for yourself.