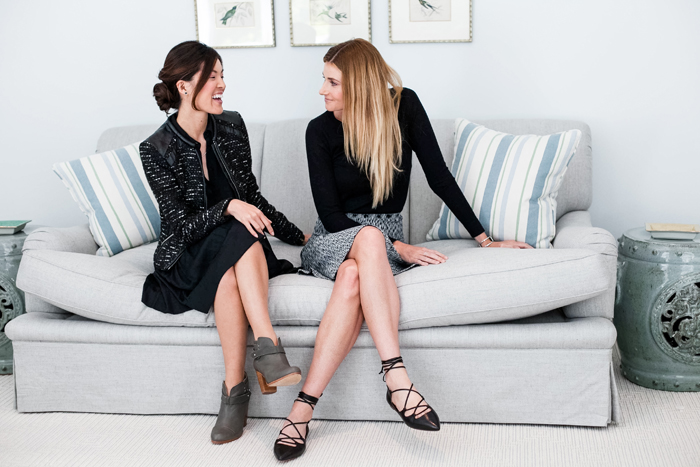 We've all had similar struggles when it comes to work clothes. We've wondered what to wear to an interview, how to build a wardrobe that fits in a hard-to-define "business casual" workplace, and have found ourselves overwhelmed with an onslaught of trendy and casual pieces at department stores. Annie Shafran, the founder and CEO of Bellgray, hopes to change that.
Bellgray is a professional clothing e-commerce site that redefines how women shop for work clothes. It offers a curated selection of work-appropriate clothing from brands like Tory Burch, Vince, and Theory, making shopping easy for women in their 20s through 40s. In addition to a traditional online shopping experience that allows you to choose the specific type of item you're shopping for, Bellgray offers a unique shop-by-solution option for women.
I had the opportunity to chat with Annie about the inspiration for her company, the steps to building a work wardrobe, and the essential piece that shouldn't be missing from your wardrobe. Read more below!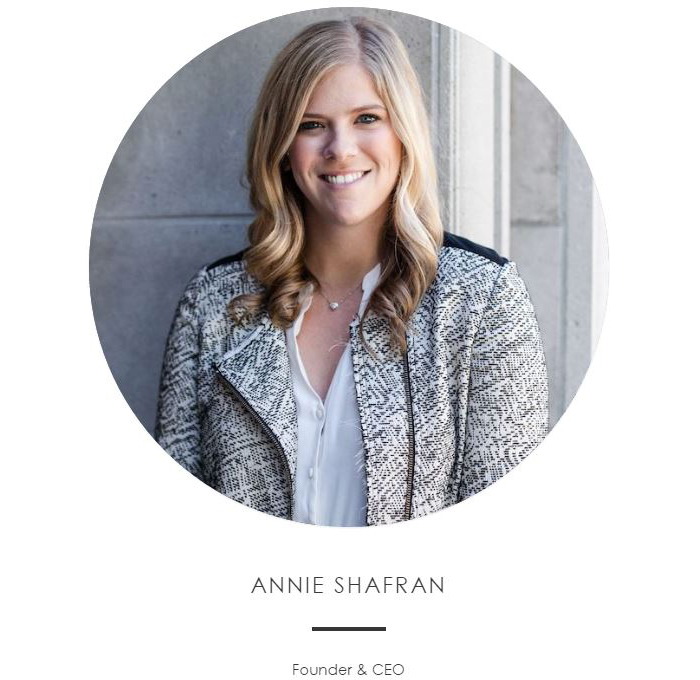 WHAT INSPIRED  YOU TO LAUNCH BELLGRAY?
My inspiration started in college at the University of California, Berkeley and then really grew more and more important to me since then. During junior year, my friends and I were interviewing for competitive internships across all types of industries from investment banking to tech firms. The one question that could be heard across the dorms was "what do I wear?" When you Google what to wear to a (fill in the blank) interview for a woman, nothing comes up. It was a mystery as to why there were no resources for young women on appropriate interview attire.
I eventually took a job in finance and spent the next three years wondering where to purchase work clothes I actually like and feel my best in. When you have more of an analytical mind, it is not fun to piece outfits together and hunt for the best brands at the best price. I started Bellgray for those women (including me) who wanted a place to buy work clothes that took the infinite options out there and edited it down to the best few pieces.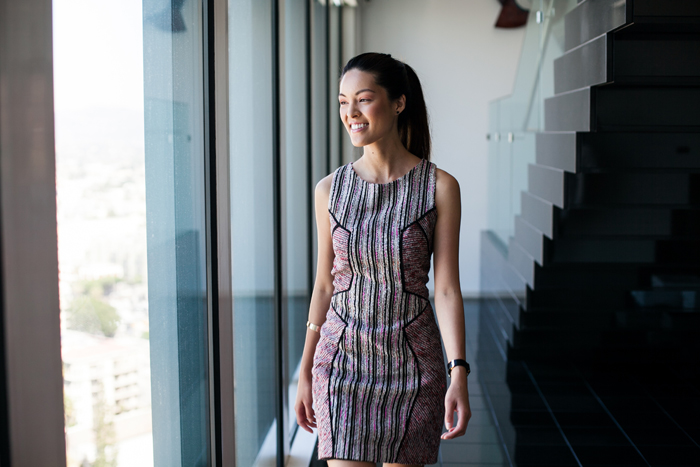 WHAT CHALLENGES DO WOMEN TYPICALLY FACE WHEN BUILDING A WORK WARDROBE?
I kind of touched on this above, but not all women like shopping. It is a common misconception! As more and more women enter the corporate world, they need a better resource for work clothes than the existing options:
While we all love the Shopbops and Revolves of the online shopping world, their "wear to work" section is too avant-garde for any girl in finance or law.
Department store sites like Macys and Bloomingdales have too much content and are hard to sift through.
Stores like Banana Republic and J. Crew only carry one brand, and you don't just wear only one brand.
Our strategy allows you to shop by solutions, not just by tops or bottoms. Additionally, our curated selection of products cures browser fatigue. There is no more scrolling through hundreds of pages on a department store website. We pick only the best work-appropriate attire and our product assortment refreshes daily.
Some of our shop-by-solution options include: interview, business causal, budget professional, and happy hour. This gives women realistic inspiration with the ability to actually "shop the look."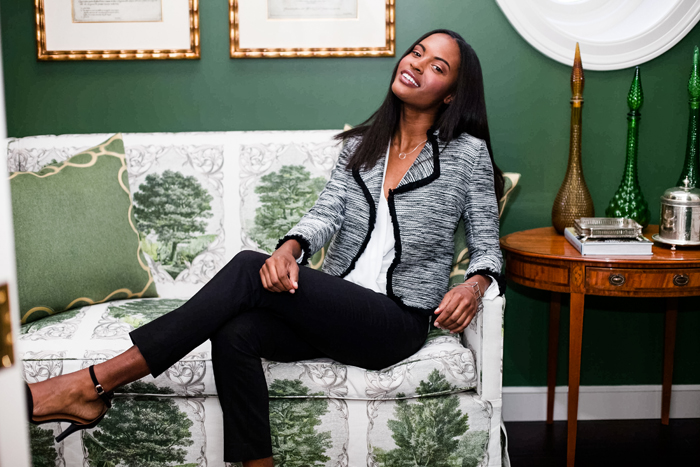 HOW SHOULD WOMEN START BUILDING A WORK WARDROBE?
Step one: build the basics. Buy a suit in navy, gray, and a lighter color. I prefer pant suits, but a lot of women like skirt suits as well. Buy two or three pairs of durable, long-lasting shoes: pumps and flats.
Once you have your basics, step two is to layer in printed tops, dresses you can wear with the suit blazers, and light accessories. It is great to keep updating your work wardrobe once you have the basics with fun, unstructured jackets, A-line skirts (as opposed to a basic pencil skirt), and more colors.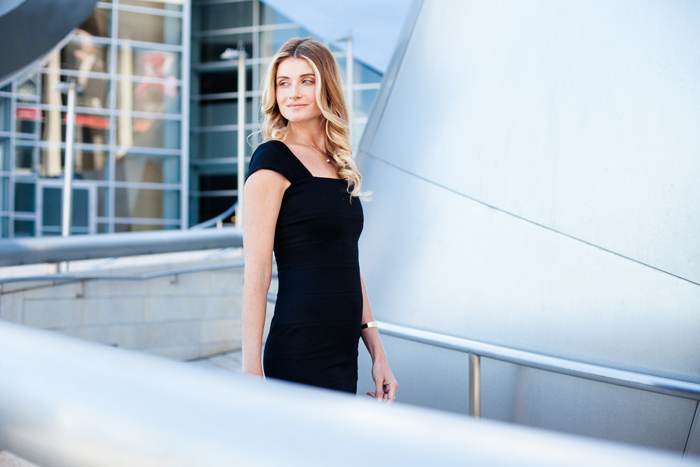 WHAT'S THE ONE ITEM EVERYONE WOMAN SHOULD HAVE IN HER WORK WARDROBE?
An unstructured jacket. These are often overlooked as an alternative to a blazer. They are great for business casual settings, and transition from day to night with zero effort required.
EDITOR'S PICKS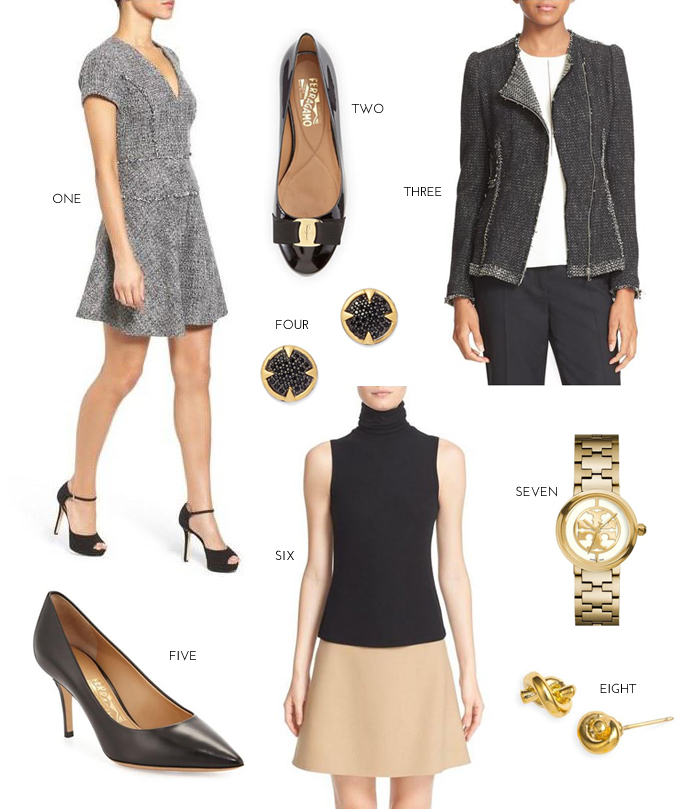 ONE | TWO | THREE | FOUR | FIVE | SIX | SEVEN | EIGHT
***
This post is in partnership with Bellgray. Thanks for supporting the brands that support Bedknobs & Baubles.