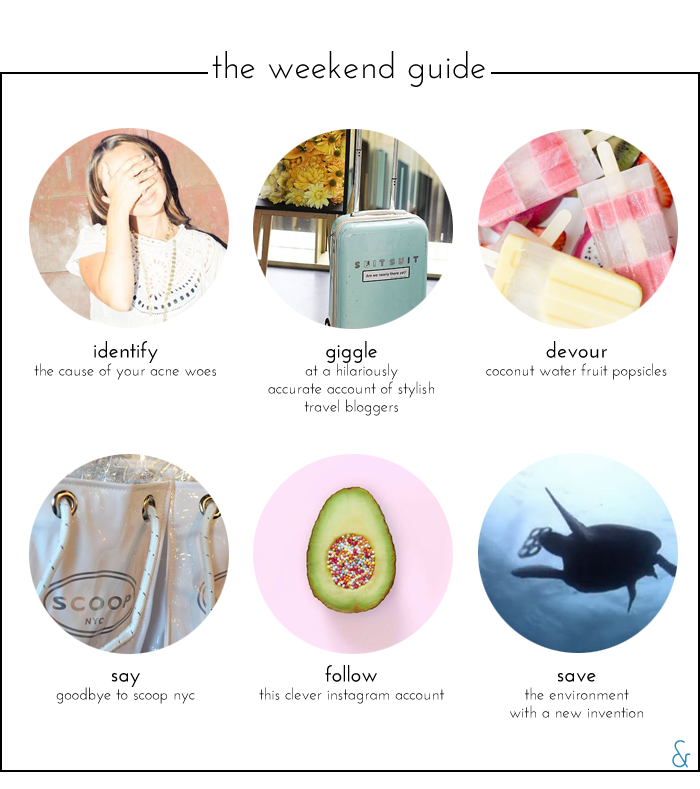 IDENTIFY
Breakouts as an adult are the worst. Here's a guide to identify your skin woes and, most importantly, how to fix them.
GIGGLE
This is a hilariously accurate portrayal of stylish travel bloggers. I'm guilty of leaving an exhausted Dave at the entrance of a hotel room while I snap photos of the pristine bed first!
DEVOUR
Popsicle season is decending upon us! Leave the artificially flavored versions at the grocery store and make your own with coconut water, coconut milk, and fruit.
SAY
As you probably already know, Scoop NYC is closing its doors. Bid adieu with an essay about the boutique's glory days.
FOLLOW
Instagrammer Vanessa Mckeown cleverly pairs everyday items to create whimsical photos.
SAVE
We all know how awful plastic six-pack rings are for the environment. A team of engineers created an edible version made of brewing byproducts in partnership with Florida's Saltwater Brewery. It's still in the prototype phase, but I can't wait for it to become mainstream.
EARLIER THIS WEEK
Shared a few dos and don'ts of traveling to Copenhagen.
Bought a new pair of loafers (snag 'em here) …
and a new pair of sandals.
Finally shared photos of one of my favorite dresses — a year later!