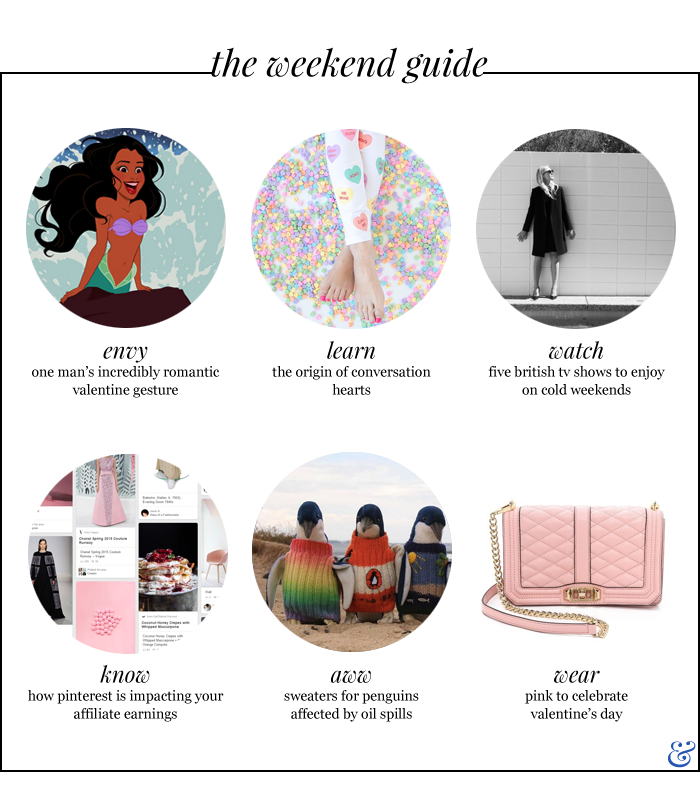 ENVY
One man earned major points this Valentine's Day when he commissioned an artist to paint his girlfriend into iconic Disney scenes.
[spacer]
LEARN
A historic candy called a cockle inspired the ubiquitous Valentine's sweet. (If you're crafty, you can make these leggings.)
[spacer]
WATCH
Here are five British shows to add to your queue. I've already watched Luther starring Idris Elba. I'd like to start The Fall next.
[spacer]
KNOW
By now you've probably heard that Pinterest is stripping away affiliate links. Personally, I'm excited to see bloggers put more effort into wish list boards with pinnable collages rather than stock images of individual pieces.
[spacer]
AWW
Australia's oldest gentleman knits sweaters for penguins affected by oil spills. Basically, it's the cutest thing you'll see all month.
[spacer]
WEAR
Valentine's Day is the perfect excuse to wear all the pink things! I've been on the lookout for an ultra girly pink bag and I love this one from Rebecca Minkoff.
[spacer]
FITNESS UPDATE
Ugh, I'm so discouraged because I gained back the .4 pounds I lost last week. I know it's silly of me to be this obsessed with the scale because my measurements are showing huge changes. This week, I lost another half inch from my hips and from my waist. I know that the measurements are what count the most and indicate that I'm probably building lean muscle, but I'd really like to see my efforts reflected on the scale.
[spacer]
IN OTHER NEWS
The sandals I posted the other day are all kinds of adorable. I also ordered the white English Rose dress I posted here. I'm not sure of the sizing, so here's hoping the medium fits! Finally, there's an extra 25% off sale items at Tory Burch this weekend with code SALE25.