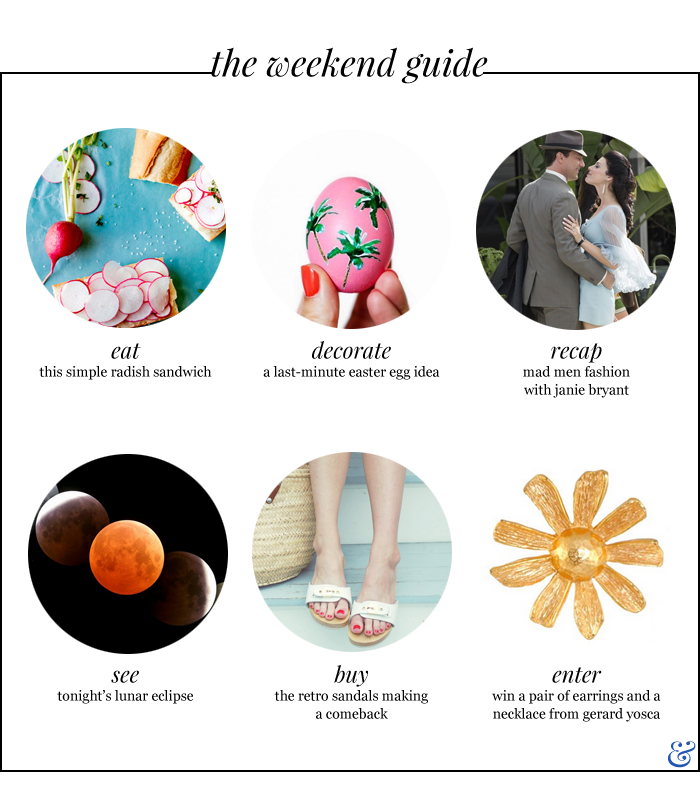 EAT
Doesn't this radish sandwich sound amazing? You can bet I'm making it for lunch this week.
[spacer]
DECORATE
Decoupage tropical Easter eggs tomorrow.
[spacer]
RECAP
The final episodes of Mad Men begin airing tomorrow. Recap the show's fashion moments with Janie Bryant.
[spacer]
SEE
Blink and you'll miss tonight's lunar eclipse. It will be the shortest one this century.
[spacer]
BUY
Are Dr. Scholl's sandals making a comeback this spring? Harper's Bazaar says yes. Read what the brand's creative director had to say about Marc Jacobs designing a lookalike pair. (I actually have a pair from high school that are packed away. I'm feeling a little old that I can just pull a pair out from my personal archive.)
[spacer]
ENTER
There are four days left to enter to win a pair of daisy earrings and a necklace from Gerard  Yosca's spring collection.
[spacer]
FITNESS UPDATE
Ha! There's so much Easter candy! And my parents are here this weekend! And there's a pie in the oven! Let's recap next week. 😉
[spacer]
---
// additional images via 1, 2 //