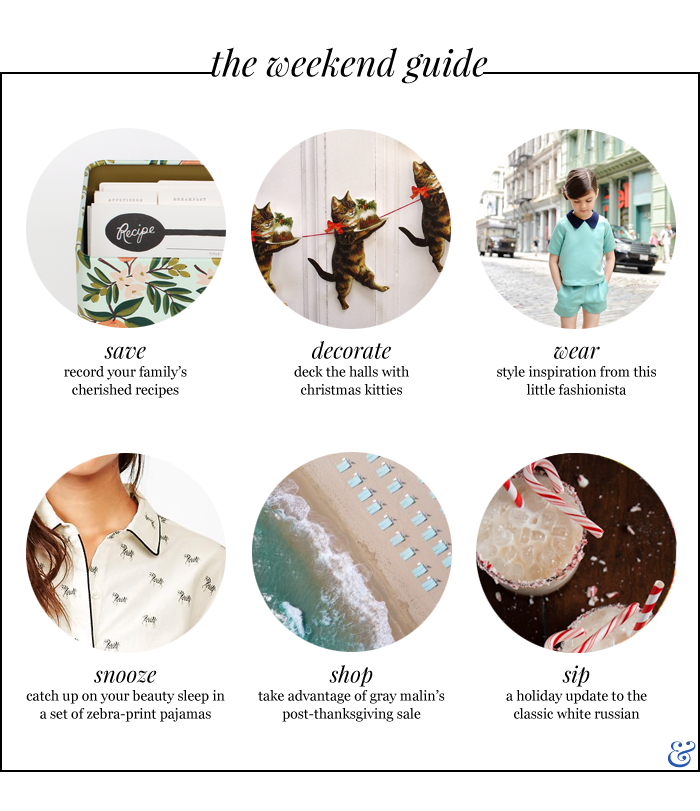 SAVE
If you haven't recorded all of your family's cherished recipes, now's the time. Pick a pretty recipe box and start transcribing those stained recipe cards. (It's also a thoughtful gift for the newlyweds in your family.)
[spacer]
DECORATE
I can't get over how much I love the cat garland I found online via a UK retailer. Don't fret. I found it here too.
[spacer]
WEAR
This pint-size fashionista is on point. Nothing is better than mint and navy.
[spacer]
SNOOZE
Catch your ZZZs in a set of zebra-print pajamas.
[spacer]
SHOP
Don't miss out on Gray Malin's incredible sale this weekend. Take 30% off prints sitewide and apply that discount to framing. I purchased this print for my birthday last May.
[spacer]
SIP
Peppermint. White. Russian. OMG.