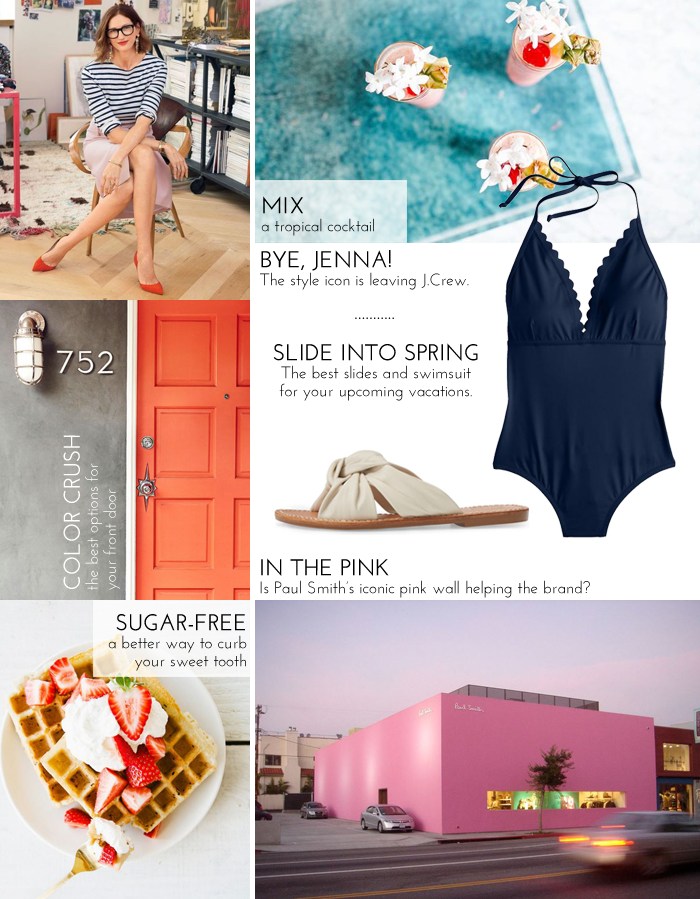 I'm late to the game with this week's "Weekend Reading!" My parents came to town yesterday, so we spent the better part of Friday and Saturday morning cleaning our apartment. We went out to dinner last night and today we're celebrating my grandma's 80th birthday with extended family. In other news, I had my Madison Magazine photoshoot last week. If you saw my Snapchat story (username: bedknobsbaubles), you know I wasn't exactly thrilled with most of the images that were taken. We shot at the indoor botanical gardens and it was incredibly humid and any bounce my hair had fell within minutes. Despite my initial reservations about the whole thing, the photo that we ultimately chose for publication is pretty and I'm excited for the issue to hit the mail.
The bigger item occupying our minds is, of course, our house hunt. We're actually looking at a house in a couple of hours that has potential. It's not in my ideal neighborhood nor my preferred style of house, but there's something about it that I really like (in the online photos anyway!). Having our house hunt back in full swing has made me obsessive about pinning interior ideas and shopping for home items like this gorgeous chair from Target and a bar cabinet (easier to keep dust-free than a bar cart). Purchasing large-scale items will have to wait until we have a closing date, so I'm adding a few smaller items to our housewares collection instead. I had a few rewards dollars at West Elm that were due to expire on April 15, so I picked up a cocktail mixing pitcher and this darling seashell bowl. I also recently purchased two of these budget-friendly throw pillows for our bed. (Speaking of pillows, how good is this one?!) I'm keeping these purchases to a minimum, of course, since most of our money will be spent on furniture once we find a place! (Plus, let's not forget the unsexy purchases we'll have to make! We'll need a lawn mower, shovels, rakes, etc. Oh, boy! 😉 )
MIX: Dave and I are on our own for Easter this year. We're going to make a traditional dinner, but I'd love to mix up fun cocktails during the day to make the holiday feel special. These blended tropical drinks sound incredible.
BYE, JENNA: By now, you've all heard the news that Jenna Lyons is leaving J.Crew. Here are nine things to remember about her reign at the retailer.
COLOR CRUSH: I'll admit that one of the things I'm most excited about with a house is the opportunity to choose a bold color for the front door. I'm loving the cantaloupe orange. Of course, it'll depend entirely on what color the exterior is. We won't have money to change the house color right away!
SLIDE INTO SPRING: I wish I had a tropical vacation on the books! If we did, however, I'd be scooping up these slides (which I might buy anyway) and this scalloped swimsuit (or this one).
SUGAR-FREE: I had a doctor's appointment on Friday and he went on and on about the perils of sugar. Yesterday, I came across this post with three sugar-free desserts that won't have you missing the white stuff.
IN THE PINK: Paul Smith's  pink building is one of the most Instagrammed spots in L.A., but is it helping the brand drive sales?
IN CASE YOU MISSED IT:
CAUGHT MY EYE: