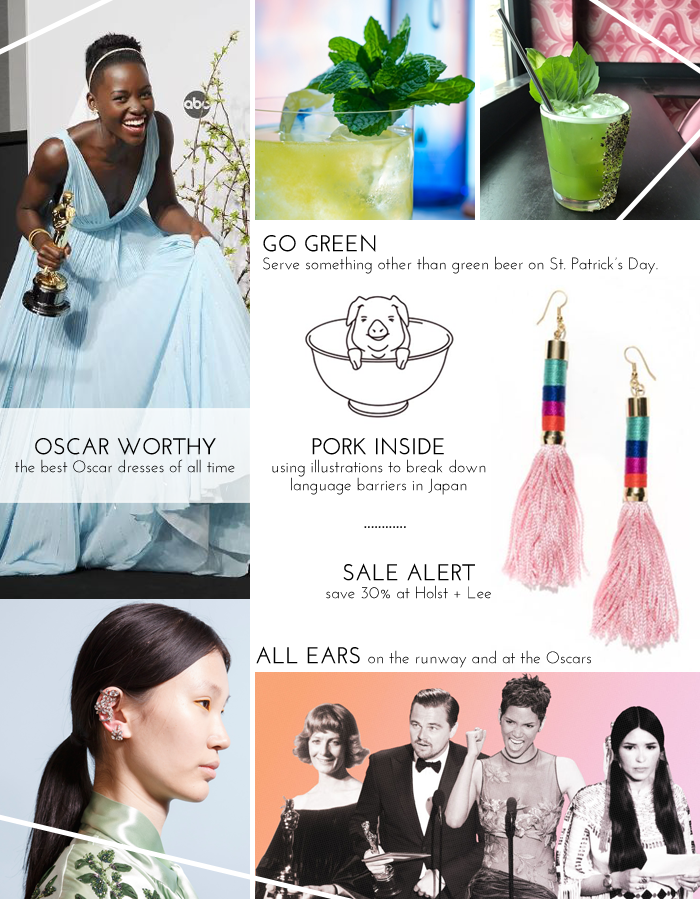 Happy Saturday! We booked a trip to New Orleans for mid-March, so this weekend is all about researching the best activities for day (we have evening drinks on lock!), planning my outfits, and scouting out the best Instagram locations! Have you been to the Big Easy? What would you recommend that we see and do? I can't wait to take tons of photos of the colorful houses like this one!
OSCAR WORTHY: I much prefer television over movies, but I do get into the Oscars for the clothes. Here are some of the top Oscar fashion moments of all time.
GO GREEN: You're better than green beer. St. Patrick's Day will be here before you know it, but there's still enough time to perfect these recipes for green cocktails that don't need food coloring to be festive.
PORK INSIDE: How cute are these illustrations meant to ease the language barrier in Japan?
SALE ALERT: You can snag my favorite spring earrings (perhaps in pink?) for 30% off now through March 3 with code COLOR. The code applies to all non-sale items.
ALL EARS: It's time to ditch that statement necklace. Earrings took center stage at the AW17 runways. And, while we're speaking of ears, the Oscars have been the perfect time for celebs to grab your ear when it comes to political statements. I'm sure we'll have at least one on Sunday.
IN CASE YOU MISSED IT:
ON MY WISH LIST:
I have a private Pinterest board for pieces I'm seriously considering adding to my wardrobe. This is what I have my eye on this week.