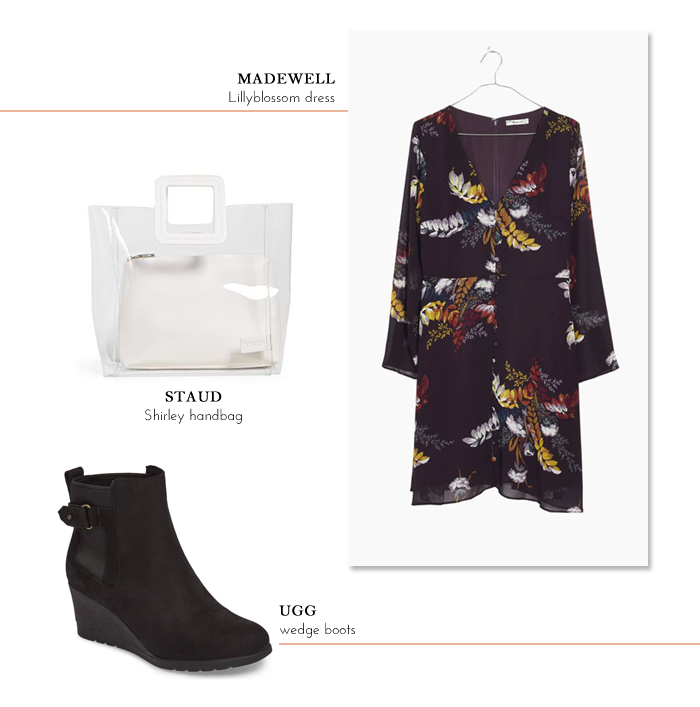 Earlier this year, I toyed with the idea of adding only one clothing item and one accessory to my closet each month. I don't have that kind of self restraint just yet, but I'm getting there and I have to admit that I'm happier with this approach than I am when I reflect back on a hoard of new items. I'm beyond happy with the items I purchased this month and I think I'm going to get a lot of wear out of everything — even that ultra-trendy bag! I did purchase one more thing on Black Friday and I'll add it to next month's roundup if it makes the cut!
PURCHASED
See all of this year's sartorial additions here.
Madewell 'Lilyblossom' button-front dress – I have a Madewell dress in a similar cut that I bought last year and absolutely adore, so it's probably not a surprise that I added this to my wardrobe. The color and print are so pretty and I loved the nipped-in waist.
Staud 'Shirley' bag in white – I haven't been able to get this bag out of my head since I ordered the small brown faux-croc version earlier this fall. While I didn't like the color or texture of that one,  I realized that my heart was really aching for the white one I fell for last year. Do I think it's best use of my money? No. But I am crazy about it and happily took money out of my "splurge" savings account to cover the cost, so it's a wash for my budget. As far as practicality is concerned, the zipped pouch holds a decent amount, including a sunglasses case, so I think I'll actually get a decent amount of mileage out of it. I just hope that transparent accessories aren't totally passé next year!
Ugg waterproof insulated wedge booth – I had been looking for a cute pair of winter-ready wedge ankle boots for years and these are it! Plus, they're easy to pull on and off, which is not always a given with boots that don't have a side zip. I think these will be a great option for going to and from work this winter and for jaunts around the city. I went up a half size to allow room for a pair of thick socks.
DIDN'T WORK OUT
Things I tried and didn't love.
Gap mid-rise skinny jeans in black – These are the absolute worst. I wanted a pair of black jeans earlier this year and ordered these, but they didn't fit in my regular size. I found myself thinking about black denim again and ordered a variety of sizes in these to see if I could find one that worked. Nope. The most obnoxious part is that they're a magnet for dust and pet dander.
–
Let's keep in touch!  Instagram / Facebook / Pinterest / Bloglovin'